Every once in a while, things become corrupted on your hard disk in such a way that Windows 7 is unable to boot. From the MBR (Master Boot Record) to other information critical at boot time, if it's not there, you can't boot.
Fortunately, Windows includes diagnostic and repair tools on your Windows setup disc.
Boot from the installation disc
Step one is simple: boot from the Windows installation or setup disc.
There are three common stumbling blocks:
The first can be dealt with either by contacting your computer's manufacturer for a disc, or by downloading an image of the Windows setup disc and burning it to an actual disc.
The answer to the second depends on the machine you have, so all I can advise is that you contact your computer's manufacturer for instructions.
As for booting from a USB device, there are two options. First, there are techniques (which I hope to cover in a future article) to create a bootable USB flash drive of your Windows setup disc. Honestly, I much prefer a simpler approach: get a USB DVD drive. Configure your computer to boot from USB, and in most cases, you'll be able to boot from a disc inserted into the USB optical drive.
Windows setup
The first step when you boot from the setup disk is to choose your language and keyboard layout. These are only conveniences for this troubleshooting session; we're not going to "install" anything.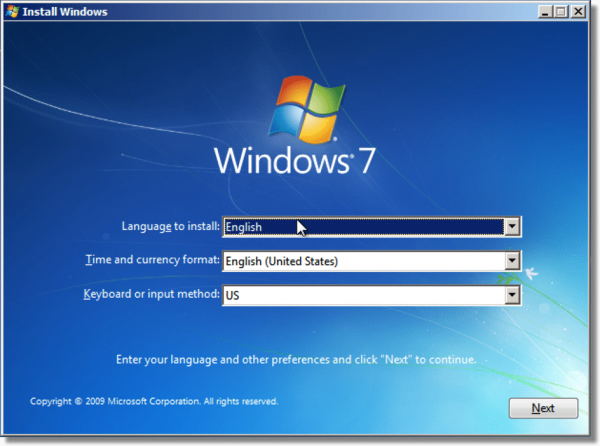 Click Next after you've made your selection.
Windows Setup will present you with a nice big Install Now button. Don't click it! We're not installing, we're repairing.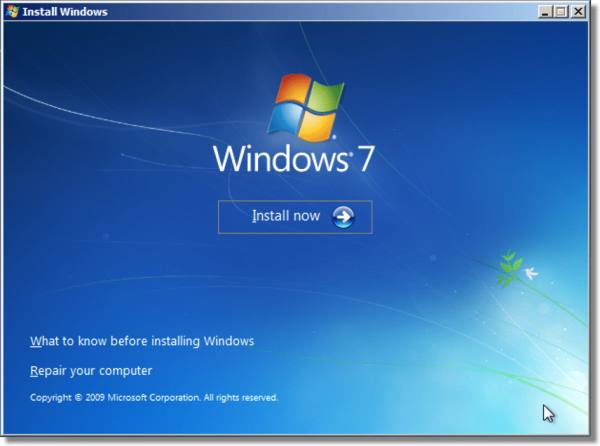 Click the Repair your computer link at the lower left.
Windows repair
Windows Setup will then search for Windows installations on your hard disk.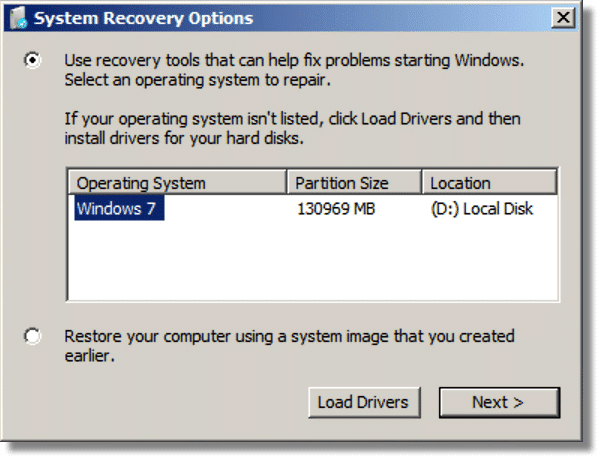 It's likely that you'll have only one, so you can simply click on Next.
The next dialog lists the various options and tools we have at our disposal.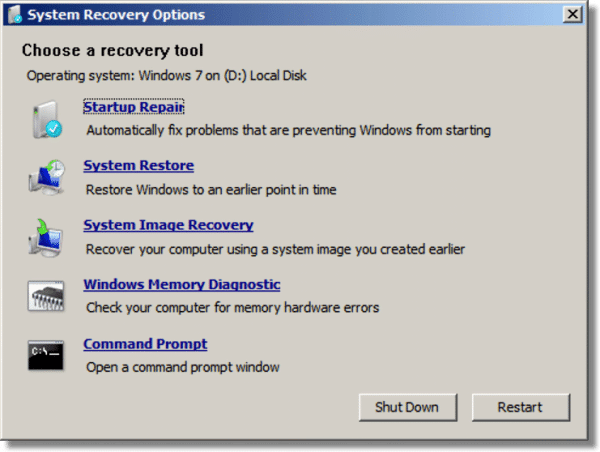 Click on Startup Repair.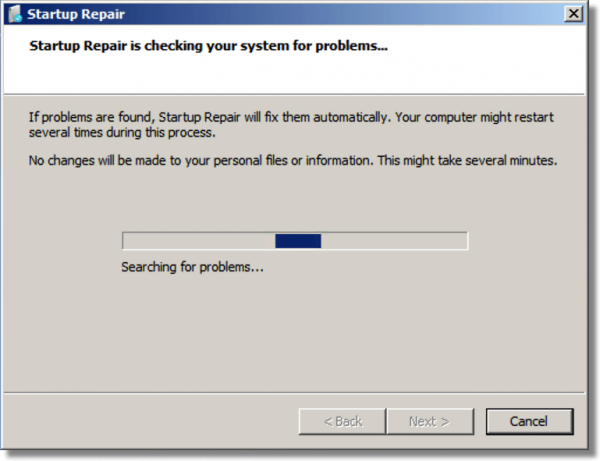 I strongly recommend Startup Repair as the first tool to run whenever you're experiencing boot problems. The utility will examine your system for common problems and fix them if it can. Much of the time, this is all you need do.
It's possible the utility will not be able to fix anything. Either the breakage is beyond its ability, or there's nothing wrong.1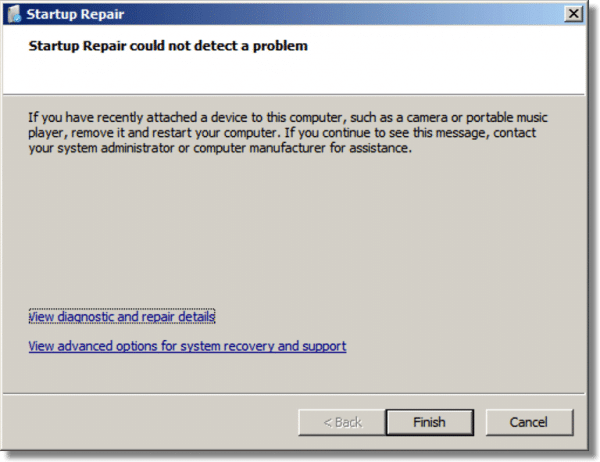 We'll try other tools next. Click on View advanced options for system recovery and support, which will return us to the menu of available tools.
Command prompt
Click on Command Prompt in that menu of tools. In Command Prompt, type "bootrec" followed by Enter.
This tool is designed to repair the boot record. It's possible — even likely — that it's redundant to Startup Repair above, but it may also give us additional information should things fail. I recommend giving it a try, since it's unlikely to harm anything.
Type the following commands, one after the other, each followed by Enter:
bootrec /fixmbr
bootrec /fixboot
These are single-purpose tools that fix — actually, reset — exactly what they say: the master boot record (MBR) and the boot sector.
"BCD", or Boot Configuration Data, indicates which Windows installations on the machine are to be considered at boot time. This is a more complex tool, and most of the time it will succeed, reporting no Windows installations were found. The theory2 is that it's simply reporting no additional Windows installations were available to be added to the list. There are techniques to rebuild the BCD as a more advanced troubleshooting technique, but they're beyond the scope of this article (particularly with likelihood that the Startup Repair tool will have covered this as well).
After running those utilities, eject your installation media and reboot your computer.
With luck, it'll work.
Note: A Windows 10 version of this article is in the works.
Podcast audio

Download (right-click, Save-As) (Duration: 4:36 — 4.3MB)
Subscribe: RSS
♦
Video Narration