What can I do if my laptop will not boot from the DVD drive and I need to restore my machine?
This is gradually becoming more of an issue as optical drives are becoming optional on many smaller computers. There are a few solutions or approaches to think about taking.
Boot order
First, if you have a CD or DVD drive and the system just doesn't appear to even be trying to boot from it, you'll need to look into changing your boot order. That's a setting in your computer's BIOS.
When your computer starts up, it looks at several different devices: the hard drive, the optical drive (the CD or DVD), and any connected USB drives and asks each one in turn, "Is there anything I can boot from here?" As soon as it gets the answer "yes", the system stops looking for things to boot from and boots from the one that it found first.
So, if it checks the hard drive and finds Windows before it actually looks at the CD/DVD drive, then it will always ignore whatever's inserted and boot from the hard drive.
The BIOS should let you change the order in which that check happens. Unfortunately, I can't give you a step-by-step because that differs dramatically depending on your computer and your computer's BIOS. They all do it differently and they all have a different user interface.
When you get inside the BIOS interface, I recommend you set it to checking the CD or DVD first, then a USB, and then your hard disk.
Hardware issues & dust
Now, if there is a physical problem with your CD or DVD drive, then the thing to do is to get it fixed or replaced. On desktop machines, these drives really aren't that hard to replace and they're also pretty inexpensive.
Another thing to keep in mind is that CD and DVD drives are great dust-catchers. If you haven't used yours for a while, try blowing it out with a little can of compressed air. That might actually help clear things up.
No drive at all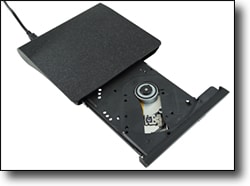 Now, if you don't have a CD or DVD drive, or it's just not going to get fixed, then things get a little more interesting. I've actually prepared for this by purchasing an external USB DVD drive. It's not big and, like the internals, it's not really that expensive.
If your computer will allow you to boot from USB, then it's very possible that your computer can boot from a CD or DVD inserted into an external DVD USB drive. Again, you can set your computer's BIOS to look for USB drives first. Another advantage to the external drive is portability. It can be used on pretty much any machine you happen to be having troubles with, or if you just want to actually read or use a CD or DVD.
Other alternatives
If fixing or replacing the optical drive, either internally or externally, is not possible, then things get more complicated.
Booting from a USB RAM stick is certainly one option, but only if whatever it is you're trying to use is actually provided on a USB RAM stick or as a download that can be placed on a USB stick. There are several utilities out there that claim to create such a thing, but I've never really been comfortable with the ones that could, for example, create a USB bootable Windows installation disk. It's not necessarily legal, and aside from that I often question exactly how well it will work. But if you can find one and it works for you, that's fantastic.
If you are trying to restore your machine to say factory initial settings, and you've basically run out of options, contact the computer's manufacturer and see if they can provide something that would work for you. They may have a download that you can then put on to a USB RAM stick, or they may be able to send you something that would allow you to do the restore you need to do.