Backing up the files you care about on a regular basis is a common (if incomplete) approach to backing up. While I much prefer an image backup, choosing to regularly back up only the files you work on is what many would consider a minimal approach to backing up.
On the other hand, regularly backing up the files you're working on, in addition to perhaps less-frequent image backups, represents a more robust back-up strategy.
As it turns out, Windows includes such a feature, and it's called "File History".
I've discussed Windows built-in image backup software in prior articles. Let's build that more robust backup strategy by enabling File History.
What File History does
This article is excerpted from Backing Up In Windows 10, available now. Top-to-bottom, end-to-end, Backing Up In Windows 10 will walk you through all the steps you need to keep your data safe, using Windows 10's built-in tools, as well as a free alternative.
In concept, File History is a simple feature: every so often, it looks for files that have changed since the last time it looked, and makes a backup copy of any that have.
Those copies are saved to a drive you specify — typically an external drive. In fact, it's quite common to have the same external drive be used for image backups as well as File History.
You can configure File History to remove older backup copies to make room for new ones. The more room you have, the longer backup copies can be kept.
What File History doesn't do
File History is not a replacement for an image backup, because it doesn't back up every file on your machine. It only monitors the contents of specific folders for changes. For example, your "Documents" folder would generally be backed up by File History, but Windows itself, as well as other programs you've installed, are not.
This is why I consider File History a useful addition to a periodic image backup … but not a replacement.
You might take regularly scheduled image backups1 once a night or once a week, augmented by File History looking for data files that have changed every 10 minutes. Taken together, this provides a significant level of protection.
Enabling File History
Click on the Start button, and start typing "File History". Click on Backup settings when it appears in the search results.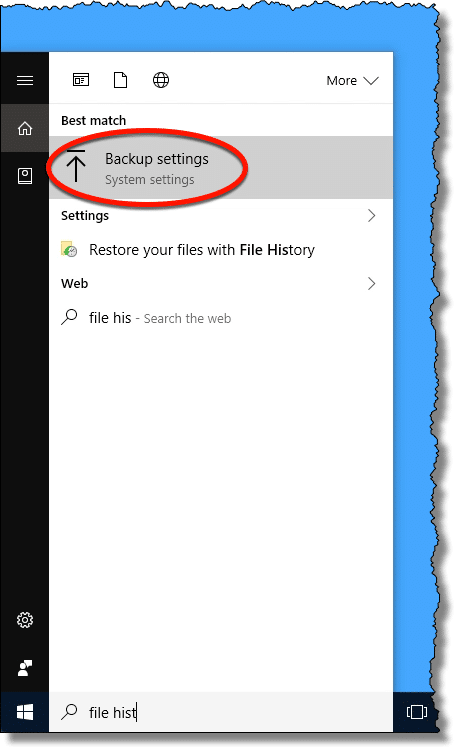 This will take you to the "Back up using File History" page in the Settings app. Click on Add a drive.
You'll be presented with a drop-down list of all drives that could be used for File History. Click on the drive you want to use; I strongly recommend an external backup drive.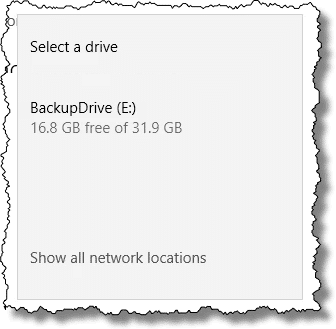 This will replace the "Add a drive" option with an "Automatically back up my files" option, turned on.

Configuring File History
Click on More options. The resulting "Backup options" page has several items of interest.
The Overview section provides information on the space used and available, as well as the option to "Back up now".
The "Back up my files" dropdown controls how often File History looks for updated files. The default is every hour, but options range from every 10 minutes to once a day. The more often you back up, the more space will be used, and older backups will be deleted to make room. An hour is a fine place to start.
""Keep my backups" controls how long your backup files will be kept available. For reasons I don't comprehend, the default appears to be "Forever", which almost guarantees that your backup drive will fill up, at which point you'll receive an error and File History will stop. Click on the dropdown; you'll be presented with a list of alternatives between one month and two years, as well as "Until space is needed". I much prefer the latter as more pragmatic, guaranteeing you'll always have backups of your most recent work.
"Back up these folders" is the list of folders that File History monitors for updates. (All files and subfolders within these folders are monitored.) Click on "Add a folder" to add a folder not currently listed. Conversely, click on one of the folders listed and a "Remove" button will allow you to remove it from File History's scanning.
Even if you make no changes whatsoever, the "Back up these folders" list is worth reviewing so you have a clear understanding of what File History does, and, just as importantly, does not include.
Restoring from File History
Restoring a file from your File History-created backup will be the subject of a future article.
In the meantime, consider turning it on now so you'll have the safety net in place.
Podcast audio

Download (right-click, Save-As) (Duration: 5:43 — 5.3MB)
Subscribe: RSS
More for Patrons of Ask Leo!
Silver-level patrons have access to this related video from The Ask Leo! Video Library.
  Setting Up File History in Windows 10