In previous articles, we've created a system image backup using Windows 10's built-in tools, and we've created a Windows 10 recovery drive we can boot from in order to restore that image.
Now it's time for the rubber to meet the road.
It's time to restore an image backup.
What restoring an image means
Before we begin, it's important to understand exactly what it means to restore an image backup.
Recall that an image backup is a copy of everything on your hard disk1 — the operating system, your installed programs, your data — everything.
The best way to think of an image restore is this:
Erase everything currently on the hard drive.
Copy the contents of the image to the hard drive.
Although it's a side effect of the process, I can't stress enough the importance of realizing that step one exists. The moment you begin a restore, assume that everything currently on your hard disk is erased. When the restore has completed, everything will be replaced with the contents of the image backup.
That's the whole point of restoring an image backup: replace what's on the hard disk now with what was there when the backup was created.
This article is excerpted from Backing Up In Windows 10, available now. Top-to-bottom, end-to-end, Backing Up In Windows 10 will walk you through all the steps you need to keep your data safe, using Windows 10's built-in tools, as well as a free alternative.
Step 1: Back up
Ironic as it seems, the first step to consider when restoring is backing up.
Because a restore will remove everything on the hard drive, anything that has been modified or created since the last backup will be lost forever. You may want to save that work first.
There are two approaches:
Save the specific files and folders that have changed manually, by copying them to another hard disk, flash drive, external drive, or another machine.
Create an image backup first. This guarantees you've captured everything. We'll be able to extract individual files from it later, should that become necessary.
Of course, there's a third option: do nothing. That's OK, as long as you're aware that any changes since the last backup will be lost.
Step 2: Boot from the recovery drive
Unfortunately, I cannot tell you the exact steps to take to do this. As detailed in How do I boot from CD/DVD/USB in Windows 8 & 10?, the exact steps vary depending on your specific computer.
In general, it involves first going into your machine's BIOS or UEFI configuration to change the boot order to look for bootable USB devices before checking the internal hard disk.
Once that change is made, insert the recovery drive made previously (usually a thumb drive), and reboot. When successful, the first screen you'll see will ask you for your keyboard layout.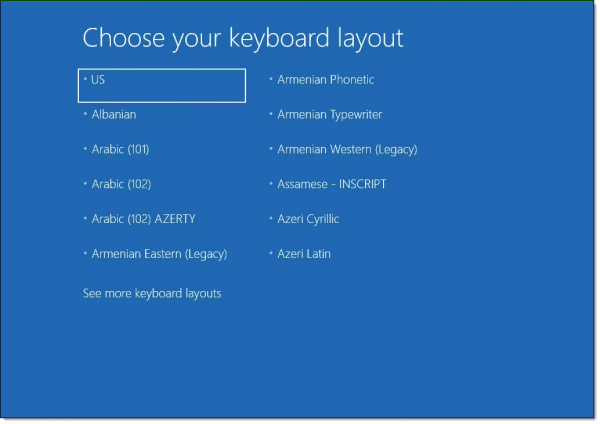 Step 3: Select the image to restore
After choosing your keyboard layout, you'll be given an option to either "Troubleshoot" or "Turn off your PC".
Click on Troubleshoot.
This will give you the option to either "Recover from a drive" or select "Advanced options".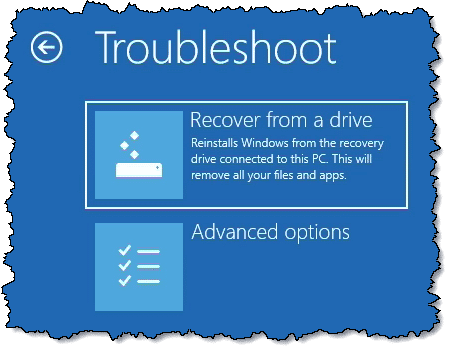 Even though the description for "Recover from a drive" might lead you to believe it's what we want, in reality, this option reinstalls Windows from scratch, without restoring your backup. Instead, click on Advanced Options.
Click on System Image Recovery.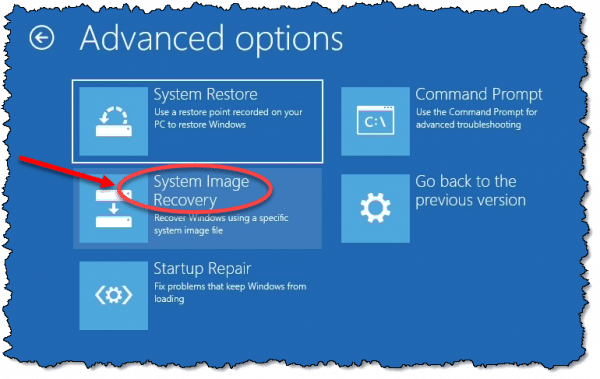 Next, you're asked to "Select a system image backup", suggesting that you "Use the latest available system image".
While that might occasionally be the correct choice, it isn't always. For example, if you took an image backup immediately prior to this, but need to restore to an earlier backup taken before that, you'll want to make sure to select "Select a system image".
Click Next.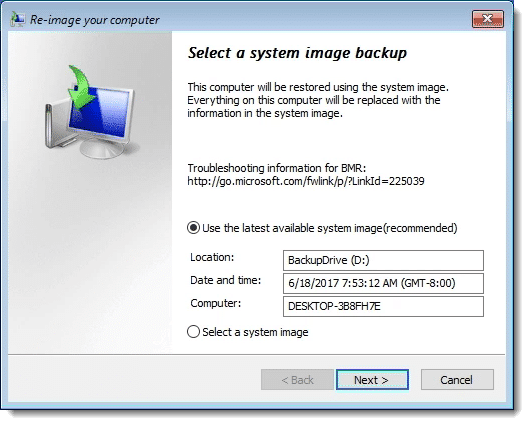 You'll then be asked to select the location of the backup you want to restore. The first step is to select the drive that contains the image backup you want to restore. In the example below, there's only one drive listed, but if you have multiple drives that could potentially contain backup images, click on the drive containing the image you want to restore, and click Next.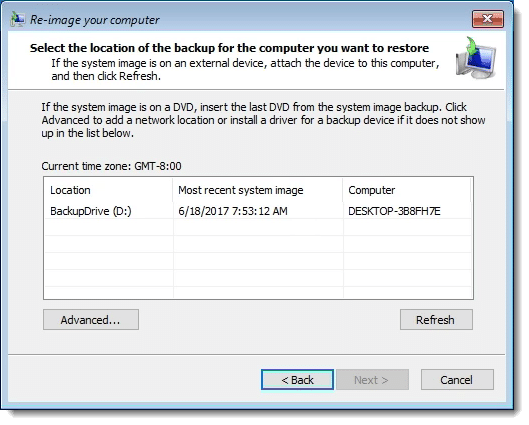 You'll be presented with a list of the backup images contained on the drive you selected, listed by the date and time the image was created. Click on the image you want to restore, and click on Next.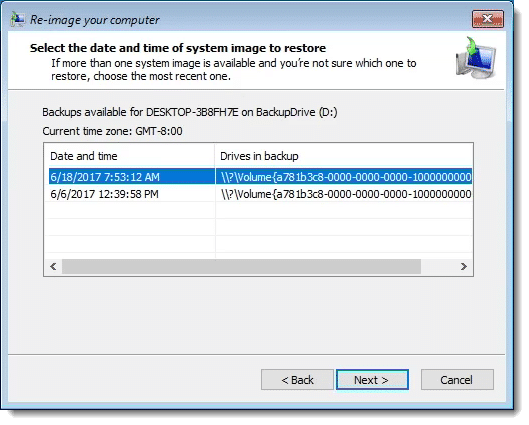 Next, you'll be given the option to "Format and repartition disks". Generally, if you're restoring a backup image to the same hard drive from which it was created, there's no need to do this, and you can leave it unchecked. If, however, you have replaced the hard disk, then check this option to initialize the disk properly prior to the restore.
Click Next.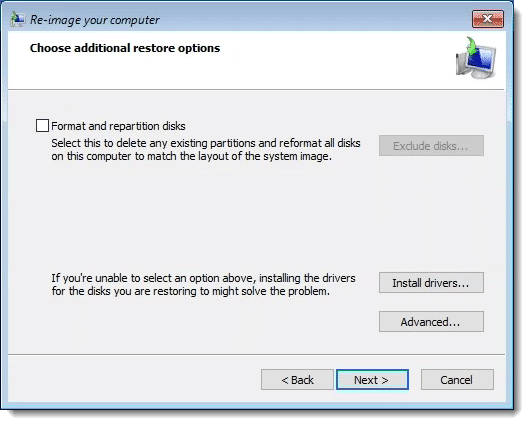 Windows will warn you that everything currently on the hard disk is about to be erased and replaced with the contents of the image. Click Yes, assuming that's what you want.

The restore begins.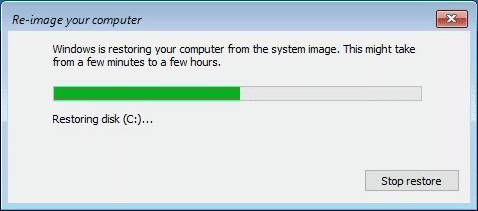 Exactly how long the restore takes depends on the usual things: the speed of your internal and external hard drives, the speed of the interface between them, and the size of the backup image.
Step 4: reboot
Once the restore is complete, it will automatically reboot your computer if you're not around.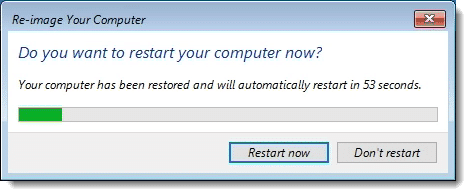 If your computer automatically reboots back into the Recovery Drive, simply remove the drive and reboot again.
You've successfully restored a backup image. The system should now reboot into your copy of Windows, just as it was at the time the backup image was created.
Podcast audio

Download (right-click, Save-As) (Duration: 6:40 — 3.1MB)
Subscribe: RSS
More for Patrons of Ask Leo!
Silver-level patrons have access to this related video from The Ask Leo! Video Library.
  Restoring a Backup Image Using Windows 10's Built In Backup