Hi, Leo. So I need to understand something. We've done the "illegal" thing as we homeschool our children and I downloaded a tool to be able to download Youtube clips so that we can replay them for our kids during the times that we school them. There actually are some good things out on Youtube. My question relates to this. If I download and save a file of say, six minutes, it's sometimes 130 MG of data. If I watch the file normally through YouTube, does it also eat up a 130 MB of data? So what's cheaper? Viewing it normally or downloading it to have it to view plenty of times again?
For many other services including the videos that I host myself, the answer is pretty simple. However, Youtube and other services get very sophisticated, and that makes this actually a little bit hard to explain.
Streaming: each watch is a download
In the simplest case, when you watch a video using a player on a web page, that video is actually being downloaded or transferred to your machine; it's just being played immediately. Thus watching it once is almost exactly the same as downloading it once. Watching it twice, downloads it twice.
This is true of the companion videos that I provide with my books, for example. Each time you watch the video using the player on the purchasers-only website, the video is essentially streamed or downloaded to your machine.
Download once, watch multiple times
However, I also provide a download link to the video. So then you can download it just once, and play it however many times you like using the media player of your choice.
In reality, though, my download link isn't quite the same video. It's higher resolution. The version that plays on the page is typically 640 x 360. The downloadable version is typically 1280 x 720, an HD resolution comparable to 720p. So it's a little bit bigger if you download it, but you only have to download it once.
Dynamically tuned streams
That actually opens the door to the complexity that sites like YouTube, Amazon and probably Netflix and others try to address.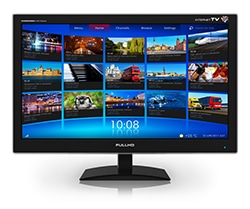 In order to stream a movie without the starts and stops, your internet connection must be able to download it fast enough. The way that these services deal with that is they start by testing, very quickly before the video plays, just how fast your internet connection is. They then show you a resolution or a quality level that should play continuously at that speed.
The more advanced services – and I think all three of those are – will actually monitor the progress as the video is being played. They can actually reduce or increase the resolution or quality while the video is being played. You'll notice that images are sharper and clearer, or conversely, fuzzier, depending on the direction of the change.
Youtube downloads
So, how does this all apply to you? Well, depending on the download tool you use, you'll have to downloaded a video at a specific resolution. That's downloaded only once, and when you play it, your internet connection is not involved. When you view a video using Youtube's player, the amount of data transferred may be the same; it may be more or it may be less, all depending on the resolution that Youtube may or may not elect to give you based on your internet speed.
But one thing is certain: watching a video on Youtube causes data to be transferred each time. Downloading it and then watching the downloaded copy transfers the data across your internet connection only once.