Question: I get that the whole sign in-with-a-PIN thing in Windows 10 is convenient, but how can my 4 digit PIN possibly be as secure as my Microsoft account sign in password?
It can be as secure — perhaps even more secure — because it's used in a different way.
You can also choose to increase its security by using some of the same techniques we use for passwords in general.
The big difference: scope
The biggest difference between using a PIN and a password to sign in is that the PIN only works on the machine on which you set it up.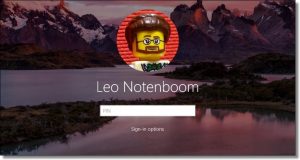 If someone knows your PIN, they'll have access to your machine, but only if they also have the machine in their possession. If they can do that, your machine isn't physically secure. With or without your PIN, anyone who has physical access to your machine can use any number of techniques to get at its contents.
There are at least two instances in which having an "easy" or even automatic sign-in puts you at additional risk:
if you have saved logins or passwords in your browser — anyone can walk up to your machine and access those sites or credentials
if you use Bitlocker to encrypt your data; logging allows access to that data
In those cases, the ability to log in — using that "easy to remember" PIN — could allow access, but it still requires physical access to the machine.
A PIN can be more secure
Many people fear a type of malware known as a keylogger.
When installed, keyloggers secretly record your keystrokes and send the recording to hackers. Log in to a website, for example, and the keystroke logger records both your username and password. Only something like multi-factor authentication can save you.
If you use a PIN to sign in to your machine, however, they can record anything they like and it won't get them anywhere. The PIN only works on your actual machine, which some remote hacker doesn't have access to. Even if you use a Microsoft account to sign in to your machine, that PIN is useless everywhere else.
There's an argument that using a PIN is actually more secure, since you never actually type your Microsoft account password into your machine. Keyloggers can't log what you never enter.
Strength: treat it like a password
If a PIN still makes you uncomfortable, consider treating it like a password.
There are two ways.
The first is to make it longer. There's nothing that says you have to use your 4-digit ATM PIN as your Windows sign-in PIN. Use something longer — much longer, if you like. Just as adding a character to your regular password makes it exponentially stronger, the same applies to your PIN. Just add digits.
Speaking of passwords, the second is to include letters and symbols in your PIN.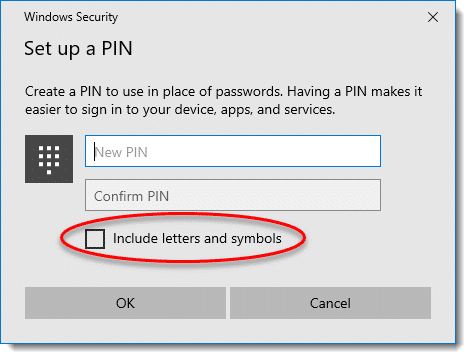 A PIN with letters and symbols is nothing more than a password. This, then, would act as a alternative password used to sign in only to this specific machine.
Local accounts: PINs are convenient
Using a PIN is, I believe, intended as a way to make signing in to your Microsoft account more convenient, and, as we've seen, perhaps even a little more secure (by not having to type in your actual account password). If you can log in with a PIN, you're free to make your actual Microsoft account password long and complex — especially if it's filled in elsewhere by your password vault — strengthening the security of things like your Outlook.com email, OneDrive online storage and more.
The downside, of course, is that signing in with a local account doesn't get you any of the benefits of signing in with a Microsoft account, like synchronized settings across machines, integration with the Microsoft Store, and several Microsoft apps and applications. Nonetheless, it's a choice some people make for a variety of reasons.
And, yes, you can sign in to a local account using a PIN as well, though the benefit is primarily convenience.
Podcast audio

Download (right-click, Save-As) (Duration: 4:48 — 5.4MB)
Subscribe: RSS