I now have Windows 10. When I boot it up, it asks me to sign in with a password. I am the ONLY user & I don't want to type in my password every time. Is there some way to bypass this?
This is a very common question. The answer's a bit buried, but it's actually quite simple.
This answer applies not only to Windows 10, but 8, 7, and Vista as well.
The magic word? netplwiz
In Windows search type "netplwiz"1.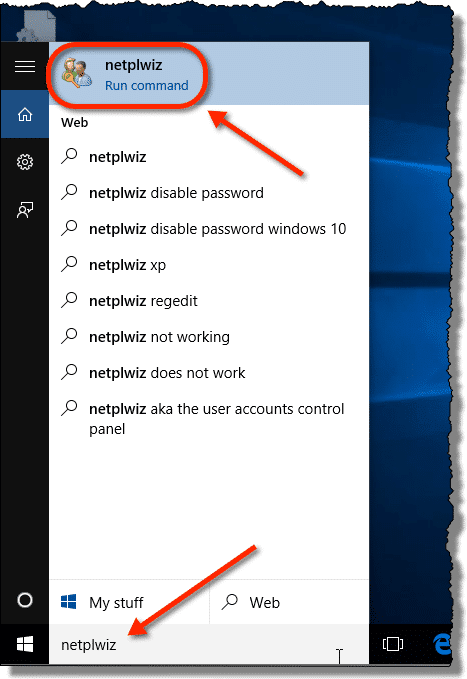 Click netplwiz in the search results.
This opens a User Accounts dialog.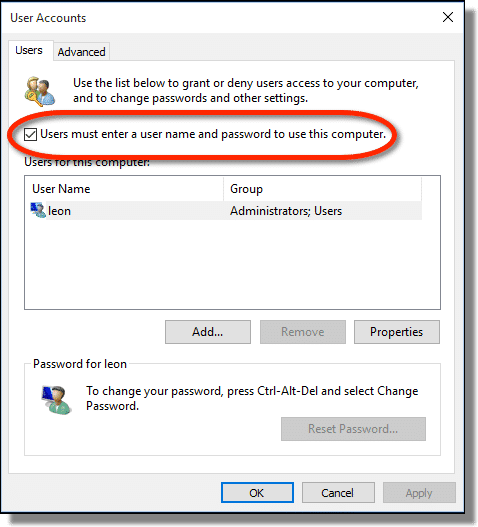 First, if more than one account is listed, click on the account for which you want to log in automatically.
Then uncheck the Users must enter a username and password to use this computer option.

Click OK, and you'll be asked to provide the password for the account.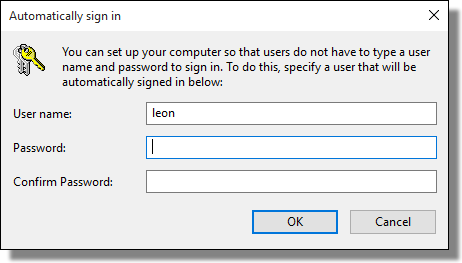 Once you've entered that, you're done. The machine will now sign in to Windows automatically, bypassing the log-in prompt.2
Auto-signin and security
Signing in automatically is a security risk. Anyone could walk up to your computer (even if you had logged out or locked the screen) and reboot it simply by unplugging it. On reboot, the machine would automatically log in, and they would have complete access.
Remember that this is completely unrelated to any login that might be enforced by your screen saver. That's a separate setting specifically for screen savers, and has nothing to do with logging in to the PC; it's simply a security setting applied when you dismiss a screen saver.
Podcast audio

Download (right-click, Save-As) (Duration: 2:29 — 2.3MB)
Subscribe: RSS