What to do when your Windows print queue gets really confused.
Every so often, the Windows print queue gets stuck. Everything looks like it should print, but it won't. We'll fix it.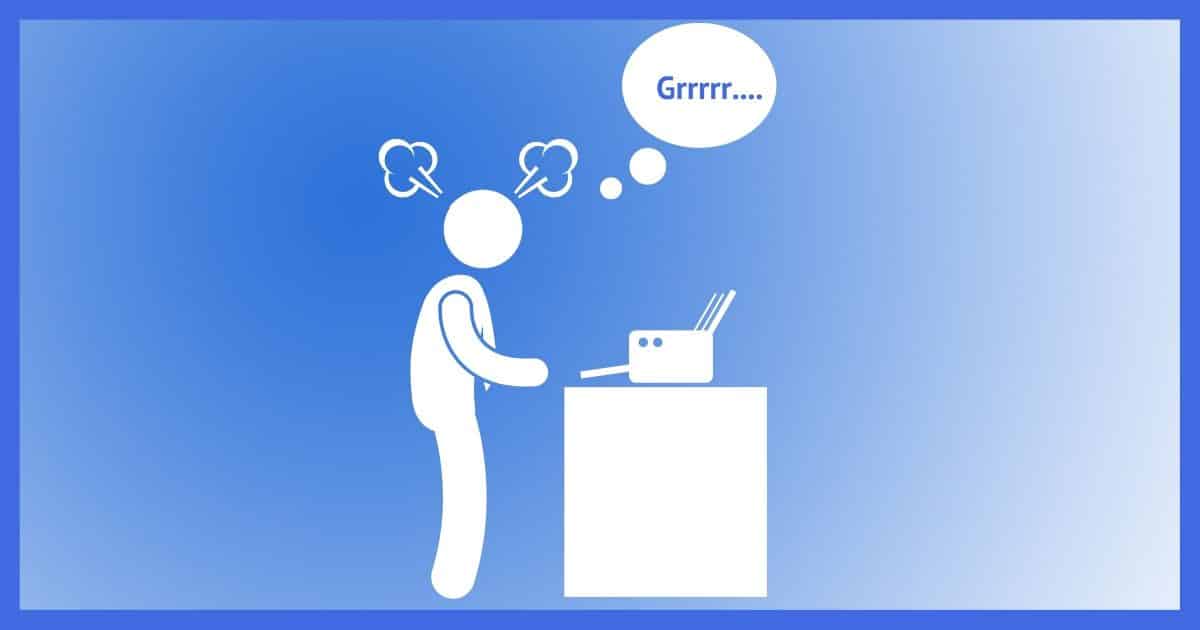 Question: I'm trying to delete a document in the queue of my printer, but I can't. It says "deleting", but it never finishes. I've tried to cancel the same document from the field of my printer, but it doesn't disappear. Restarting my computer, restarting the document, turning off the printer, unplugging the cables, still I can't. What else can I do? It doesn't allow other documents to print!
This happens too often, and you'd think Windows would have figured out how to handle it by now.
When you print a document, it's not sent directly to your printer. Instead, it gets placed in a queue. Once in the queue, Windows notices something needs to be printed, and sends it to the printer.
The problem is that sometimes the queue gets "stuck", for lack of a better word.
It can be really, really frustrating. It's also easy to fix.
Document stuck in the print queue
The easiest way to clear the print queue is to type the following in an administrative Command Prompt:
net stop spooler
del /Q %systemroot%\system32\spool\printers\*.*
net start spooler
Why queue?
You can run many applications on your computer at the same time, and they could all try to print at the same time. Without some kind of organization, it would be a mess. The documents need to be printed in sequence, one after the other.
Windows handles this by creating what's called a print queue. When an application prints a document, it's placed into the queue of documents to be printed. Multiple programs can print to the queue at the same time; Windows keeps track of which pages belong to which document.
When the printer is ready — perhaps after having completed printing a prior document — it prints the next document in the queue. The result is an orderly print-out of each document.
Spoolers and queues
Each printer on your system has its own print queue, managed by the system Print Spooler service. Adding a document to the queue or sending it to the printer from the queue is referred to as spooling.1
You can view the print queue for each printer by opening the Settings app and locating Printers & scanners or Devices and Printers. Click on your printer in the list and click on Manage. Here's the print queue for my (paused) printer after printing the Ask Leo! home page.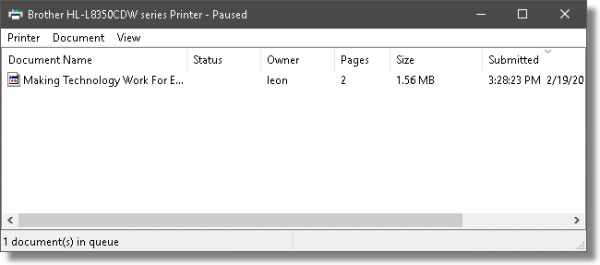 If there were multiple documents waiting to be printed, they would all be listed.
You can cancel printing a document if it shows up in the print queue: right-click on the document and click on the Cancel option.
When Print doesn't print and Cancel doesn't cancel
If the document being printed isn't listed, you can't cancel it. Many printers have very large buffers and have received several pages, or the entire document, before they're done printing. This means the document might be removed from the Windows print queue well before all the pages are printed.
But this question is really about the opposite: what do you do when the printer should be printing, the print queue shows several documents ready to be printed, and yet nothing's happening?
First, check all the usual stuff. Is the printer connected and powered on? Is the printer out of paper? Is it complaining about some other kind of fault? Is there a paper jam?  There are a lot of things that can stop a printer from printing, and nine times out of ten, it's one of those issues that gets in the way.
And yet, sometimes not.
Clearing the print queue
You may be faced with this situation:
Your printer is confirmed ready to print.
You have documents in the print queue.
Nothing is printing, even though it looks like something should.
Attempting to cancel the current print job in the queue does nothing.
Even rebooting doesn't help.
The solution is to clear the print queue manually, removing all the documents waiting to be printed. This is done on the computer to which the printer is connected.
Turn off your printer.
Right-click on the Windows Start menu in Windows 10 & 11. Then click Computer Management.
In the resulting dialog, expand Services and Applications (by clicking the "greater than" sign to its left), and click on Services. Scroll down the resulting list to find Print Spooler.
Right-click on Print Spooler and click on Properties.

Print spooler service properties. (Screenshot: askleo.com)

 

Click on Stop to stop the print spooler. (Leave this dialog open.)

Now use Windows Explorer to navigate to the folder "

c:\Windows\System32\spool\PRINTERS"

.

2

This is the folder containing the print queue.
Delete the contents of this folder.
Return to the Printer Spooler Properties dialog and click on Start.
Turn your printer back on.
Print something.
If your printing problem was related to a stuck printer queue, you should now be able to print again.
Pro Tip: The command line
Honestly, I never do what I've just described when my printer queue is "stuck". I run the following commands from an administrative command prompt:
net stop spooler
del /Q %systemroot%\system32\spool\printers\*.*
net start spooler
I run the command prompt "as administrator", since it requires administrative privileges to access the print queue folder.
If it happens often enough, you might even save those commands to a command file.
Podcast audio

Download (right-click, Save-As) (Duration: 6:16 — 8.7MB)
Subscribe: RSS
Footnotes & References
1: This dates back to days when documents to be printed were written to a spool of magnetic tape which was later taken to a different device to be printed.
2: A quick way to do this is to click on Start and then Run — or type Windows key + R — and then enter "c:\Windows\System32\spool\PRINTERS" as the item to run. This will open Windows File Explorer on that location.