Avoid losing everything if you lose your phone.
Smartphones are a popular way to take snapshots and videos. Tools like Dropbox are great for making sure those are backed up automatically.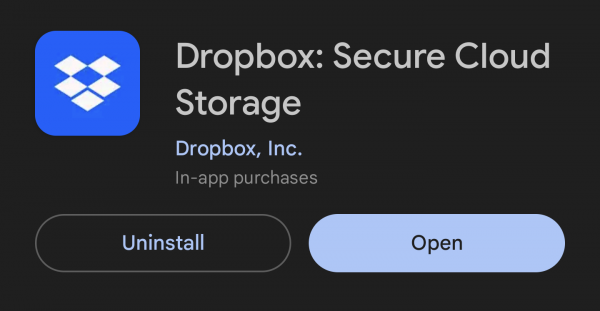 Someone recently told me that the storage on their phone was mostly full of photos. I, of course, asked if they had backed up, to which I got an exasperated "Yes, of course" in return. Apparently, I talk about backing up a lot.
What that person didn't realize is just how many people regularly lose everything on their phone, including their photos, if they lose their phone or their phone stops working.
Don't let that be you.
Back up smartphone photos
Use an app like Dropbox to automatically back up the photos and videos you take on your smartphone. In the app's settings, look for "Camera uploads" or similar features, and make sure they're enabled.
Install the Dropbox app
Go to the Google Play store or the Apple App store on your mobile device and search for Dropbox.
Install the app and accept the permissions it requires to do its job.
Run the app and sign in with your Dropbox account. If you don't have an account, I recommend you create one online first at dropbox.com. I also recommend enabling two-factor authentication for additional security.
Enable auto-upload
If you're setting up the app for the first time, Dropbox may offer to turn on the auto-upload feature for you. Otherwise, in the app settings (accessed by tapping "Account" in the lower right), tap on Camera uploads.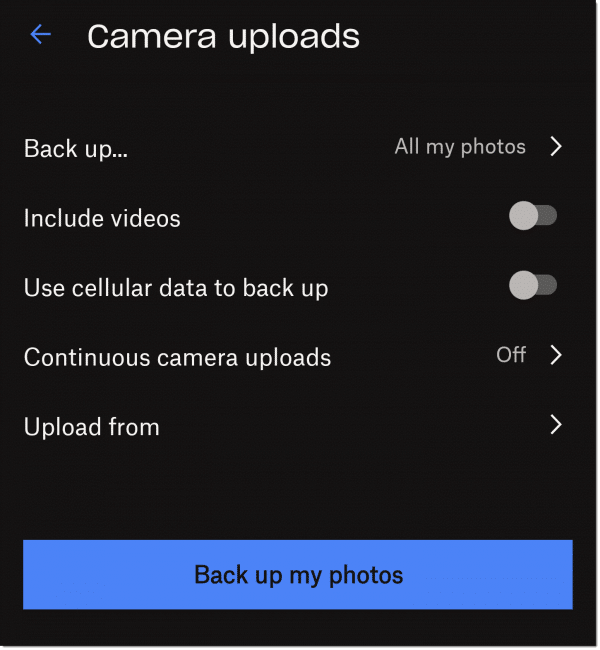 This is why we're here. Turn on "Include videos" if you like, and then tap on Back up my photos.
Dropbox will begin uploading and backing up the photos you've already taken. From now on, however, photos you take will be uploaded almost immediately.
Uploaded where?
Accessing your uploaded photos
Dropbox creates a new folder called Camera Uploads.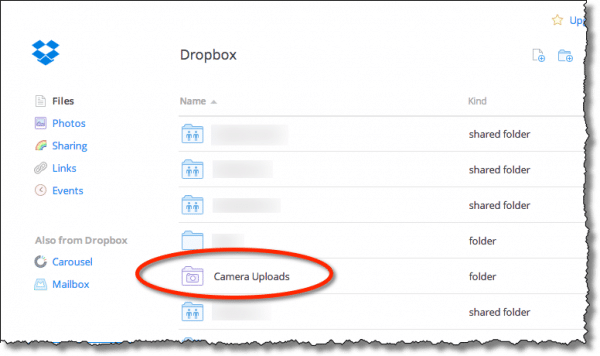 Examine the contents of that folder, and you'll find all your photos.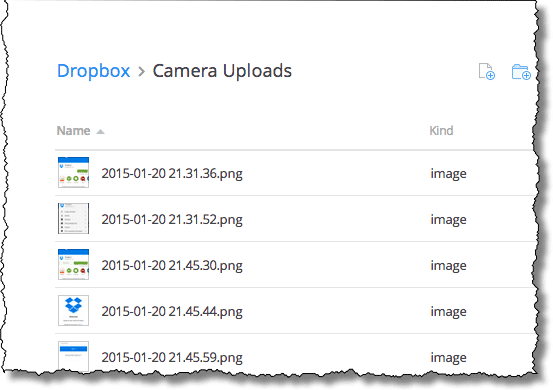 If you have Dropbox installed on more than one device and you're signed into the same account on each device, the photos will be automatically downloaded to1 all those devices as well.
Controlling the upload
Dropbox Settings (displayed above) allow finer control over exactly what and when Dropbox uploads.
Back up…: Can be "All my photos" or "New photos only". This is useful if you're turning the feature on, but you already have a number of photos on your phone. I recommend "All my photos".
Include videos: With this off, only photos will be backed up. The issue is that videos are much larger than photos and could chew through your data plan and Dropbox storage. I recommend turning this on if you can; otherwise, make sure to back up your videos some other way (typically using a USB cable).
Use cellular data to back up: This allows you to avoid using your cellular data plan for this feature. Turn it off, and uploads will happen only when connected to Wi-Fi. If your data plan can handle it, I recommend turning this on.
Continuous camera uploads: This allows uploads to continue even if a battery saver has paused the Dropbox app or if you haven't used the app some other way for a while. I recommend turning this on.
Upload from: Depending on the apps you have installed on your phone, there may be several folders containing photos. I recommend selecting them all, or at least making explicit decisions on which to exclude.
Naturally, you can turn the entire upload feature off. Unless you have another app doing the same thing or have some other strategy for backing up your photos, I don't recommend this.
Do this
I've used Dropbox as my example because it's popular, ubiquitous, robust, and supports two-factor authentication. But it doesn't have to be Dropbox.
Many cloud storage and cloud photo applications, including Microsoft OneDrive, Google Drive, and others, provide very similar functionality. In fact, so many apps now offer to automatically upload your photos from your mobile device that it's almost a problem because you have to keep declining the offers to replicate functionality you already have.
Regardless of which you select, automatically uploading your photos and videos means you're almost immediately backed up as long as you have an internet connection of some sort.
And as we know, backing up is a very good thing.
Another good thing? Subscribing to Confident Computing! Less frustration and more confidence, solutions, answers, and tips in your inbox every week.
Podcast audio

Download (right-click, Save-As) (Duration: 7:27 — 5.5MB)
Subscribe: RSS
Footnotes & References
1: Downloaded to PC/Mac installations but otherwise simply made available to other mobile apps signed into your Dropbox account and on Dropbox's web interface.