Question: I was headed to the airport, fired up my laptop to arrange for parking, and the first message was Windows needing to update before I even signed in. Of course I was in a hurry, but the update took a stressful five minutes while it prevented me from logging into the parking site. I was afraid to force reboot because it might leave my laptop in an even worse state.
People want to deal with this issue in several different ways, but they all boil down to retaining control over when Windows reboots to apply changes.
I'll review my recommended approach, as well as why some of the suggestions I've encountered are ill-advised.
Windows 10 updates often require a restart to be completely installed.
The best way to avoid Windows 10 update restarts at inconvenient times is to take updates manually when convenient.
Pause updates for some number of days to prevent unexpected restarts for a time.
Set active hours to prevent restarts at certain times of the day.
Enable restart notifications to make sure there are no further surprises.
Hacks to disable Windows 10 restarts completely are ill-advised, and often stop working.
Updates and restarts
Windows can't alter a file while it's being used. When updating Windows components it's quite common that the file needing to be updated is in use by Windows itself.
The solution is to complete the update by altering the file before Windows is fully loaded on the next restart. Instead of updating the file immediately, the update process leaves instructions that the file should be updated, and those instructions are processed the next time the machine restarts.
If you never reboot your machine, however, those instructions are never given the opportunity to be applied. As a result Windows (and other operating systems as well) take steps to encourage, and occasionally even force, a reboot to complete the update.
Unfortunately, as your question illustrates, Windows 10 has an unfortunate tendency to pick very inconvenient times to perform that restart.
Take updates on your own terms
The approach I recommend is simply this: take updates manually prior to any period where updates would be inconvenient.
For example, the night before travel make sure your machine is as up to date as possible by visiting Windows Update and checking for updates until no more are offered.
Then restart your machine in case any restart-time operations are pending.
This will dramatically reduce the chances of another update happening within the next few days.
Unfortunately that's reduce, not eliminate.
Pause updates
Recent versions of Windows 10 include the option to pause updates.

You can click on Pause updates for 7 days multiple times, adding 7 days each time, or you can pick a specific day on which to resume in Advanced options. You can pause for up to thirty five days.
After taking updates, as above, I'd then suggest you pause updates, using the default of 7 days. This ensures that you won't encounter any unexpected restarts for the week. If you need longer you can extend it.
If you're traveling, you might want to extend to include your entire trip, or repeat the process before you leave for home.
Set active hours
This is perhaps the most common recommendation, but it doesn't resolve the entire problem. Active hours will prevent your machine from restarting during certain times of day. Unfortunately this means at those other times a restart could still happen. (And of course it's not uncommon to travel at odd hours.
)
In Windows Update settings, click on Change active hours. On the resulting page you can let Windows determine active hours automatically by your usage patterns, or you can manually set the time of day during which restarts should not happen.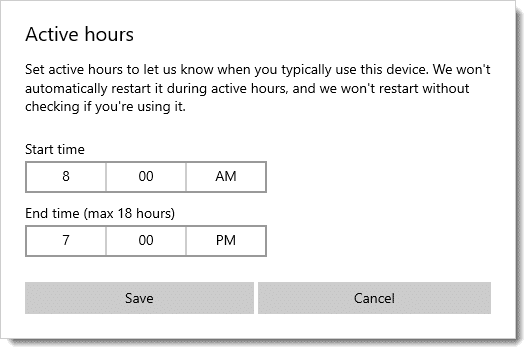 I mention it here because it is one additional tool to rope in Windows restarts, but I don't think it would have helped with the original question.
Get notified
Back in Windows Update advanced options, look for the "Update notifications" setting and make sure it's enabled.

For reasons I don't quite understand this setting seem to default to "Off". With it enabled you should at least get more warning that a restart is required (though it's unclear if you'll also be given an option to decline or defer the restart).
Hacks not recommended
In researching this question I came across several "solutions" to disable Windows Update restarts completely. I recommend avoiding such hacks for several reasons:
As I outlined above, a restart is an important step ensuring all updates are completely applied.
Registry hacks are often risky, and prone to being reset by (of all things) Windows Update.
Windows Task Scheduler hacks apparently don't work in all versions of Windows, and some seem to have been invalidated in recent updates.
The bottom line is unsupported hacks are risky, fragile, and appear prone to being rendered useless as Windows is updated.
The manual approach coupled with officially supported settings should get you the best of both worlds: restarts on your schedule, while keeping Windows as up to date as pragmatically possible.
Podcast audio

Download (right-click, Save-As) (Duration: 7:28 — 8.2MB)
Subscribe: RSS