What does it mean when Windows says that the current version of Windows 10 is nearing the end of its service? Doesn't this auto update itself?
Windows 10 does indeed auto-update, to the frustration of many. It's difficult to stop it from doing so.
And yet, this warning you're getting would indicate it's about to stop.
The difference is in the definition of "version" — what version you have, what versions are available, and what versions support your computer. Windows 10 end of service could arrive sooner than you think.
Microsoft releases new versions of Windows 10 roughly every six months. Each release is supported for 18 months. Always updating to the latest Windows 10 version assures it will continue to be supported for another 18 months. Once you reach an update version incompatible with your machine you can't update further, effectively reaching Windows 10 end of service for your machine.
A version is a version is a …
The confusion centers on the word "version". We tend to think of Windows 10's version as, well, 10. It was the next version after Windows version 8.1, right?
Kind of, but not quite.
When Microsoft talks about the current "version" of Windows, they're referring to the major or "feature update" of Windows 10 you're running.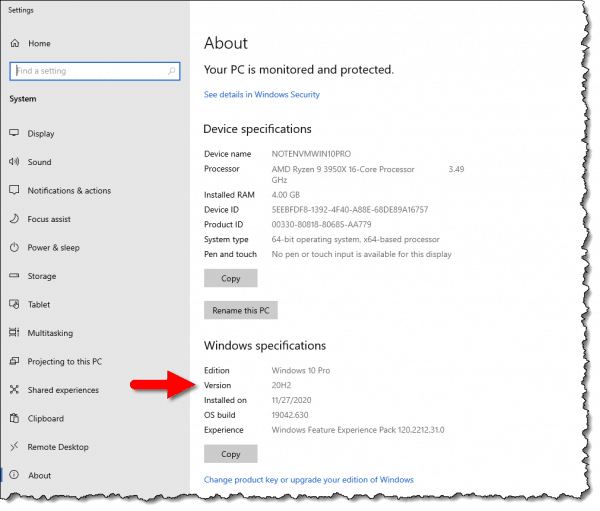 In the example above, I'm using Windows 10, version 20H2.
The version numbers aren't so much numbers as they are the approximate date when a version was first released. It's probably more accurate to call it the date the version was finished, because it's typically released a month or more after that date.
For example:
20H2 is the second half (H2) of 2020 version. It was released in October of 2020.
2004 was the April (04) of 2020 release, completed in April and available in May 2020.
1909 was the September (09) of 2019 release, available in November of 2019.
1903 was the March (03) of 2019 release, available in May.
1809 was the September (09) of 2018 release, available in March of 2019.
As you can see, the availability date is often different from the release date and version number — which is why I believe they moved to the 20H2 style of naming versions.
Forever is now 18 months
When Windows 10 was originally released, Microsoft said:
It was the last version of Windows
It would be supported forever on all current hardware
In this context, "version" meant 10. There will  never be a Windows 11. However, there continue to be new "versions"; they're all just versions of Windows 10.1
And, as it turns out, not all are supported forever. Each version (the half-yearly kind) is supported for only 18 months, at which point they reach "end of service".
In theory, that's not a problem because there's a new version you can upgrade to every six months or so that resets the clock. Windows 10 support lasts "forever" as long as you keep updating to new versions of Windows 10 as they're released.
If you can.
All current hardware is now … not
One of the other things that appears to have changed is the concept of all current hardware being supported forever. It didn't make sense to me when it was announced, and that it's been quietly rolled back is no surprise.
If you keep taking Windows 10 feature updates, your hardware will be supported for a long time, but not forever.
At some point, a feature update will come along that is incompatible with something on your machine. Some unique combination of hardware, devices, or software will prevent Windows 10 from installing the most recent feature update. The good news is that so far, this appears infrequent. The bad news is that I expect it to increase, and Microsoft's not been great about letting us know exactly what prevents a feature update from installing.
The solution is to first see if a clean install of Windows 10 with the latest feature update will work. If it does, you can reinstall software and deal with any incompatibilities if, or as, they arise.
If the clean install of Windows with the most recent feature update fails, that may be as far as your machine will go. Eighteen months after that update's release, your copy of Windows 10 will no longer be supported. You'll likely get that "end of service" warning repeatedly.
Automatic updates are automatic, mostly
In Windows 10, we have very little control over what gets installed and updated, or when. Automatic updates are always on, with none of the finer control we had back in Windows 7 days.
Two things have come up in response:
Windows 10 Pro edition allows you to defer feature updates for a limited time. This can be a useful delaying tactic.
Individuals have taken various approaches to keep Windows Update from running. This isn't advised, since they're also not getting important security updates.
If you're in either of those camps, you may also run into end of support for the version of Windows 10 you happen to be running.
Your solution is simple: let the update happen.
Update 'til you drop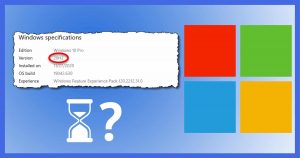 My recommendation is to let Windows Update run, and let it update to the latest feature release if possible. That way you'll be as secure as possible while having the latest set of supported features.
You don't have to do this immediately on an update's release. Deferring, as you can in Windows 10 Pro edition, is a fine approach to let others weed out any initial issues. But I'd do it "soon" — probably within a month or two of the update's availability for your machine. I would certainly not wait 18 months.
The sooner you do it, the sooner you'll be able to make other plans should it fail because the new update is incompatible with your hardware.
Podcast audio

Download (right-click, Save-As) (Duration: 8:01 — 9.3MB)
Subscribe: RSS
Footnotes & References
1: Some theorize that eventually "10" will go away, and it'll just be "Windows", but it'll still be 10 under the hood.