Question:
I'm currently preparing to back up my computer for the first time and I'm unsure of the answer to the following question. If I do either a system image or a regular backup of my Windows 7 computer, will my Outlook emails also be included in the backup or do I have to first back up the emails to a PST file; do the backup and then import the emails back if I ever need to restore the system? In checking the Microsoft site and two other searches, the only answers I find are "…..will backup all files, programs, etc…." and no mention about emails. I hate to assume that the emails will be backed up only to find that they aren't after spending the time to do it.
This is an awesome question and the answer's actually somewhat frustrating.
Your email may or may not be backed up! It really depends on exactly where your email lives. Once we know that, then we can make some more helpful statements.
Image backups
An image backup backs up everything that is stored on your computer – everything.
So for example, if you use an email program like Outlook (not Outlook.com – that's a website) Thunderbird, or Windows Live Mail, or many others, then the email that has been stored by those programs absolutely will be backed up.
Regular backup?
You asked if your email will be backed up "if I do either a system image or a regular backup…". I don't know what you mean by a regular backup; there's really no such thing.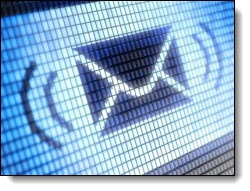 Are you thinking of a "regular backup" as an operation that backs up just your data? Well, if you're using an email program, as I've just described, and if your email program is storing that email on your computer in a place that the backup program considers a place for data files, then yes, the email is probably getting backed up.
But it might not be if the backup isn't configured to back up the folders on your machine where your email happens to be stored.
Email on the web
Now, if you access your email via a web browser like Internet Explorer, Firefox or Chrome (common when you're using an email service like Hotmail, Gmail, or Outlook.com); or if you use a website provided by your ISP or some other online email provider; then your email is not stored on your computer.
In that case, backing up your computer, no matter how you do it, does not back up your email … because your email isn't there.
The key to backing up web based email – at least the most common and what I think is the easiest way — is to get it on your computer. You do that by installing a mail program and configuring that mail program to connect to your email service. Chose IMAP as the access method when you set up the email account in the email program. IMAP is often the default. That means that email will be copied from the email server to your PC. Suddenly, you have two copies: a bare-bones backup right there.
One copy remains on the server on the email service, and the other is in your PC. When you then back up your computer, your email will be backed up as long as you either perform an image backup (again, backing up everything); or your backup is configured to include the folders where your email program stores your mail.
So, yes, it's very important to know exactly how your email is handled and where it lives – so that you can know that it's getting backed up. You don't want to just assume one way or the other.