Why do the changes I've made to a document that was emailed to me disappear?
Naturally there are a lot of ways that things can go wrong and disappear, but dealing with documents that have been emailed to you as an attachment adds another small layer of complexity.
You may think you're just editing a document, but you're also editing the email that it came in. And that's where things can get confusing.
For the record, I'll be referring to Outlook. This discussion applies mostly to email programs like Outlook, but the principals may apply to other email programs as well. Similarly, I'll be using Microsoft Word and a word processing document as the example attachment, but the concepts apply regardless of the type of document attached.
An attachment is nothing more than a specially formatted part of an email message. Outlook knows that it's special, so it shows as an attachment icon rather than the illegible specially coded mess that attachments are actually stored as.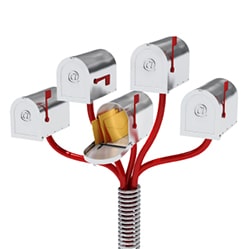 When you open an attachment, say by double clicking on its icon, Outlook decodes the attachment from the email and writes it to a temporary location. Then a program such as Word is used to view or edit the temporary copy.
Note the repeated use of the word "temporary". When you close Word, the temporary file is deleted by Outlook. The original remains encoded within the email, but the temporary copy that you were actually viewing is gone.
So, what if you made changes to the document you were viewing?
First, you'll have to save the changes to the temporary copy in Word. If  you make a change and then go to close Word, then it will first ask you if  you want to save the changes you've made.
As I said earlier, when you close the attachment, the temporary file you were looking at is deleted. However, Outlook will notice that the document has been changed. Before deleting the temporary file, it will update the attachment within the open email message.
Lastly, when you go to close that email message, Outlook will ask you "Do you want to save changes?". This can be confusing, because to all outward appearances the email message hasn't changed. But in fact it has, because you made changes to the attachment that is part of the message. If you don't save changes at this point, those changes to the attachment will be lost.
What if the message wasn't open? Well, it had to be open in order to open the attachment in Word. If you close the message before you close Word you lose the possibility of updating the attachment in the message. Outlook will usually warn you if you're about to do this.
The good news is that if you've closed the message and Outlook can't  update it, it also doesn't know that it needs to delete the temporary file when Word closes. So you may be still able to find the document by searching in your temporary folders.
Finally, my recommendation is actually very simple: avoid all this. Just don't do it that way.
Instead, if you need to edit a document that has arrived as an attachment, use "Save Attachment" to save it to disk first. Put it in "My Documents" or some other place that you'll remember. Edit it to your heart's content without worrying about Outlook, and open messages and/or temporary files. Then, when you need to send it to someone else or reply to the person that sent it in the first place, just attach your new copy of the document to your message.