You might be collateral damage in the war against spam.
Possibly being labeled a spammer is another reason not to forward political and other emails. Do it enough and your normal email may not get delivered.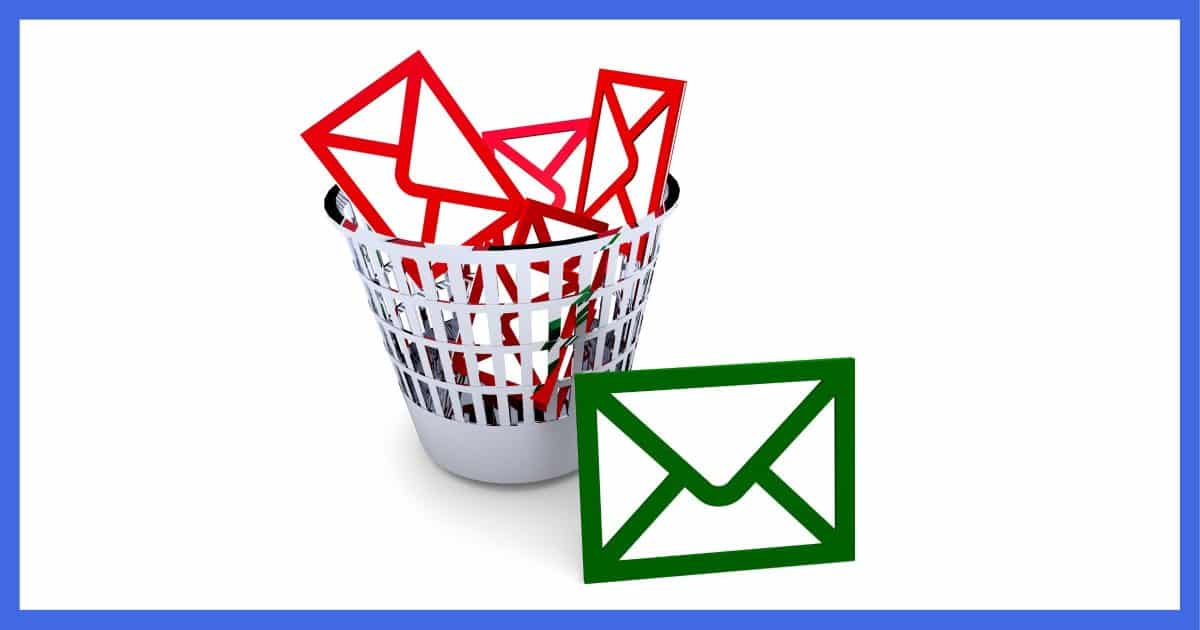 As I write this, thousands of people have my email address. It's right there on the "From:" line of every newsletter I send.
Naturally, some of them forward me jokes, political messages, and even hoaxes or urban legends. I know they mean well and do so with the best of intentions.
But I mark them all as spam. It seems harsh, but I feel I have to.
Because that's exactly what they are.
Even if I don't, others may, and because of that, there's a very important lesson here in making sure that the rest of your email keeps getting delivered.
Are you a spammer?
Spam is whatever the recipient says it is, so if enough people getting your messages mark them as spam, then email systems start to consider you a spammer. Be respectful of other people's inboxes, and you should be fine.
What is spam?
In its purest form, spam is simply email you didn't ask for. Some folks limit it to "commercial" email, but many do not.
It's a simple definition.
You can argue about it all you want (and I often do), but the fact is people will push the "Report Spam" button on almost anything they don't like.
Getting your email delivered
I'll use Google's Gmail as my example here.
When a Gmail user hits the "spam" button on an email you sent, that's a strike against your email account. That person is telling Google that any email that looks like this is spam as far as they're concerned.
One of the biggest things Google can look at as part of trying to define what "looks like this" is the email address the message was sent from.
You.
If that happens often enough or happens from enough different recipients on Google, then Google will start automatically marking email that looks like that as spam without needing to be told further.
In other words, your email won't get delivered. That includes not getting delivered to all the other people on Gmail that never once called it spam.
This applies to just about any email system that has a "Spam" or "Junk" reporting system.
"But I just sent something important/funny/pretty, not spam!"
It doesn't matter. You don't get to define what is and is not spam; your recipient does.
And by reporting spam, your recipients can affect whether your email makes it to others.
I know that this doesn't feel right, but it is what it is. People want control over what shows up in their inbox and marking any unsolicited email as spam is one way to do it.
Why I have to
I tried replying and asking people to stop forwarding me stuff.
Not only does that take time, but people got angry with me for daring to do so. No one wants to deal with angry people, but I still want to stop getting their forwards.
So, one click and it's marked as spam. I get on with my life. If it's a one-shot email, it probably affects nothing. If it's a repeat offender, eventually Google will get the message and mark it as spam for me, removing it from the email I need to see.
This isn't about me
As I said, people got angry when I replied. I expect people will get annoyed at what I've said here, blaming me for being too draconian in my approach to email I didn't ask for.
This isn't about me.
This is about all your other recipients who are doing exactly the same thing without telling you.
If you find that your email isn't getting delivered to people, ask yourself this: have I been sending them things they didn't ask for? Lots of humor? Petitions? Politics? Irresistible pictures and videos?
If the answer is yes, then it's possible that by using the "Spam" button, they've convinced their email provider that email from you is spam.
Do this
Be respectful of other people's inboxes. Remember, what you think might be important, funny, or whatever, someone else might consider spam.
Here's something that isn't spam: that newsletter I mentioned above: subscribe to Confident Computing! Less frustration and more confidence, solutions, answers, and tips in your inbox every week.
Podcast audio

Download (right-click, Save-As) (Duration: 6:43 — 9.3MB)
Subscribe: RSS