I rarely make negative comments about specific programs or products. I prefer instead to present a more positive view of the products that I like and recommend rather than saying bad things about the products I don't.
Some time ago, Microsoft introduced the Internet Explorer 6 countdown in an effort to publicize the fact that there's no valid reason to continue to use IE6. Its days are over. IE7, 8 and 9 are all available, more stable and more importantly, more secure. (And, of course, there's a host of other browsers as well, but I'm not shocked to find that fact missing from the Microsoft site.)
In my opinion, they didn't go far enough. It's time for another program of that same era to go away.
Outlook Express must die.
Outlook Express was awesome
Don't get me wrong. Outlook Express was an awesome email program.
It helped more people get on to the internet and sending email than perhaps any other single email program. People found it easy to use, and fundamentally sufficient for exactly what they wanted to do with email.
Along with IE 6 it came along at a critical time in the evolution of the internet. Provided, for free, on every copy of Windows it was the right program in the right place at the right time.
People were very happy with it.
Unfortunately bad things happened.
Outlook Express Loses Email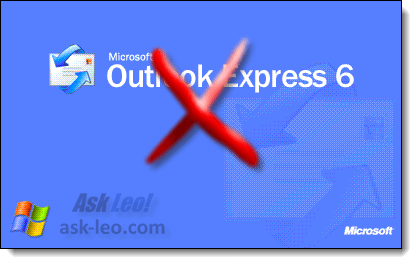 This is purely empirical, based on the problem reports that I've gotten from people over the last seven ten-plus years of doing Ask Leo!
Next to email account thefts, the biggest problem that I hear about is people losing email, often forever, while using Outlook Express. It happens so much that I cringe whenever I see a question come in that mentions it; I know that the news will not be good.
Anyone who's mistakenly answered "Yes" to the "Compact Now?" prompt has probably felt the pain. (Hint: Don't do it.)
Outlook Express' storage format is apparently fragile, difficult to backup in a way that's useful for anything other than a complete restore, and almost impossible to repair without expensive third-party tools.
Outlook Express is No Longer Supported
The last time Microsoft included Outlook Express with a browser was with Internet Explorer 6. The fact that they're now actively discouraging IE6's use should tell you something about Outlook Express.
There are no more releases, no more bug fixes, and precious little help if you have a problem.
Microsoft removed Outlook Express from Windows Vista, and there's no way to get Outlook Express in Windows 7 or 8 short of running a complete copy of Windows XP in a virtual machine.
There Are Many Great Alternatives
There are so many great alternatives to Outlook Express that it's staggering. There are well over 100 different email programs or approaches one could take. Here are a few of the most common that I can suggest:
Seriously, though, that's just the tip of the iceberg. There are many, many good alternatives worth considering.
Moving Is Hard
I agree: switching email programs a pain. (There's a common confusion that you need to change your email address when you change your email program. You don't – they are two different things.)
But it's less painful than losing all of your email.
And moving to an email program that's supported and updated and for which you have more resources for help is a really, really good thing.
The one piece of advice that I can offer here is: change email programs before you switch machines, if possible. Most programs that provide the Outlook Express import capability do so assuming that Outlook Express is installed and running on the current machine. Copying Outlook Express folders to another machine and then trying to import them into a new email program is often problematic.
Once you've converted to the new email program, moving to a new machine is typically much easier. This is another one of Outlook Express's weak points.
It's not an ideal world
In an ideal world, Microsoft would have continued to support and improve Outlook Express, but for whatever reason, they did not.
There's really no point in grousing about it now – it's a done deal. It's been a done deal for years.
If you're angry at Microsoft for taking this approach, then perhaps one of the best things that you can do to secure your email and feel a little better about doing do is to switch to a non-Microsoft email program.
Anything but Outlook Express.
If you must stay
One thing that has become apparent is that there are many individuals who are absolutely adamant that there's nothing wrong with Outlook Express – even though my personal experience says otherwise – and are determined to stick with it as long as possible.
It's not my recommendation, but here's what I do recommend you do if you're sticking with Outlook Express:
Never ever use the compact operation unless the folder you are compacting is empty. In certain circumstances compacting has been seen to lose email.
Never allow a single folder to grow larger than 2 gigabytes in size. Exceeding 2 gigabytes is highly suspect in many cases of data loss. Spreading your email across multiple folders is one way to mitigate this issue.
Back up. Back up often, back up regularly, back up completely. When something happens this is your own hope of salvation.
It appears that the fundamental source of Outlook Express' problems is large accumulations of mail. It worked and worked well originally and when people didn't have as much mail. After 10+ years of accumulated email that's no longer the case for many people.
And it's a case that Outlook Express appears unprepared for.