Question: Why do some websites have you re-enter your email when you click on "unsubscribe"? Don't they already know who I am?
At best, it's because they're lazy.
At worst, it's because they want to make it more difficult to unsubscribe.
I suppose there's an even worse case: it's spam and you never subscribed to begin with.
There's simply no excuse these days for any of those possibilities.
Lazy
The most common reason is outdated or ineffectual mailing list software that doesn't encode your email address into the unsubscribe link.
It's not that hard. For example, while an unsubscribe link might be coded as a link to:
https://somerandomservice.com/unsub.php
There's absolutely no reason it couldn't be:
https://somerandomservice.com/unsub.php?email=leo@askleo.com
The latter link includes the email address as part of the request.
One click and you could be done.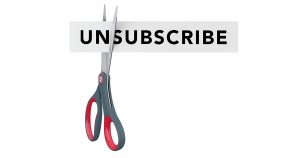 Almost all legitimate mailing list providers include this functionality. As with The Ask Leo! Newsletter, it's often encoded in such a way that it may not look like an email address, but the information is there to uniquely identify which email address should be immediately unsubscribed.
If the organization sending you email doesn't have or use that capability, the only recourse is to ask you to re-enter your email address. Instead, they should update to more capable software.
Erecting barriers
This is borderline conspiracy thinking, but I'm sure it happens at least occasionally. A more nefarious possibility is that they intentionally make it difficult to unsubscribe.
By forcing you to re-enter your email address, they're hoping it's too much work, or you'll get your own email address wrong.1 Either way, the result is that you stay on their list.
This typically backfires, of course, as the next approach to get off the list is to start marking those messages as spam. The sender can still claim a higher subscription number, but does it really matter if the easy way to get off the list is to mark it as spam?
Speaking of spam
The rule of thumb is to never click on an unsubscribe link for a list you never requested to be on, or are on due to some other legitimate reason, like having made a purchase with an online vendor.
If you didn't ask for them, those messages are spam.
One way spammers harvest email addresses of real, live people is to include an unsubscribe link that asks for an email address. Any email address given is immediately subscribed to more spam.
Unsubscribe should take one click or two
The bottom line is that unsubscribing from an email list you requested to be on should be a single click. Two at most.
Anything more complex is, honestly, disrespectful.
Podcast audio

Download (right-click, Save-As) (Duration: 3:43 — 1.8MB)
Subscribe: RSS
Video Narration
Footnotes & References
1: Happens more often than you might expect.