Based on questions I get, it's clear that the differences between email domains, accounts, and addresses is an area of common confusion.
It doesn't help that the terms are used inconsistently across the industry.
Most folks understand domains, more or less, but the difference between an email address and an email account? That's not always clear.

Domains
As I said, you probably know what a domain is. "askleo.com" is a domain, as is "hotmail.com", "microsoft.com", and "mac.com". Those represent business or organizations on the internet. In almost all cases, they happen to have a web site associated with them, though it's not technically required. Similarly, they all probably process email, though again, that is not necessarily required.
By processing email, I mean that email directed at some address "@" (at) one of those domains is handled by a mail server or servers specifically for that domain. In fact, all the internet really knows is that "mail for this domain is is handled by that server". Sometimes it's the same server as the web site – for example, as I write this, mail for "askleo.com" is handled by "askleo.com". But sometimes it's not – mail for "hotmail.com" is actually handled by four different servers, "mx1.hotmail.com" through "mx4.hotmail.com".
A key factoid is that any domain can have a virtually unlimited number of email addresses and accounts associated with it. Think of all the possible email names to put in front of the "@" in "@askleo.com"; as the owner of that domain, I could choose to define any of them.
Accounts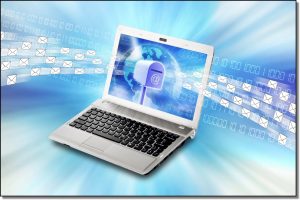 For purposes of my discussions, an account is a mailbox.1 Seems simple, yes? And, in many cases it is, because in many cases there's a one-to-one relationship between an email address and a mailbox.
I'll put it another way: an account is used to read a mailbox. In order to download or read email in a mailbox, you must supply your account name and password.
In many cases, the email address actually identifies the account. For example, a Gmail account is completely identified by the corresponding Gmail email address. The upshot is that if you want to change your Gmail email address, you can only do so by creating a new GMail account.
Not all accounts are identified by their email address. A good example is an old Verizon account I had years ago. The account was identified by a cryptic user name like "res1234", which isn't an email address at all. But the email address that corresponded to that account was more as expected: "something @verizon.net".
In my email program's account configuration, I had to specify that cryptic name as my "User Name" (with its password, of course), and then when it asked for my email address, I would put in my @verizon.net address.
It was still a one-to-one relationship, though. One user name, one mailbox, and one email address that landed in that mailbox.
Addresses
An email address is a name for a mailbox. It is not the mailbox – it's simply one name for that mailbox.  The address of a building is not that building. The distinction is subtle, but important.
To put it another way: an email address is simply a way to put email into a mailbox. An email address simply tells the mail system, right down to the mail server for the specific domain, the mailbox into which the mail should be delivered.
So why is the distinction so important?
Because a single mailbox (account) can have many, many names (addresses). As one example, email sent to leo<at>askleo.com2 and email sent to sales<at>askleo.com – two different email addresses – end up in the same mail box – a single email account.
Now, whether any specific email provider can actually do this varies. Some do, often calling them "aliases"; others do it via forwarding (as mine does). Others don't support it at all: one email address, one account, no exceptions.
Accounts and Addresses
So we've seen that accounts and addresses are related, and that they meet at the mailbox. Addresses put things into the mail box, and accounts are how you take things out. How does that translate into actual usage?
Well, depending on your email provider, you can often define several different email addresses that are all delivered into the same mailbox. For example, it's not at all uncommon for various standard email addresses like "abuse@", "postmaster@", "webmaster@" and so on, to all be delivered into the same mailbox – the mailbox of the administrator for that mail server. I actually go so far as to have many email addresses on my "askleo.com" domain, but only one account. All the email on that domain is delivered to that single account. (I then use rules and filters to sort the email, based on what address it was sent to.)
Mailboxes, identified by your account, are what you access or download. That means that, regardless of how the email got there, regardless of what address was used to get it to that mailbox, when you download email from that account, all the emails in that mailbox are part of the package.
That has interesting implications: it means you can control what email gets downloaded when by having more than one account. I could separate askleo.com into two accounts, for example: one for the email addresses I want to pay attention to quickly, and the other for things that aren't as critical. You could also segregate email based on which address it was sent to, which is what I do with my askleo.com email.
In practice I have two primary accounts: business and personal. Each has several email addresses that are all delivered into the two mailboxes associated with those two accounts.
The Office Building
Domains, accounts, and addresses still a little unclear?
Time for a metaphor.
Imagine a large office building. This office building has hundreds of employees, and deep down in the basement is a mail room, which receives the tons of paper mail delivered by the postal service every day.
The "domain" is the address of the building. The postal service simply delivers all mail for anyone in that building to the back door, where they drop it in big a lump. That's the equivalent of the internet handing off all email addressed to that domain to the mail server for that domain.
The "mail server" is the team of hard-working mail clerks who pick up the mail from the back door, carry it down to the basement, and start sorting it.
Each employee has a physical mailbox – that's their "account", in which they receive their paper mail.
Each mailbox is protected by a lock and key. That's the equivalent to the employee's email account username and password.
Incoming email is delivered as the mail clerks examine each piece of mail and shove it into a corresponding mailbox.
However, each employee might go by several names … each of those is an "address". I might go by "Leo", "Leonard", or "Chief Technology Officer", and the mail clerks know to deliver all the email addressed to any of those to my single mailbox.
And finally, there's the guy that takes the mail out of your box, and delivers it to your desk for you to read. He's your "mail program".
I could extend the metaphor a little further … perhaps the mail clerks recognize and automatically throw away junk mail – that would be your spam filter. Mail that the clerks don't know how to handle? They mark it "unknown; return to sender" – that's a "bounce".
Email isn't dead
Every so often you hear someone proclaim that "email is dead". Far from it – email is alive and well and the backbone of digital commerce, information flow, and general person-to-person connections.
But it can be complex.
Hopefully, understanding how domains, accounts, and addresses all relate will help you better appreciate the digital magic that gets your message from point to point. It can also enable you to use some features, like multiple addresses and accounts, to manage your own digital information flow.
If nothing else, now you have an understanding of why, when configuring your email program, it asks for both email address and account.
They're two different, yet related, things.
Podcast audio

Download (right-click, Save-As) (Duration: 9:46 — 9.0MB)
Subscribe: RSS