Microsoft made a liar out of me.
I'd confidently asserted that unless you asked for Windows 10 – either by direct download or by accepting the "reservation" they offered before launch – Windows 10 would not be downloaded to your machine. I figured people who claimed otherwise had obviously forgotten that they'd somehow asked for it. That reservation thing was pretty confusing, after all.
I was wrong.
As reported by The Inquirer, and several other news outlets, Windows 10 may be downloaded to your machine whether you want it or not.
Presumption
First, a little editorializing on my part.
Dear Microsoft: what the heck are you thinking!?
Apparently there are reports of people with expensive overages on metered connections while the download occurred, not to mention the disappearance of multiple gigabytes of hard disk space without any warning and without even asking.
If this is true, "unacceptable behaviour" doesn't even begin to cover it.
Quoting The Inquirer quoting Microsoft:
"For individuals who have chosen to receive automatic updates through Windows Update, we help upgradable devices get ready for Windows 10 by downloading the files they'll need if they decide to upgrade. When the upgrade is ready, the customer will be prompted to install Windows 10 on the device."
That's. Just. Wrong.
Windows 10 may be a good – even great – operating system, and will clearly be around for a while. But must you compound the public relations nightmare that has surrounded it? First some very rough installs and upgrades for a variety of reasons, then the whole privacy controversy, and now this?
You're making it difficult to defend your actions – particularly when they're fundamentally indefensible.
I don't know what to make of what you've become of late.
Rant over. For now.
Determining if you already have the Windows 10 download
Enable "View Hidden Files" in Windows File Explorer. (This article will show you how.)
View the root of your system drive – typically C:\.
If you have a folder named "$Windows.~BT", then Windows 10 either has been downloaded for you, or is in the process of downloading. Chances are the contents of that folder are several gigabytes in size.
If the download is complete, you may already be experiencing repeated offers to install Windows 10, even though you never asked for it, and regardless of whether or not you want it.
If you want to get rid of those offers and free up the disk space that the download might be taking and are sure you don't want to upgrade to Windows 10, here's what to do.
Back up
I do recommend that you back up first.
With all the confusion surrounding these updates, and the fact that much of this seems to have been discovered not through official channels, but by virtue of "reverse engineering", it makes sense to play it safe and take a complete system image backup before proceeding.
Just in case.
Stopping the download
To prevent the download, we need to uninstall several Windows updates, and prevent them from being reinstalled.
If you are running Windows 7, the updates are:
KB2952664
KB3021917
KB3035583
In Windows 8.1, those updates are:
Uninstalling an update
Run Control Panel, go to Programs and Features, and click on View installed updates.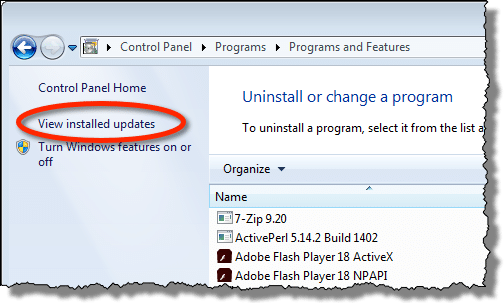 Carefully search the list of installed updates for the "KB number" entries listed above that apply to your operating system. For each, if found, right click on it and click Uninstall.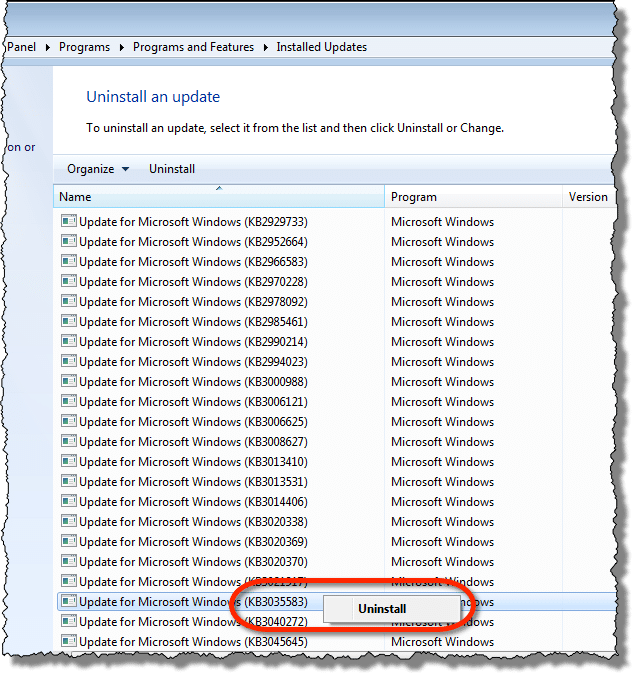 If Control Panel asks you to reboot, you can defer that until you've uninstalled all the updates listed above that apply to your system. Once you have uninstalled both for Windows 8.1 or all three for Windows 7, then reboot your system.
The updates are uninstalled. Now we need to prevent them from returning.
Preventing an update from installing
In Control Panel, go to Windows Update.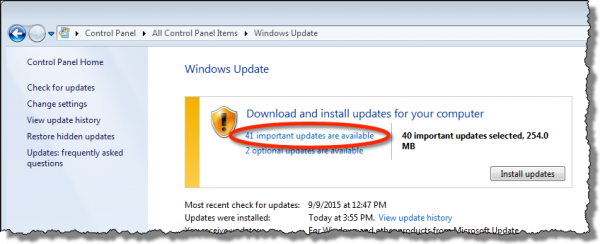 Click on "… important updates are available" to list those available updates.
Carefully look for the two or three KB updates you just uninstalled. Right click on each, and select Hide Update.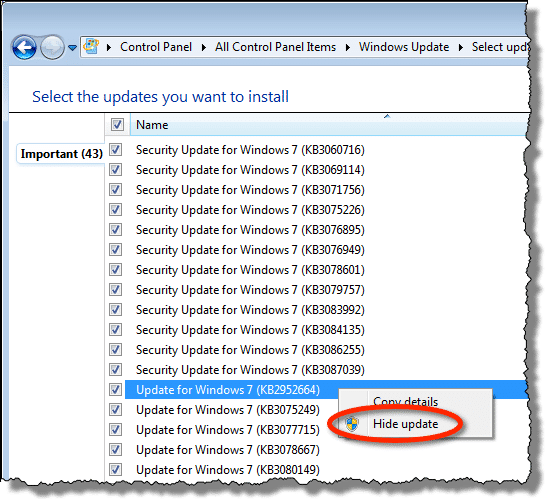 If you ever do want to upgrade to Windows 10, you'll need to return to Control Panel and restore hidden updates to re-enable these.
If you don't find the updates listed
Naturally, there's been a lot of confusion with respect to Windows 10's download and the presence – or not – of the KB updates listed here.
If you don't find them, and you're certain you've looked carefully, then there's nothing to uninstall or hide. You might consider returning periodically to ensure that they're not added later, or that they haven't been installed while you weren't watching.
You could opt-out of installing Windows Updates automatically, but even after this, I still don't recommend doing that. Security updates that might come along are simply too important to run the risk of missing.
Removing the download
We've dealt with the updates; now you may choose to remove the download. There are two approaches to freeing the space taken up by the Windows 10 download.
One approach is to simply delete the folder "C:\$Windows.~BT" and everything in it. You may need to run Windows File Explorer (or a Command Prompt) "as administrator" in order to do so. This is, in fact, the approach I've taken.
I was recently made aware of what may be a more thorough approach: using Windows disk cleanup utility. My article Using Windows Disk Cleanup presents an overview of the utility. What's particularly relevant here is that you'll want to:
Click "Clean up system files"
Make sure that "Temporary Windows installation files" is checked.
Be watchful
This isn't particularly helpful, I realize, but I do feel somewhat violated by this. My recommendation is that you keep an eye out – for large downloads, for the $Windows.~BT folder, and just in general for news of the download re-appearing – even after taking these steps.
It seems like Microsoft really, really, REALLY wants you to have Windows 10.
Whether you want it or not.
Podcast audio

Download (right-click, Save-As) (Duration: 7:32 — 7.0MB)
Subscribe: RSS