I've been using Google Drive and Google Docs for several years. With the addition of functional (albeit somewhat crippled) versions of the applications on my Android mobile devices, it's a quick and easy way to have documents with me wherever I might be. Add to that the ability to share documents with my assistants, and it's become a valuable resources in how I handle my data.
I recently started playing around with Microsoft's offering. They, too, now offer somewhat crippled versions of actual Microsoft Office programs for free on both the web and mobile, including my Android phone, integrated with their online "cloud" storage offering, Microsoft OneDrive.
But there's something fundamentally different about Google Docs and Microsoft Office Online, something that has me now in the process of slowly switching to OneDrive, and potentially even shifting some of my other files from DropBox while I'm at it.
It's all about backups.
Synchronization and cloud storage
To understand the difference that's caught my eye, I first need to review how tools like OneDrive, as well as Dropbox and Google Drive, handle synchronization.
The fundamental concept is very simple: you install an application on your computer, and connect it to your online account. With that online account comes some amount of free online ("cloud") storage (and the option to purchase more).
You point that desktop application to a folder on your computer – typically a new folder that the installation has created for you. That folder is then "associated" with your online storage.
Any time your machine is online:
Any file or sub-folder you place in the folder is automatically uploaded to the online storage.
Any file or sub-folder you change in the folder is automatically changed in the online storage.
That, alone, makes these services a pretty simple approach to getting near-realtime backup. But there's more.
Any file or sub-folder you create in the associated online storage is automatically downloaded to your machine.
Any file or sub-folder you change in the associated online storage is automatically changed on your machine.
By itself that seems interesting – you can go to the web interface and add, delete and modify files, knowing they'll show up on your desktop later.
Unless, of course, you're using Google Drive, and create a a document using their online tools.
A document isn't always a document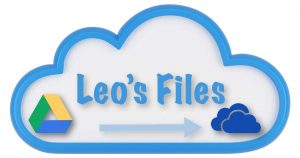 The fundamental difference boils down simply to this:
If you create a document using Google Docs, and you have Google Drive installed on your PC to synchronize with your online storage, what is stored on your machine is ".gsheet", ".gdoc", or similar, which is a shortcut to the document online. Double click that, and you'll be taken to Google Docs online to view or edit the document.
If you create a document using Microsoft Office Online, and you have OneDrive installed on your PC to synchronize with your online storage, what is stored on your machine is an actual Microsoft Office document – .docx, .xlsx and so on. Double click on that, and you'll open whatever application

1

is on your machine to view or manipulate that document.
In other words, even using Google Drive, Google Docs exist only online.
Why this matters to me
Google Docs exist only online. Put another way, Google Docs exist in only one place. . . and you know what that means.
If it's only in one place, it's not backed up.
The only way I know of to back up my Google documents is to periodically download them myself, either by exporting them manually – something I actually have a monthly reminder set for me to do – or by running Google's Take Out service, which lets you download everything you have stored in your Google account2.
Automatic is better.
Switching to OneDrive give me more flexibility
I subscribe to Microsoft Office 3653. That means I have the actual Microsoft Office applications installed on my computer. By keeping my data in OneDrive, I can:
Work on my documents using full-featured Microsoft Office programs on my PCs.
Work on my documents using Office alternatives( like Open Office) on my PCs.
Work on my documents online, via the web, from almost any computer.
Work on my documents on my phone or tablet.
In each case, each time I complete or save my work the document – the real document, not a shortcut – is automatically replicated onto all the machines on which I have OneDrive installed.
Instant backup.4
All the usual features
OneDrive has the other features we care about, too:
Cross-computer synchronization. Add multiple computers to the same online account, and OneDrive will keep the documents in sync across all machines.
Sharing. I can, and do, share documents, or even entire folders, with others.
Online storage. I've lost track of how much you get for free – I think it's 15 gigabytes right now, but it could change. With my Office 365 subscription, that gets bumped up to one terabyte.
Revision history. Make a bad change to a document, only to see that mistake get replicated across all your machines? Go to OneDrive online and you can fetch a previous copy of the document.
And probably more….
In fact, since the sharing and synchronization facilities are so similar, and the storage is so much greater on OneDrive, I might also be moving more of my DropBox contents over to OneDrive. Aside from the default storage amount, that's not a problem with DropBox at all; it's simply a matter of convenience for me.
What should you do?
I'm not suggesting everyone start switching to OneDrive. I outline my experience to encourage you to explore the possibilities and differences between some of the cloud storage services. After realizing my Google Docs were somewhat at risk for lack of backups, I elected to make a switch.
Are there other solutions? Of course.
Could I have solved the problem a different way within Google Docs? Probably.
But OneDrive has matured into very robust and viable solution, and I'm ready to take the plunge.
Given all the alternatives out there, what I want you to do is to understand the differences, and make an educated choice based on your own needs and priorities.
And, of course, I want you to back up. :-)
Podcast audio

Download (right-click, Save-As) (Duration: 7:39 — 3.5MB)
Subscribe: RSS