Leo, my email address is [something] @msn.com. But when a friend sends me an email, they say there is another name next to my email address. It's very confusing. How can I find this fake name and how can change it to my real name? If you send me an email, you'll find out what I mean.
Actually, if I send you an email, I probably won't see what you mean because I don't think the problem is at your end – or even a problem that you specifically can control.
Email addresses and names
We have to start by understanding how email addresses and names are used. When an email is addressed there are two parts:
The actual email address, which is not optional, that specifies the actual recipient of the email.
There's also what's called a "display name", which is meant to be the human readable equivalent of name of that recipient. This part's actually optional.
It's perfectly valid to send email with only an email address.
So where does the display name come from? When you configure your email account in your email program, or when you set up your email account with an online service, you actually specify both your name and your email address: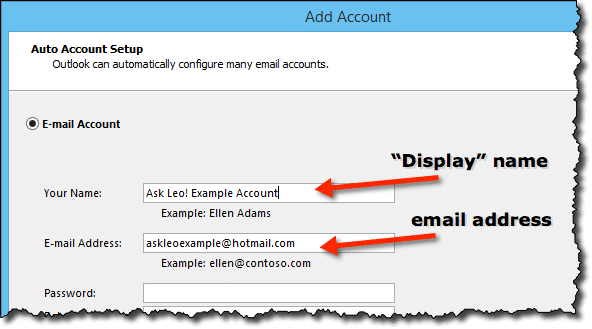 In some cases you may be given an email address, but you still specify your name.
Then when you send email, your email program puts those two together. It uses your name, and then typically follows that with your email address in angle brackets as the "from" line in the email that you send:
Ask Leo! Example Account <askleoexample@hotmail.com>
So in an outgoing email, you define what shows up in the From: line simply by how you've configured your email account.
The display name is actually completely ignored by the entire email system. It has nothing to do with getting your email from point A to point B; it's just there kind of as a courtesy for the humans to be able to recognize an email sender or recipient without needing to know the specific email address.
Display names and address books
If you send someone email and they then add you to their contact list or address book, both the name and the email address are added. Sometimes email programs will even do this for you – adding the address book entry automatically.
"

there's nothing that says the email address actually has to match the name.

When you send an email to someone that's in your contact list, the email program typically does the same thing, kind of. It gets the email address, of course, from the contact list, and it also fetches the name that's associated with that email address. It then formats the "To:" or the "Cc:" or the "
Bcc
:" line with the display name followed by the email address in angle brackets.
Now you may not always see this, because sometimes email programs will hide what they're doing and show you only the display name. But here's the key: since the display name is completely ignored by the email system, there's nothing that says the email address actually has to match the name. You could go into your address book and change the name of one of your contacts to be "Santa Claus", and that's what would show as the display name when you send email to that email address.
This is true for most email programs, although the specifics of how you actually make this happen can vary a little bit.
Your friend's address book
So one very strong possibility is that the friend who's sending you email has you in his email address book with the wrong name. He needs to change his address book entry or perhaps clear his email program's suggestions or auto-complete entries.
Now, how did you end up in his address book with the wrong name? It's really hard to say, but I've got one hunch: spam.
Spammers fake the "From:" line all the time and in doing so, they typically mismatch the email addresses and the names. Look at your spam sometimes and you'll see that the "From:" lines rarely have names that seem to match their email addresses.
So here's my theory: your friend got some spam. That spam looked like it came from your email address, but with a different name. You had nothing to do with it; it was just spam. For one reason or another, your friend's email program remembered it, either automatically adding it to his contact list or some kind of auto-complete or auto-suggestion list.
And he (or she) is the one that will need to clean it out.