Question: Where do you get your answers?
Unlike search engines such as Google or Bing, Ask Leo! is a real person: me, Leo Notenboom. That means when I get a question (and I get lots of questions), there are various steps I take to come up with the answers I post here.
Did I mention I get lots of questions? Unfortunately, that means I can't answer every single one. However, I can outline some of the resources I use when I need them.

The big, dark secret
Here's something I'm completely open about, but people often don't realize:
I don't know everything …
… and that which I do know, I stand a good chance of having forgotten.
Fortunately, knowing everything isn't what makes or breaks a service like Ask Leo! What's more important is knowing how to find the best answer.1
How I find the answer generally falls into one of two buckets: experimentation, search, or some combination of the two.
"Fiddling around with it" deserves more respect
I'm actually somewhat surprised by the number of questions that can be answered by simply trying whatever the question is about.
"What are these three dots over here?"
"I don't know. Why don't you click on them and find out?"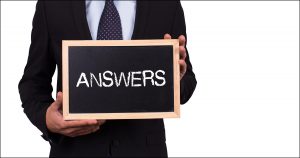 Indeed – why don't you click on them to find out?
For a large percentage of the questions I get, I do exactly that and then report back the answer.
The reason I point this out is that you don't need me to fiddle around for you. You can often try things yourself and save yourself a lot of time.
Scared of breaking something? I have two answers for that.
You will not break your computer. It's much more resilient than that. Sure, you could confuse it, but 99% of the time you can quickly undo whatever it is you did and be on your way. Seriously. (And you will not break your computer's hardware – unless there's a screwdriver or hammer somehow involved in your "fiddling".)
Restoring a back up is the ultimate undo. Let's say you do something that turns out to be so incredibly confusing to your computer that it no longer even boots. (I can't think of anything that would easily do that, but let's just say there is.) Fine. Restore your most recent image backup, and it's as if what you tried never happened … except now you know not to try that specific action again.
My sense is that many people are more afraid of their computers than they need to be. It won't break easily, and if it does, you can fix it.2
Google is your friend
If you're willing to spend a little time learning how to use it well, Google can be your best friend. What do I mean by learning? Anyone can throw some words at Google and press Search. But there are several aspects to Google that most people overlook.
Knowing which words to search for to get relevant results.
Knowing how to interpret the results effectively.
Knowing how to use Google's advanced search, extended syntax, and additional features.
By becoming proficient at using Google or other search engines and web-based tools, you can frequently get the answers you need very quickly on your own.
If I don't know the answer, and even sometimes when I do, I turn to Google search. Google is my best friend. (For this stuff, anyway.)
Make more friends
You may find that search engines will send you to some sites repeatedly, depending on the nature of your searches.3 Sometimes, it's easier to go straight to that site if it turns out to be a common source of good information, and using the search or related functions there.
If you already know some basics about what you're searching for, you can get an answer more quickly by focusing on specific resources.
Microsoft and/or Microsoft Support. Information isn't always that easy to find (or perhaps understand

4

) here, but they're getting better, and there's a ton of information and answers in the Microsoft Support Knowledge Base. I recommend spending some time to learn some of its quirks. Once you get a feel for how best to search this resource, you'll start seeing good information pop up when you're searching for anything Microsoft-related. I list Microsoft separately because it's currently a broader search that encompasses a few more helpful resources.
Your computer manufacturer. When it comes to problems with your specific computer, there are few resources as authoritative as those provided by its manufacturer. The quality definitely varies, and you may need to look for both a company-run support site and a peer-to-peer support forum, but I send people to these resources often.
Your software manufacturer. I'm somewhat surprised at how often people don't do this. If I have a problem with software "X" from company "Y", the first thing I do is search for company Y's web site and see what support options they offer. Once again, there's rarely anything more authoritative then going to the source.
Search effectively
Sometimes the search options offered by various web sites are less than ideal.
Not to worry! There are techniques you can use to search even the specific resources I've mentioned, using general-purpose tools like Google. Sometimes – though not always – the general-purpose tools are more effective than the search provided by the sites themselves. For example, using Google to search for
site:askleo.com windows 10
causes Google to return results only from the site askleo.com. Coincidentally, that's redundant with my own site-search, which uses Google to do the same thing, but that's definitely not true for all websites. Searching microsoft.com using Google will return different results than Microsoft's own native search, which is powered by Bing.
Naturally, regardless of what information I find and where I find it, I use my experience and expertise to weed out the garbage from the really accurate and useful information. But even without having made your career in computers, you, too, can use the resources I've listed to get answers and solve problems.
Podcast audio

Download (right-click, Save-As) (Duration: 6:38 — 3.1MB)
Subscribe: RSS