I think many, like myself, will like to hear your evaluation on the latest Firefox. I know I lost a number of my regular add-ons since the new version is not compatible. I hope the programmers will get busy and fix them. I appreciate all those who make Firefox's add-ons.
Firefox Quantum, AKA version 57 or later, is touted as representing a major overhaul of Firefox to improve speed, security, and privacy. At the same time, the interface used to enable add-ons has changed, presumably for the same reasons.
Like you, I was curious if the new Firefox would behave differently. Not long ago, I ran a quick personal trial of half a dozen different browsers, and found that every single one of them had issues of one sort or another. Be it memory usage, speed, compatibility, or something else entirely, none of them were without issues.
I loaded up Firefox Quantum and have been using it for a couple of weeks now. In fact, I'm typing in it right now.
Caveats
I have to preface this by saying this isn't an exhaustive review. I didn't perform repeated tests of the same scenario over and over again with different browsers and carefully record the results. I'm sure there are other places where you can find that if you like.
Rather, I focused on what I would call day-to-day use. I just set Firefox as my primary browser on my Macs and PCs (I had been using Chrome) and started using it like I always do. These days, I live in my browser, so it's a pretty important place for me. It has to work, work fast, and work reliably.
The fact that I'm still using it two weeks later is a good sign. :-)
Speed
It feels faster. Faster than Chrome and faster than the previous version of Firefox. "Snappier" was the term that came to mind within a few minutes of switching over.

The problem with touting speed is that (within reason) the browser itself is actually one of the least important parts of the speed equation. Much more important are characteristics such as the speed of your internet connection, the speed of your computer, the characteristics of the specific web page you're looking at, and what else is running on your machine at the same time.
But as I said, just switching over felt somewhat faster. Nothing earth shattering, and certainly nothing that would overcome speed issues caused by other, more critical characteristics.
Memory
I've never been one to keep several dozen tabs open at once. I don't trust the browser — any browser — not to crash and lose them all. Instead, if I want to return somewhere, I bookmark it, or I just deal with it right away so I can close that tab and move on. It's hard enough for me to keep a couple of dozen things organized in my own head, much less in my browser.
But, as I said, I do live in my browser. That means I have a method for organizing my work and my distractions.
I'll have one browser window open with multiple tabs for my work. For example, as I type this, I have three tabs open: two Google Docs spreadsheets (one tracking my day and the other tracking Ask Leo! articles in progress), and a third tab open to the Ask Leo! WordPress administration interface into which I'm typing this.
Another browser window is minimized for the moment, and out of my eyesight3. It has five tabs open: my personal Gmail, my business Gmail, my Google Calendar, Facebook, and MyFitnessPal4.
I occasionally have a third browser window open on a music site or something like Brain.fm for background ambience. I keep this as a separate window, so I can resize it smaller than my main work window and set it off to the side to make it easy to switch to when I need to mute or otherwise adjust the player.
So, three windows and a total of nine tabs open at once, with a couple more open as needed to research things.
On my Mac desktop, memory has never been an issue, since it has 64GB of RAM. On my Mac and PC laptops, however, each with 16GB of RAM, I do occasionally run into issues. They seem to manifest as performance issues, but closing a tab or two often resolves the problem, leading me to believe it's more about memory management. (Often closing the Facebook tab helps, which further supports this belief. Facebook is an incredibly complex and memory-hungry web page.)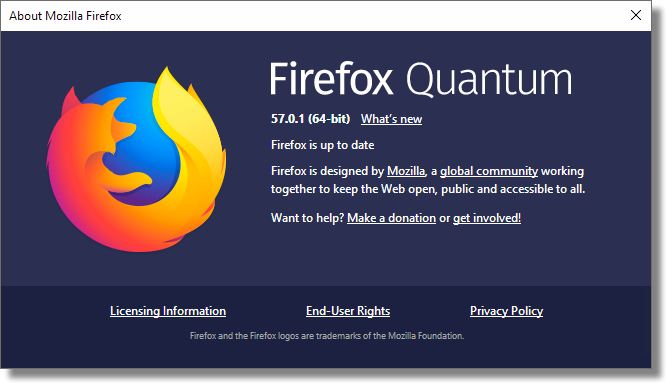 Site compatibility
Honestly, this is where I really expected issues. Whenever you rework the internals of something as complex as a web browser, you're bound to break something. When it comes to the internet, websites do some amazingly complex — and often completely bizarre — things that the browser has to respond to in a reasonable way.
So far, I've not encountered a single site-related problem. Not one. Every site I've visited has just worked.
That, all by itself, is pretty impressive.
Plug-in compatibility
I was expecting issues here as well. Fortunately, plug-in authors had lots of time to prepare and update their plug-ins. I was somewhat worried, as my most important plug-in (LastPass) seemed to slide in only at the last minute, but it's there, and I'm happy(ish — see below for why I add the qualifier).
In fact, all my plug-ins just worked. The major ones I use include:
LastPass (my password vault)
Buffer (social media sharing)
Evernote (webpage clipping)
HTTPS everywhere (use https if available, even if I forget or don't know it is)
New Tab Override (I want my new tabs to open to a specific page)
Social Media Fixer for Facebook (I use it to eliminate most sports and politics, and place a few more items under my control)
uBlock Origin (an adblocker, which I've discussed before)
To me, that's a surprisingly long list that "just worked" out of the box. Again, impressive.
No browser is perfect
No browser is perfect, and neither is Quantum.
Probably the single biggest impact most people are likely to run into is if a plug-in you like or rely on hasn't yet been updated. Like you, I appreciate what plug-in authors do, so rather than complaining, this might be an opportunity to show a little appreciation — perhaps in the form of a donation — assuming the author indicates they're working on it.
The biggest issue I face regularly is that LastPass isn't automatically filling in all the fields it used to, or at least used to in Chrome. There are work-arounds, mostly involving an extra click or three, but it's mildly annoying. As you can tell, it hasn't been so annoying that I've even bothered digging deeper. I'm hopeful LastPass will straighten it out over time.
Other than that one annoyance, though, Firefox Quantum has been working well for me. I'll probably keep it as my default browser for a while.
What should you do with all this?
I have to be clear: I'm not recommending you switch to Firefox. I don't recommend any specific browser, and there's a reason for that.
Browsers in general are sensitive to how you use them. Your style of browsing, the number of plug-ins you use, which plug-ins you use, the characteristics of your specific computer, and more all play a role in determining which browser works best for you. What works well for me might not for you. What works for you may not work well for someone else.
My general recommendation continues to be to use Chrome, Firefox, or Internet Explorer. Use Edge on Windows 10 if it meets your needs. Consider Opera or Safari if you like. But the bottom line is, use whichever works for you.
My advice here, then, is simply this: if you're motivated — either by frustration with your current (non-Firefox) browser, or just curiosity — download and install Firefox Quantum and give it a try. See how it performs for you.
Podcast audio

Download (right-click, Save-As) (Duration: 9:04 — 4.2MB)
Subscribe: RSS