In a previous article, I reviewed how to discover the IP address(es) of the DNS server(s) your computer uses to resolve domain names (like "askleo.com") to their actual IP addresses on the internet (for example, 67.227.211.203).
I also discussed why you might want to use DNS servers other than the ones assigned by your ISP.
Assuming you want to, I'll review how to make the change.
All computers: your router
Since DNS is assigned to your connected devices by your router, if you want to change the DNS servers used by all your machines, you need make the change in only one place: your router.
That's the good news. The bad news is, I can't tell you exactly how to do it. (The worse news is that some ISPs lock down their routers so you can't make this change.)

You'll need to check the documentation that came with your router, or reach out to your ISP for assistance. In general, it involves accessing the administration pages for your router, locating the DNS configuration, and making the change there. One example is shown above.
Changing DNS in Windows
In the Windows 10 Settings app, click on the Network & Internet item, and then Change adapter options. In Windows 7, right-click on the network icon in the notification area, click Open Network and Sharing Center, then click Change adapter settings on the left.
This will bring up a Windows File Explorer window open to the network connections known to your computer. Right-click on the connection that represents your internet/active network connection.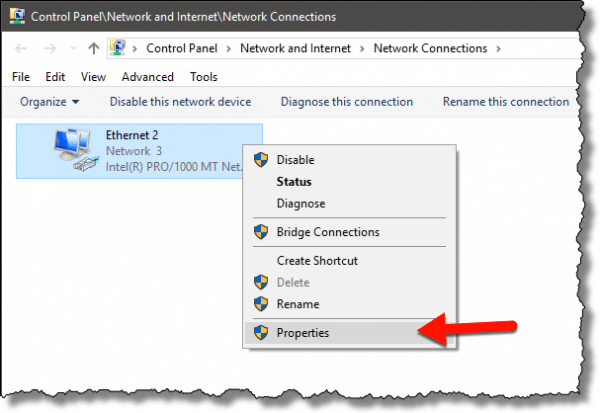 Click on Properties. This will bring up a dialog box with a list of configurable items. Click on the TCP/IPv4 item, and then the Properties button.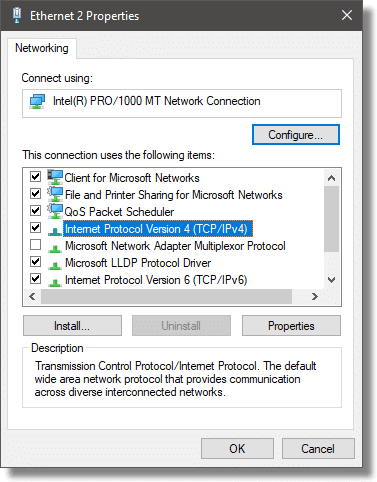 This will open a dialog that includes a section for DNS settings.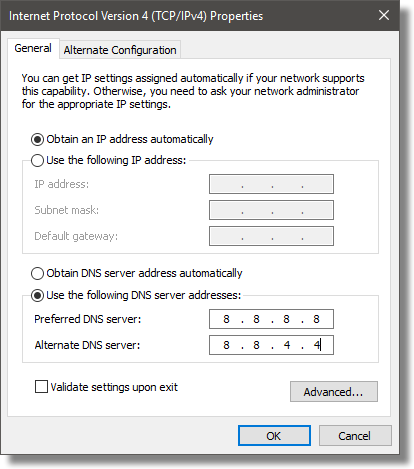 Make sure that "Use the following DNS server addresses" is selected, and that you've entered the IP addresses of the DNS servers you want to use in the Preferred and Alternate fields. In the example above, I've entered 8.8.8.8 and 8.8.4.4, the Google Public DNS servers.
Click OK and close any remaining dialogs. Your new DNS settings should take effect immediately.
Podcast audio

Download (right-click, Save-As) (Duration: 2:53 — 1.4MB)
Subscribe: RSS