I was recently asked where one gets a toolkit. That was about as clear and complete as the question was. I suspect that it was actually a student in some computer technician certification class who was asking.
My response: a toolkit isn't something that you just find or purchase. It's something that most computer geeks collect and assemble themselves, often over time, consisting of an assortment of tools and utilities that they've found helpful in the past.
As I'm about to go visit a friend with computer troubles, let me show you mine.
Discs
I carry a few CDs and DVDs along for things that are either very large or items that I'll want to be able to boot from as part of some diagnostic process.
Operating systems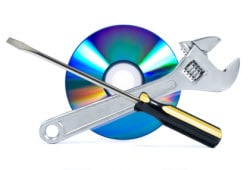 I actually carry OS discs with me as well for various reasons.
Windows XP, Windows 7, and Windows 8 – I want something that can recover specific files or respond to the System File Checker's need for media if it asks for it. These aren't 100% useful, because my friends will have machines with OEM Windows and Windows with or without service packs installed. I'm not going to carry all possible variants with me, but these do come in handy from time to time. I suppose I should include Vista.
Ubuntu 32-bit – This is typically what I fire up in lieu of the Linux-based rescue disks that I mentioned earlier. Ubuntu on a DVD will operate as a "Live" DVD; it'll just run the operating system off of the disc without touching the hard drive. That means that I can examine the hard drive, tweak it, copy files off of it, and even connect to the internet if I need it. Linux Mint is another alternative.
Puppy Linux – Puppy is a smaller distribution that's targeted at older, less capable machines. It's the same idea as Ubuntu, but with a tad fewer tools and options. It's perfect for older PCs.
Anti-malware tools
Naturally, the issue that's often being dealt with is malware, so having some tools along makes sense. In many cases, these are "just to get started" kinds of tools. You always want the latest copies, which means getting them downloaded at the moment that you need them.
Malwarebytes Anti-Malware – This seems to be the go-to anti-malware tool for just about everyone when faced with a variety of issues not caught by whatever anti-malware software might already be installed.
That's it for anti-malware tools. Seriously. And even Malwarebytes is a boot-strap. After I've run it and regained some semblance of control over the machine, I'll download a more up-to-date version on the spot and run it again. The same is true for Windows Defender Offline, my choice for running anti-malware scans without booting into Windows.
Disk, file, and system recovery tools
I basically carry a complete set of the free tools from Piriform with me. (While I carry the installers, I typically will take with me the portable versions and use those directly).
Other tools
As you might expect, when I visit someone, I also tend to throw my laptop in the car with me, so I have everything that's on there available to me as well. That includes:
VMs of both Windows 7 and Windows 8
A set of Linux-equivalent command line tools from the CYGWIN project
Zipping, compressing, decompressing, encrypting, decrypting, and related tools
Microsoft Office
And a very random collection of tools and utilities – some of which I use every day and others once in a blue moon. The point being that I have basically everything that I might care to use with me.
And I carry a small thumb drive on my keyring to easily copy files back and forth.
The most important tool in my toolkit
I don't want to sound arrogant or self-serving, but the most important tool in my tool kit is me… or rather my experience and knowledge.
And you are most certainly the most important part of your own toolkit as well.
Having CDs and DVDs and software utilities are important, but knowing when to use them, which ones to use, and when not to use them is perhaps more important than any tool that you could carry. Knowing where to find the tools and help you need online is also critical. So much is available online that you often don't actually need to carry as much with you as you once did.
Sometimes, like knowledge in general, having tools is less important than knowing where to find the tools you discover you need.