Question:
My outlook.com is putting legitimate emails into its junk mail folder. I use 2011
Outlook
on my Mac. I never see the emails because outlook.com is putting them in junk mail at the outlook.com site, and is not forwarding them to me. It seems very random, but some of my closest friends' emails are going into the junk folder as well as other legitimate contacts.
Can I just not use outlook.com, do I need it? How I stop the filtering of legitimate emails in to the outlook.com junk folder?
Spam is an incredible problem, and email providers go to great lengths to filter it out. Microsoft is no different – their email infrastructure deals with an incredible amount of spam, I'm sure.
As it turns out, with any one of Microsoft's email addresses – @live.com, @hotmail.com, @outlook.com and others – you're still really using Outlook.com whether or not you ever visit it on the web.
Let's look at the options you have to make sure you get the email you want.
Turn off Outlook.com's junk mail filter
Unfortunately there just isn't an option to turn off Outlook.com's detecting spam and moving it into the junk mail folder. Maybe that'll change someday, but for now that's the situation.
However… there is a trick1 you can play.
Now, I don't recommend it, since it means you'll be downloading all of your spam and other junk email and relying on your desktop email program to put it in its own junk mail folder. That junk mail filter won't have the massive amount of data that the online version uses to determine what is and is not junk, which means it'll be less accurate in the long run.
But I get that sometimes you just have to do it.
The concept is simple: set up a couple of rules that "move" all mail to the inbox.
In Outlook.com click on the gear icon, and then the Manage rules menu item: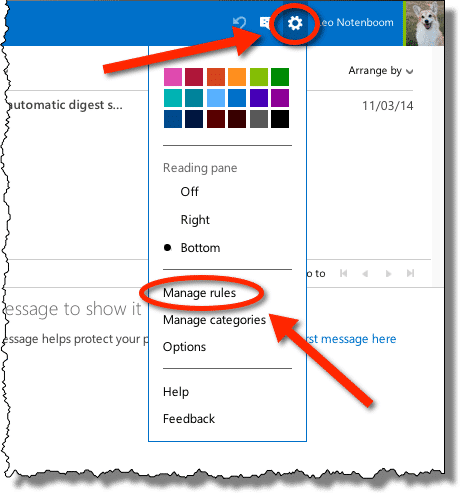 On the resulting page click on New: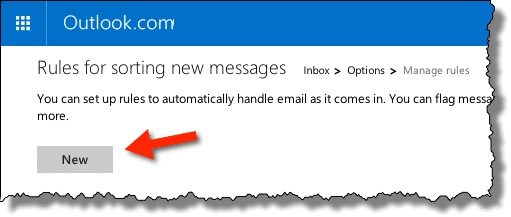 Create a rule "Attachment", "Has attachment", "Move to", "Inbox":

Click on Create rule. Then click on New again and create a second rule, "Attachment", "Does not have attachment", "Move to", "Inbox":

And of course click Create rule once again.
Together those two rules2 boil down to "move incoming mail to the inbox" – with or without an attachment.
This should bypass the Outlook.com junk mail filter and deliver everything into your inbox for you or your desktop email program to deal with some other way.
Train the Outlook.com junk mail filter
The preferred solution is to leave the junk mail filter enabled, and to train it instead.
It does mean you need to periodically log in to Outlook.com on the web and see what you find in the junk mail folder there. Then, for each non-spam (or "ham") email message you find there, right click on it and mark it as not junk: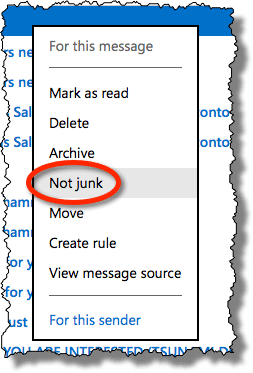 That will then also help "train" Outlook.com's spam filter to learn that, for your account, email that looks like this should not be placed in the junk mail folder. Unfortunately, your indication that it's not junk is just one of several signals that the junk mail filter uses, and you may need to repeat this more than once as new messages arrive.
Set up Safe senders
Click on the gear icon again, click on Options and in the resulting page click on Safe and blocked senders: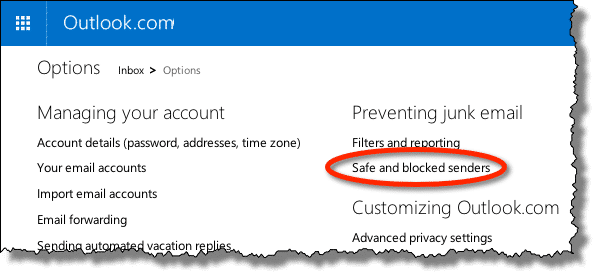 While blocking senders is rarely an effective way to block spam, allowing known safe senders can be one way to bypass the junk mail filter for senders you know about beforehand.
Click on Safe senders: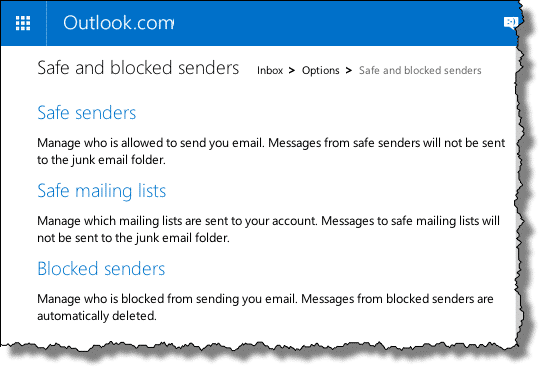 On the resulting page you can manage your safe senders list: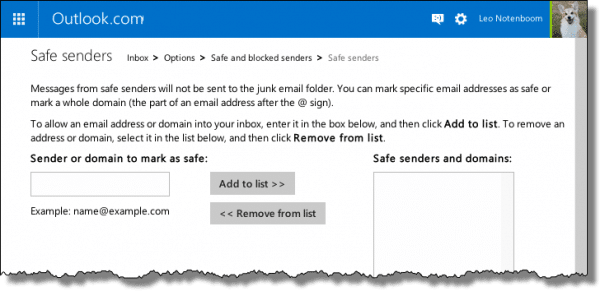 You can make two different types of entries:
Individual email addresses can be placed on the list – for example leo@somerandomservice.com – and email coming from that email address would no longer be placed into the junk mail folder.
Domains – for example askleo.com – which means that any email address @askleo.com would bypass the junk mail folder.
In either case, it's a bit of a maintenance headache, and really only helps if you know who's sending you messages beforehand. If a particular sender keeps showing up in your junk mail folder, then it's a way to ensure that they no longer do.

Podcast: Download (Duration: 5:34 — 5.1MB)
Subscribe: RSS