Question: My son installed BitTorrent on the house computer. This of course, without asking first, as is the rule. This program slowed my computer down so much that I could not get online. I found out that as it was downloading, it was also uploading with unlimited bandwidth. I could not find any information on what it was uploading. I dislike P2P because of past experience with them, virus, spyware and the feeling I am stealing from the programmer. This program was promptly uninstalled. Is there any legitimate use for P2P programs?
This is a sad case of some very amazing technology getting smeared with a bad reputation because of how some people choose to use it.
Absolutely: there are many legitimate uses for peer-to-peer file sharing (P2P) programs like BitTorrent.
In fact, I wish it were used more.
In order to understand why peer-to-peer file sharing is interesting, we first need to understand just a little about how traditional file sharing and downloads work.

Traditional file sharing and downloads
In a traditional download, there is one "master" server on which a file is placed. Each user wanting that file downloads it from that server.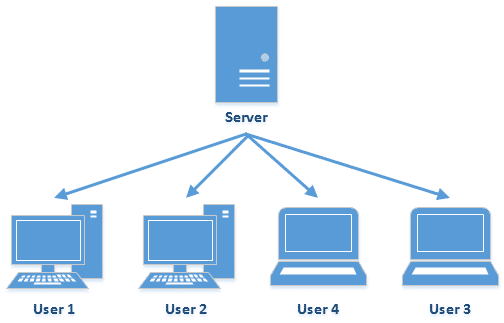 Now, as you might expect, if a lot of people want that file, the server can quickly become overloaded.
Alternative #1: Get a bigger server
One solution is to place the download file on a server with much higher capacity. So, for example, a website might be hosted on one domain, such as askleo.com, but a download link from that site might reference a file elsewhere.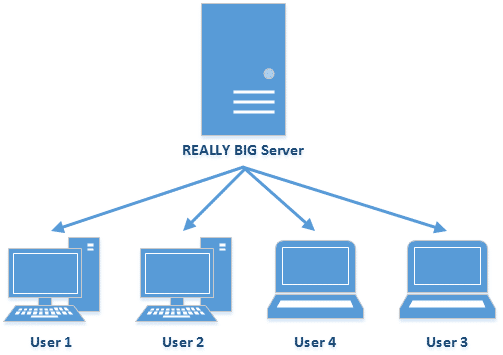 Amazon's web service, S3 (which has massive capacity), is one common alternative. The image above, for example, can also be found at:
https://s3-us-west-2.amazonaws.com/askleo/images/bigserver1.png
There are techniques that can be used to obfuscate or hide the fact that the file is coming from a third-party file-hosting service, but the concept remains the same: rather than taxing my server with the download, the work is pushed off to a more powerful server with a faster internet connection.
But the bottom line is, you are still downloading from a single copy, and from a single server.
Alternative #2: Get more servers
Another solution is to "mirror" the file on several servers, and distribute the download requests across those servers.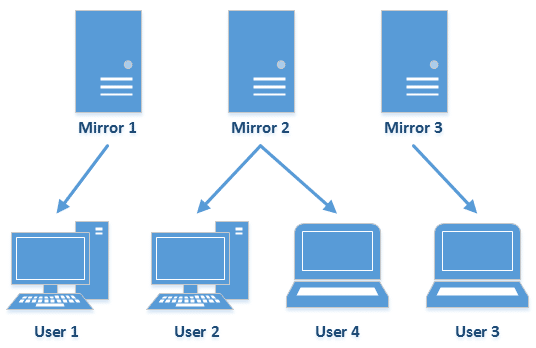 This is still a "master copy" model: only a handful of servers hold the master copy of a file, and you must go to one of those servers to get it.
There are two approaches here as well: explicit and hidden.
Explicit mirroring, as its name implies, presents you with a choice of potential download locations – perhaps listing which might be closer to you – and lets you select which server to use.
Hidden mirroring is more complex, but more powerful. The image above is referenced from this URL:
https://alssl.askleomedia.com/wp-content/uploads/2015/10/mirrored.png
That domain, "alssl.askleomedia.com", actually points to a Content Distribution Network (CDN) that distributes the file across multiple servers world-wide. When you click on that link, you'll get the file from the server closest to you, not only shortening the distance the file has to travel to get to you, but also transparently spreading the load across multiple servers.
After the server selection has been (transparently) made, though, you are still downloading from a single copy, and from a single server.
Alternative #3: Spread the load with peer-to-peer
Peer-to-peer file sharing does away with the concept of a "master" copy.
The fundamental concept is, instead: given that many machines eventually download the exact same file, they each then make the file available to others directly from their machine. There is no "master" distinction; all the computers are equal "peers", and any that have a copy of the file can offer that file to any other computer looking for it.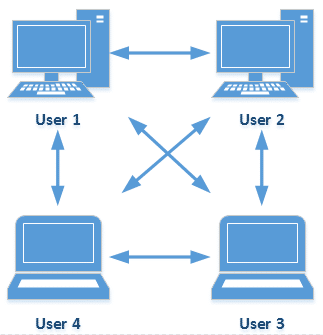 The advantages of peer-to-peer over normal file downloads are many.
If a traditional master file server goes down, you can't get the file. If one of the peers in a peer-to-peer network drops off, you continue to download the file from another peer. The bandwidth usage, rather than being focused on a single master server, is distributed across all peers, often resulting in much faster downloads.
In addition, peer-to-peer protocols add some additional optimizations.
The biggest is that rather than downloading the file from start to finish on one connection, as you would in a traditional server-based download, a peer may open connections to several other peers, each downloading separate parts of the file all at once. This typically makes much better use of bandwidth than a single straight download. The moment any part of the file has been downloaded, that part can be immediately shared with other peers who don't have it yet.
Yep, this means that a machine could be sharing and uploading parts of a file that it hasn't even completed downloading yet.
Hopefully, by now you can see that peer-to-peer file sharing is just a technology designed to optimize how bits (files) get distributed on the internet. Nothing more, nothing less.
Peer-to-peer's bad rap
The reason that peer-to-peer file sharing has a bad reputation is not because of the technology, but rather because of what is being shared: illegal copies of software, movies, music, and images. Many of the illegal file-sharing networks happen to use peer-to-peer technology.1
But that doesn't alter the fact that the technology being used is valid and valuable for legal and legitimate uses as well.
For example, that same peer-to-peer software is often used to fetch the latest copies of many open source projects, such as  Linux or OpenOffice. Since peer-to-peer works well for truly large downloads, like entire CD or DVD images, you'll often find it as an option for these types of files.
It's believed that peer-to-peer technology is also used in scenarios such as updates to large games installed on your PC, such as World of Warcraft, and even operating system updates, possibly including Windows itself.
Legitimate issues with peer-to-peer
Peer-to-peer is designed to maximize file transfer speed. It does this by maximizing its use of your internet connection.
If you're trying to do something else on the internet at the same time, that could be a problem.
Thus, my expectation is that the program slowed  down your internet connection, rather than your entire computer.
The good news is that almost all peer-to-peer file sharing programs have "bandwidth throttles" built in: you can instruct them to limit their upload and/or download speeds to something less than your full connection speed, leaving bandwidth for anything else you might like to do while files are being transferred.
Podcast audio

Download (right-click, Save-As) (Duration: 7:22 — 6.8MB)
Subscribe: RSS