If you were buying a new laptop today and could spend up to (around) $1500 for it, which laptop would you buy, basing your decision on longevity, speed, storage, etc.? I just read
your article about Chromebooks
, but I think I'd still like to go with a laptop. Thank you!
Most techies like me dread this question. The problem isn't that I don't have opinions or recommendations; the problem is, my recommend varies based on information that isn't included in your question.
You know, like … what you intend to do with the machine?
I'll answer your question with some specific recommendations — literally what I would purchase today if that were my budget — and explain why I can't really answer the question for you.
What $1,500 gets you today
As I write this, if you held a gun to my head and told me to spend "around" $1500, I would probably purchase one of the following machines.
| | | | | |
| --- | --- | --- | --- | --- |
| Type | Brand/Model | Screen/CPU/RAM/SSD | Price | Notes |
| ChromeBook | Google Pixelbook Go i7 | 12.3-inch Quad HD / 1.3Ghz i7 / 16GB / 256GB | $1,387.00 | This is a more powerful version of the device I purchased for my wife. |
|  Mac | MacBook Pro | 13-inch Quad HD / 1.4Ghz i5 / 8GB / 512GB | $1,399.99 | I'd prefer the 15″ screen, but this is the most MacBook-for-the-buck in our budget. |
|  PC | Dell Latitude 14 7400 | 14-inch HD / 1.6Ghz i7 / 16GB / 512GB | $1,499.99 | Dell prices and configurations change often, but this is a good example of what I'd spring for today. |
|  PC | HP Envy  | 17.3-inch HD / 1.8Ghz i7 / 16GB / 1TB | $1,319.99 | Larger screen and hard disk than the Dell.  |
Some laptop choices I might make.
They're roughly comparable, though the HP would tend to outshine the Dell a tad on some of its specs. I've had very good luck with Dell, and have extra Dell power supplies and the like lying around, so I'd probably opt for the Dell anyway. I included the Mac and the Chromebook for comparison's sake and the HP for Dell-haters.
But it all comes down to something much more important: none of these machines are up to doing what I need to do. Consider that my older Dell XPS 15, with its 15-inch UHD display, 2.2Ghz i7 processor, 32GB of RAM, and 1TB of disk space — outclassing all of the above selections — wasn't up to the task.
And that's the part no one ever tells me at first: what's the task?
How do you use your machine?
Consider this list generated from Google's autocomplete on search, and you'll see what I mean:
laptop for kids
laptop for video editing
laptop for college
laptop for gaming
laptop for school
laptop for photo editing
laptop for students
laptop for music production
laptop for coding
Each of those uses have different requirements. Even within the specified budget of $1500, I'd probably make different choices if I knew that the laptop was going to be taken to school every day (I'd prioritize rugged design over some of the performance specs), or used for gaming (tough at this price, but I'd prioritize a faster CPU/GPU combo, and maybe screen resolution if we could fit it in), or used for video editing (you're going to need a bigger budget).
As you've seen, I've prioritized compatibility with equipment I already have along with my experience with a specific manufacturer. Other things to consider include battery life and whether you expect to use it on battery for extended periods of time, what kind of support specific brands offer, how long you intend to keep the machine, and more.
Hopefully, you get the idea: what matters most is not "longevity, speed, storage", but rather what trade-offs among those and other factors are necessary to accomplish what you want to do with this computer.
Simple use case
My wife fits an increasingly common simple use case: 99% of her computer time is spent in a web browser. The low-end Chromebook remains perfectly adequate. If that's all you need but want to avoid a Chromebook, you don't need to spend $1500.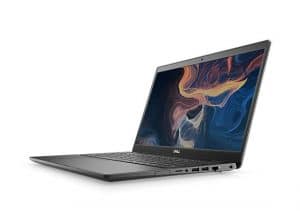 If I were going to replace my wife's Chromebook with a PC today, I'd probably get her something along the lines of a Dell Latitude1 3510. That's a 15″ HD screen, 1.6Ghz i5 processor, 8GB RAM and 256GB SSD. At $869, it's not quite half the budget I've been given.
A common problem: opinions
One of the reasons I rarely get horribly specific about machine configurations is it brings out passion — serious passion — in some. Everyone has an opinion. Watch the comments on this article and you'll see people say things like "Why'd you pick THAT?? It's HORRIBLE!!" Or "How lame, you didn't consider X!!"
Do read the comments. You'll learn a lot about what people consider important. That's valuable data, if presented reasonably.
I certainly don't claim to be an expert at the nit-picky details of processor configurations, for example; I consider that a waste of time, as it rarely makes a significant difference to most people. I prefer to focus on what I believe to be pragmatic and important for the average user.
But if you find information that resonates with you — say you're planning on lots of gaming and someone with lots of gaming expertise chimes in — then it's worth paying attention.
And of course, if you want to leave a comment pointing out my flaws, that's great — just be respectful and informative about it.
The other problem: time
Another reason I rarely recommend specific hardware is that by the time this article gets published2, the specific machines I've mentioned here may no longer be available. Or they've been replaced. Or there are newer models I'd select instead.
Recommendations like these are almost guaranteed to become invalid within moments of clicking Publish. In a month or a year, who knows what the landscape will look like?
That's one of the reasons I so strongly encourage you to consider your needs, in as much detail as you can, when looking for a new machine. Particularly in the PC world, the model you select today may well disappear tomorrow.
Podcast audio

Download (right-click, Save-As) (Duration: 11:20 — 12.6MB)
Subscribe: RSS
This article, like any article on Ask Leo!, may contain "
affiliate
links". Without affecting the price you pay,
or my decision to include them
, using affiliate links may result in my being paid a commission should you purchase the product mentioned. Affiliate links help pay the bills and support Ask Leo!.
More detailed information.