A while ago, you gave some very helpful information on how to create a local account on my Windows 8.1 laptop. I followed this advice because I don't want my documents to be stored on SkyDrive except when I want them to be. I did this with a Windows 7 Netbook using Boxcryptor to encrypt stuff held on Sky Drive. This worked really well; it allowed me to store stuff on the Netbook or Sky Drive as I decided. My problem is with Win 8.1, I'm really missing Minesweeper but I can't find a trustworthy download to play on my PC except as a Windows app.
All the downloads I've tried seemed to end up with potentially unwanted programs which malwarebytes warns me about. In desperation, I started to install the Win 8.1 app but was asked to sign in to my Microsoft account. This then told me that any documents I create will be stored on Sky Drive, which I don't want so I canceled the process. I want to decide if I put stuff on Sky Drive or on my local computer. The impression I get is that by signing into my Microsoft account, I'm abandoning my local account. Is that correct? Can I sign into the Microsoft account but then log out and back into my local machine account easily or as easily as with Windows 7? If this is possible, what's the procedure? I find Windows 8.1 really confusing and just can't see how to do it.
There are actually two scenarios here that I think are getting confused a little bit. And absolutely, Microsoft has done a wonderful job of making things confusing. Let's see if we can clear some of this up.
Your Microsoft account and your machine
Signing into your Microsoft account to access something like the Microsoft store is unrelated to using your Microsoft account to login to your own machine. These are two different things.
When you use your Microsoft account as your machine login account then yes, you switched away from using your old local machine account. When you log in to your machine using your Microsoft account, things like SkyDrive get a little easier, and I'm sure that there are other benefits of doing so.
But you certainly don't have to.
I use Windows 8.1 and I log in to my machine using the same old local account that I've used for years on all of the versions of Windows that I've gone through.
Your Microsoft account and the Microsoft Store
The Microsoft Store app really makes it seem like you need to use your Microsoft account to login to your machine. When you attempt to install an app you'll be faced with this request: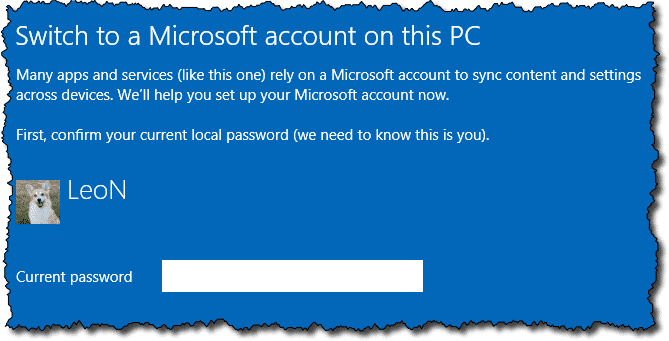 Again, you do not need to do this. Microsoft is simply trying to get everyone to use a Microsoft account for their PC's.
If you look near the bottom of that screen you'll also see this link:

Click that instead. You'll then be able to login to your Microsoft Account for the application without needing to change how you login to your machine.
Your Microsoft account and Microsoft services
When you use your Microsoft account to sign in for something like the Microsoft store, you're really just using it to sign into an online service. It doesn't change your machine's login because it's unrelated to your machine's login. It's kind of like logging into Hotmail or Outlook.com. Both of those use your Microsoft account, but doing so doesn't change how you login to your machine.
SkyDrive, soon to be called "OneDrive", adds another layer of confusion. Regardless of how you get it, SkyDrive is not removing any choices. If anything, it's adding choices. You can store documents in SkyDrive but again, you don't have to.
You may need to pay attention to where you save. The default might become SkyDrive, for example, but you can always save to your local machine and otherwise ignore SkyDrive.
And once again, that's exactly what I do. SkyDrive support is integrated into a lot of Microsoft's software these days, and that's nice if you like to use SkyDrive. But it's only a choice, not a requirement.
SkyDrive/OneDrive behaves differently
One thing that I've discovered recently about Windows 8.1, and SkyDrive, that may still make your scenario less than what you want it to be is this: if you log in to your machine using your local machine account (which, to be honest, is what I recommend and probably what you really want) you can't install the old SkyDrive synchronization app.
So what that means is your Boxcryptor scenario, where you're putting things into a folder on your machine and Boxcryptor is encrypting them before they get uploaded to SkyDrive isn't going to work anymore. If you want to do that kind of thing I recommend you use a different online storage service like say, Dropbox.
But that's the only thing I know of that's going to break here in 8.1. Where you save documents when you run applications is still a choice that you'll be able to make.
But this ability to run Boxcryptor into Sky Drive with Windows 8.1 isn't going to work. So my advice: keep your local machine account to login to your machine; sign into the Microsoft store, get your game; and just watch whenever you hit "save" on a document. Your Windows login isn't going to change.