Get help, give help, or access that computer in the basement with this free remote-access tool.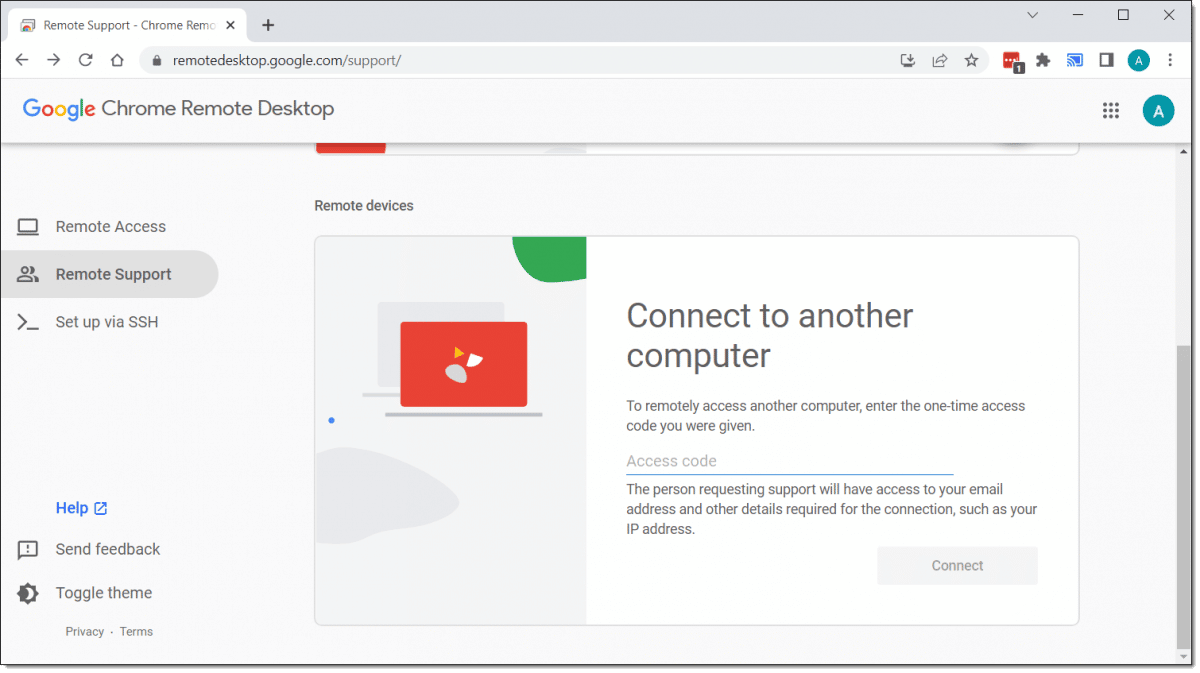 Google's Chrome Remote Desktop is a free and convenient remote-access tool allowing you to get help from people you trust or be the person giving help.
Chrome Remote Desktop from Google is a free tool that lets you connect to another computer remotely or allow someone remote to connect to yours.
When attempting to help someone with a computer problem, it can be a lifesaver. If a picture is worth a thousand words, a live connection is worth a million pictures.
Chrome Remote Desktop
Use or install Chrome Remote Desktop by visiting remotedesktop.google.com. There you can choose to give someone access to your computer by sharing your screen or access someone else's computer remotely. These connections are secure, temporary, and require that individuals be present at both ends.
Two computers
The scenario we'll discuss here involves two computers:
One computer belongs to someone asking for help. Perhaps a program is misbehaving or they don't know how to accomplish a task. They would like the help of someone more knowledgeable.
The other computer belongs to someone qualified to give that help.
Both computers can be any version of Windows or MacOS on which Google Chrome is supported. I use this regularly between different versions of Windows as well as to access my MacPro (currently in my basement).1
Both computers need to have Google Chrome installed, even if it's not your day-to-day browser. Both need to be signed in to a Google account.
Preparing to get help
Begin by visiting remotedesktop.google.com in Google Chrome.2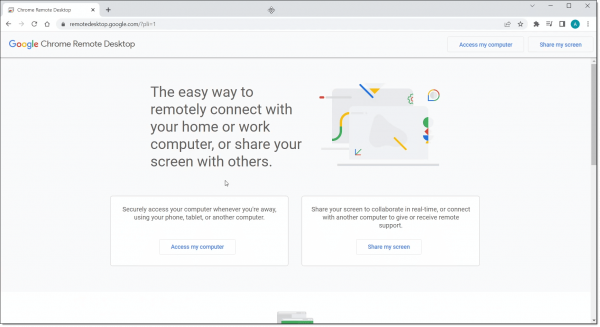 If prompted to do so, sign in to your Google account.
The webpage presents two options:
Access my computer allows you to set up unattended remote access. This allows you to connect to computers of your own remotely with no one present. Only machines signed in to your Google account can access the machine remotely. This is not what we'll be looking at in this article.
Share my screen allows you to grant temporary access to your computer to someone else. To establish the connection, you must be at your computer and the person who will be helping needs to be at theirs. The rest of this article focuses on this process.
Click on Share my screen.
You may be prompted to install the Chrome Remote Desktop app.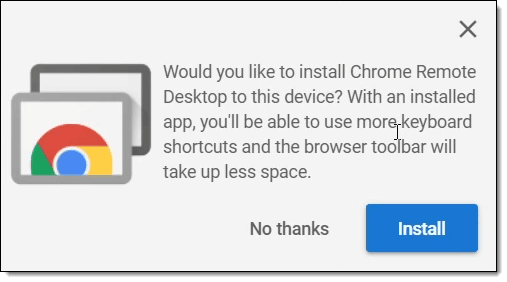 I recommend installing it. Once you do, you'll find a shortcut on the Start menu for Chrome Remote Desktop, treating it as a separate app you can run at will. Once installed, the app is launched.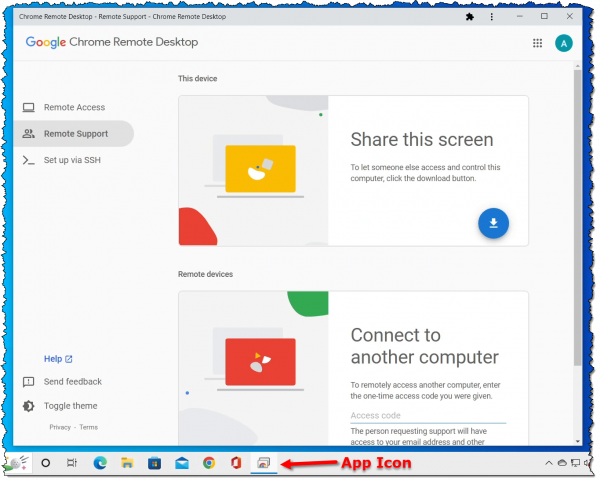 You can see it now has its own icon in the taskbar.
The first time you click on the download icon in the "Share this screen" section, you'll be prompted to install "Chrome Remote Desktop". This is the software actually enabling remote access to your machine.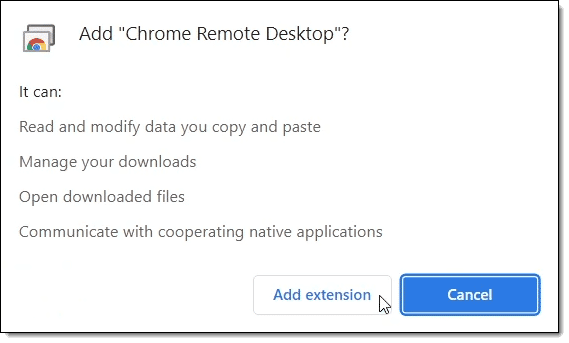 Once installed, the download button will change to a "Generate Code" button.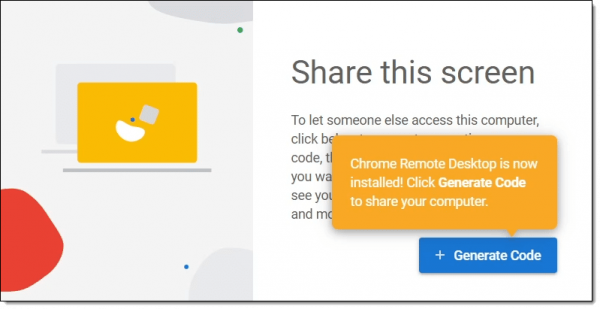 Now it's time to set up the other side of the connection.
Preparing to give help
Begin by visiting remotedesktop.google.com/support in Google Chrome. (You can also install the Chrome Remote Desktop app as we did above, if you haven't already, and run the Chrome Remote Desktop app.)
You'll be presented with options to either "Share this screen" or "Connect to another computer", similar to what we saw above. "Connect to another computer" is what we're interested in here.
You're now ready to connect.
Making the connection
On the machine to be shared — that of the person requesting help — click on Generate Code. The button will be replaced with a 12 digit code.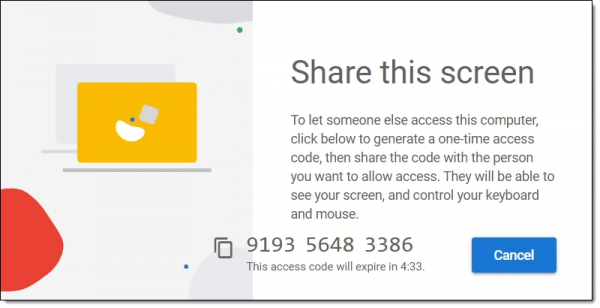 Note that you have five minutes before the code expires.
Give this code to the person who'll be helping. You can do this any way you like — instant messaging, texting, a phone call — whatever works for you.
Enter that code into the "Connect to another computer" box on the machine of the person helping.

Click Connect.
After a few seconds, an image of the remotely connected computer will appear in a window.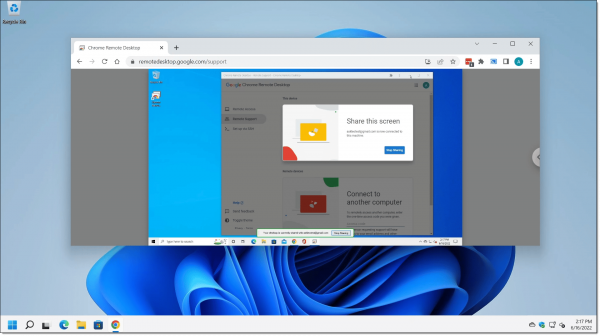 Using Remote Desktop
Note that the shared machine of the person requesting help displays a message warning that their machine is being accessed remotely.

You can drag that message around so it's not in your way. You can click Stop Sharing at any time to sever the connection.
While you're sharing:
Anything you do on the machine being shared — that of the person asking for help, in our scenario — will be visible to the person who's accessing it remotely.
The person accessing remotely — the person giving help, in our scenario — can also interact with your machine by clicking in, typing in, and otherwise interacting with the remote machine displayed in its window.
There is an option panel for the person accessing remotely to make their window larger, what to do if the screen resolution on one machine is different than that of the other, and more. Check the "<" item on the far right of the sharing window.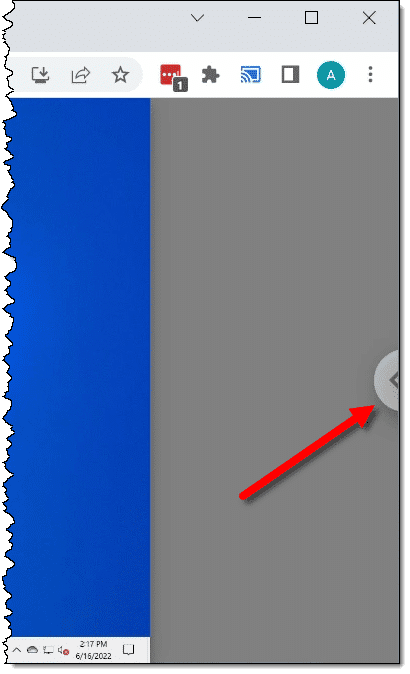 Finally, leave the Chrome browser or Remote Desktop App running while you're connected. Depending on how you've installed the app, closing either may close the connection.
Do this
You now have a handy tool to either get or give help to and from others who may not be able to physically come to your location. Use it wisely.
Important: do not let random people access your machine remotely! Put another way, grant remote access only to people you know and trust. There are many  remote access scams where hackers try to trick you into using legitimate remote access tools like Chrome Remote Desktop to give them access to your machine. Once they have access, they can install malware, steal information, or worse.
No remote access required: subscribe to Confident Computing! Less frustration and more confidence, solutions, answers, and tips in your inbox every week.
Podcast audio

Download (right-click, Save-As) (Duration: 10:50 — 9.8MB)
Subscribe: RSS