It might be the only setting Windows knows about.
Sometimes 800x600 is your only option. We'll look at ways to work with this.

Question: I got a new Dell PC with a 19-inch screen. I cannot change the resolution to be greater than 800 by 600. What can I do to change it? In this mode, the Start menu itself goes off the top of the screen.
800×600. There was a day when we were excited to have it. Now it feels so "small" as to be unusable in most cases. Even the most basic new computer supports at least 1024×768 or much higher.
But what if it appears that 800×600 is your only option?
800x600 Only?
If 800×600 is your only resolution option, it's typically because your system does not have the proper drivers for your video card. Contact your computer manufacturer or look for the drivers that came with or can be downloaded for your specific hardware.
When all else fails
800×600 is the lowest-common-denominator resolution. By definition, all PCs, graphic adapters, and monitors must support at least 800×600.
It's the one resolution that can be counted on to work and always work regardless of your hardware selection. It's often used as a fallback when troubleshooting or the default if your computer doesn't know it can do any better. You'll also see it used during the Windows setup process before Windows has determined your system's capabilities.
To change your resolution, right-click on an empty space on the desktop and click on Display Settings. Under Display resolution, you should see a drop-down list of available resolutions.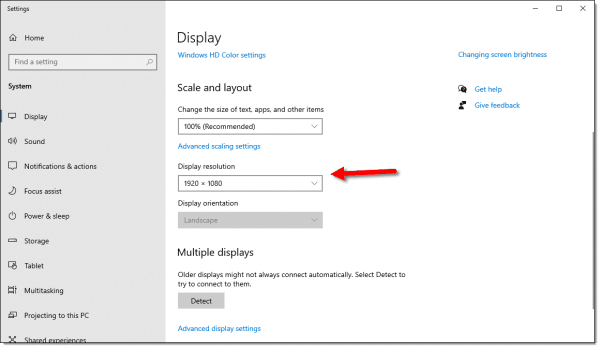 The list shown (when you click on the downward-pointing arrow to the right of the current resolution) may vary based on the hardware and drivers you have installed.
And there's the rub: if you have the wrong drivers or the default drivers installed, the list under Display Resolution may not give you any option other than 800×600.
So what to do in that case?
It's a driver thing
Not having the correct video drivers installed for your machine causes this issue 99% of the time. Normally, and especially in a case where your computer has come pre-configured from the manufacturer, this will already have been done. And, unfortunately, exactly where you go to make sure you have the proper drivers varies based on where you got your computer and whether or not you installed a new graphics card yourself.
To see what your computer "thinks" you have, right-click the Start button and then click on Device Manager. Expand the node labeled Display adapters by clicking on the ">" in front of it: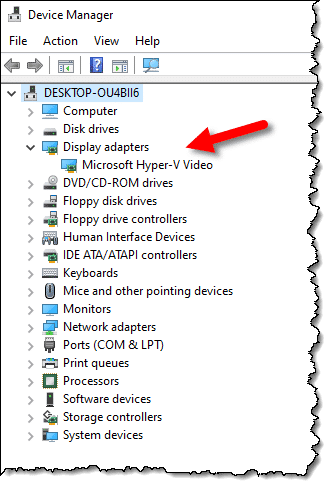 If it says something like "default" display adapter, then Windows does not know what kind of adapter you have or what its capabilities are. When that happens, it has to assume the lowest common denominator: 800×600.
Do this
If 800×600 is your only option, you have a couple of options.
If this was a pre-packaged machine, get in touch with the manufacturer's technical support. You need to locate and install the correct driver for whatever video card you have.
If you installed a new video card yourself, you need to locate the drivers for it (they should have come with the card) and install them.
While you're at it, subscribe to Confident Computing, my weekly newsletter. Less frustration and more confidence, solutions, answers, and tips in your inbox every week.
Podcast audio

Download (right-click, Save-As) (Duration: 4:19 — 3.3MB)
Subscribe: RSS