Peer-to-peer downloading is pretty amazing technology. It can speed up downloads significantly, and it can make downloading significantly more resilient to network hiccups and other types of failures.
It's most commonly associated with BitTorrent, which uses peer-to-peer to create a network of download sites that are efficient, resilient, and potentially difficult to track down. But the technology is used in other places as well – download a Linux distribution, and peer-to-peer BitTorrent downloads are often an option; updates for large applications, like online games, are often provided using peer-to-peer technology.
Now, Windows 10 is apparently using peer-to-peer technology as part of its approach to distributing updates.
There are, however, some problems, both generally and with Windows 10 peer-to-peer downloads.
Peer-to-peer
Traditional downloads are simple file copies from a server out on the internet to your PC. The server has a file, and your download makes a copy of that file to your computer.
Peer-to-peer file downloading – or more correctly, file sharing – takes advantage of the fact that once you've downloaded the file, you can potentially also make your copy available to others. If they are closer than the server, or if the server is being slow, it may be faster for them to get the file from you, instead of the master copy.
Your computer, which has the file, and the other computer, which wants it, are "peers": in the grand scheme of things, at least when it comes to getting this file, they're equal. By making your copy of the file available for others to download, you're engaging in peer-to-peer file sharing.
As I said, your machine might be a faster way for the other machine to get the file, but that's a gross over-simplification. After, say, 100 different computers around the world download a file and make them available to others, that's 100 different places that others can choose from, should they also want that same file. In peer-to-peer file-sharing technology, the file source selected is completely transparent – you just get the file.
And when you're done, you become the 101st source for that file. 1
Peer-to-peer problems
There are two problems with peer-to-peer file sharing:
It uses your internet connection, even after the file has been downloaded, in order to share what you've downloaded with others. This can impact your internet speed as you use it for other things.
It uses your internet connection for more than just downloading the file. As more and more computers need that file, your computer may be called on to provide it – meaning that it will upload that file as long as the peer-to-peer software is running and configured to do so. If you're on a metered connection (meaning you have a certain number of gigabytes of internet data transfer you can use each month), this may cause you to exceed your limit.
Microsoft has stated that Windows 10 peer-to-peer distribution will be used only on systems that are not on metered connections, and only when your system is idle.
Peer-to-peer red herrings
Note that there are two things that are explicitly not a problem:
Peer-to-peer file sharing is completely legal. It's just technology used to copy files. It's sharing pirated materials, regardless of the technology used, that is typically illegal (though unfortunately associated with peer-to-peer technology). Used to legitimately distribute software – as many Linux distributions do, and as Windows 10 appears to do – is actually an appropriate and completely legal use.
You're not sharing anything else. Peer-to-peer file sharing only shares those files that are part of that particular peer-to-peer system. In Windows 10's case, only updates are distributed this way. None of your other files are affected or exposed.
Windows 10 peer-to-peer – let's not risk it
If, like me, you're on a metered connection, and you don't quite trust the Windows 10 peer-to-peer ability to determine that it's metered2, or you just don't like the idea of your computer being used in this manner3, you can turn it off.
Click on the Start menu, and then Settings.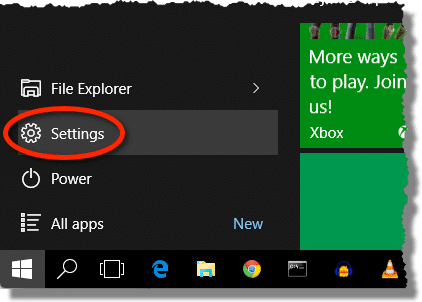 In the resulting window, click on Update & security.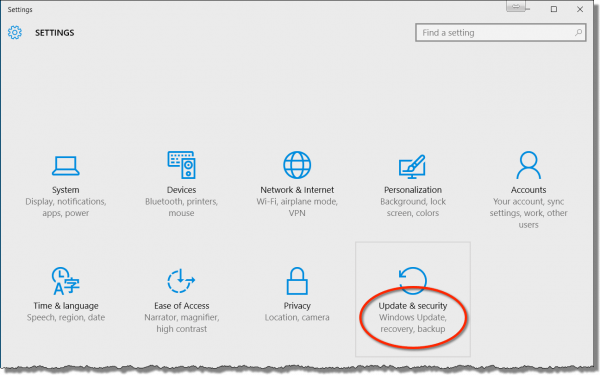 Then click on Advanced options.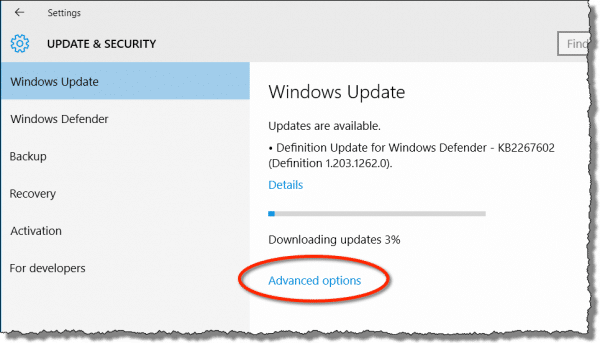 In the Advanced Options page, click on Choose how updates are delivered…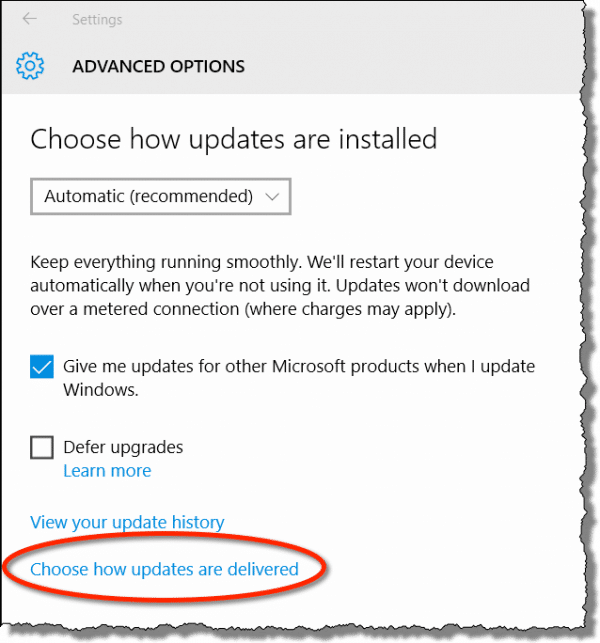 …and finally you'll have a choice.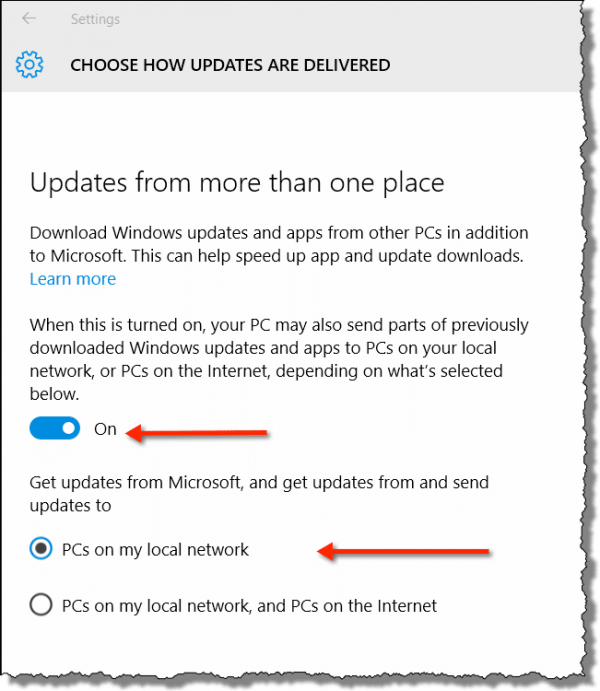 You can turn the feature off entirely by sliding the on/off control to the Off position.
What I've elected to do instead, however, is to leave Windows 10 peer-to-peer enabled, but restrict updates to be exchanged only with computers on my local network. Since I have multiple computers, this means I may benefit from peer-to-peer sharing of these updates among my own computers. It's possible, for example, that an update actually need be downloaded from the internet only once, and then shared automatically among all my machines that might need it.4
Podcast audio

Download (right-click, Save-As) (Duration: 5:59 — 5.5MB)
Subscribe: RSS