One of the new "features" in Windows 10 is something called "Wi-Fi Sense". Its goal is to make using wireless networks easier, particularly among friends.
Unfortunately, it's also raised a number of privacy concerns.
To top it off, it's enabled by default.
Let's look at what it is, why it may or may not be an issue, and, perhaps most importantly, how to turn it off.
Wi-Fi Sense
Wi-Fi Sense automatically connects devices to wireless networks in two different scenarios.
First, it will automatically connect your device to open Wi-Fi hotspots that others have connected to in the past. "Others", here, means other users of Windows 10 that have Wi-Fi Sense enabled.
Second, it will automatically connect your device to Wi-Fi hotspots – open or not – that your friends have connected to in the past. According to Microsoft1, "friends" are your "Facebook friends, Outlook.com contacts, or Skype contacts". What makes this interesting is that you can connect to their networks even if those networks are password protected, without knowing the password. Wi-Fi Sense just connects you without showing you those passwords.
How does Wi-Fi Sense get those passwords? Because your friends have enabled Wi-Fi Sense on their Windows 10 computers.
And you probably have it enabled as well – because it's on by default.
What that means is that it's possible for anyone in your contact list to connect to your password-protected wireless network without needing to know the password… because you shared it with Wi-Fi Sense.
Wi-Fi Sense privacy issues
Now, I don't know about you, but I have a lot of people in my address books and contact lists, many of whom I would readily share my Wi-Fi password with, should they ever visit.
However, there are certainly just as many, if not more, that I don't want to share with – at least not without it being explicitly being requested of me.
And therein lies the issue with Wi-Fi Sense: it assumes all contacts are equal.
They are not.
But it gets worse.
Wi-Fi Sense privacy leakage
Let's say you disable Wi-Fi Sense; I'll show you how in a moment. Your contacts will not automatically gain access to your Wi-Fi network. Great.
You invite a friend over, and he asks you for your Wi-Fi password. You give it to him, and he connects successfully. So far, so good.
Except … he has Wi-Fi Sense enabled, and Share network with my contacts was checked when he connected2. All of his contacts now have potential access to your network.
Turn off Wi-Fi Sense
First, let's turn off Wi-Fi Sense on your computer.
Click on the Start menu, then Settings; in Settings, click on Network & Internet.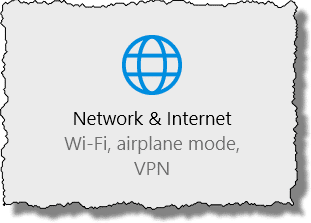 Then click on Manage Wi-Fi settings.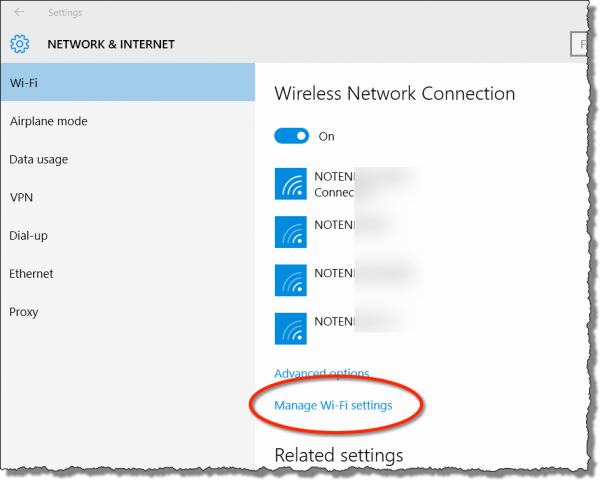 The resulting page will display an assortment of settings and information about Wi-Fi Sense.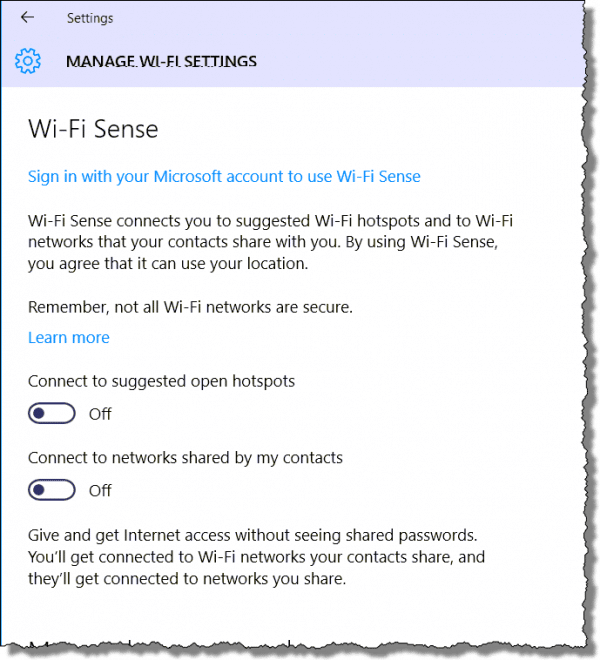 Turn Wi-Fi Sense off by sliding both "Connect to suggested open hotspots" and "Connect to networks shared by my contacts" to the Off position. This will:
prevent you from automatically connecting to those "suggested" hotspots without your knowing about it
prevent you from automatically connecting to your contacts wireless networks without you (or them) knowing about it
prevent your contacts from automatically connecting to your network without needing to know the password
Note that Wi-Fi Sense seems to require signing in with a Microsoft account. When feasible, not doing so is another approach to avoiding Wi-Fi Sense, but ultimately it's more clear and less error-prone to actually turn the feature off.3
Prevent your network from being shared by Wi-Fi Sense
Turning off Wi-Fi Sense on your PC means that your network access won't be shared with anyone automatically.
But what about that scenario where you allow a friend access, and he has Wi-Fi Sense enabled, so he and all of his friends gain access?
As it turns out, there is a way you can set up the network itself such that it should never be shared by Wi-Fi Sense, regardless of anyone's settings.
The cumbersome trick is to change your wireless network's name, or SSID. Quoting the FAQ: "If you don't want Wi‑Fi Sense to connect people to your open Wi‑Fi network or allow people to share access to your password-protected network, you can opt your network out of it by including _optout somewhere in the Wi‑Fi network name (also called the SSID)."
Unfortunately, while the Wi-Fi Sense FAQ goes on to include some general guidelines, exactly how you do this will vary based on exactly what Wi-Fi access point or router you happen to use, and will also require that you have administrative access to that device.
Check with the manual that came with your router or access point for instructions on how to change its SSID.
Podcast audio

Download (right-click, Save-As) (Duration: 6:01 — 5.6MB)
Subscribe: RSS