Some nasty minded individual, maybe an upset employee or an ex-employee seems to be trying to disrupt my email. Recently I've started receiving very many free subscriptions to all kinds of online newsletters, publications and other absolute garbage ranging from kids' clothes to women's makeup to porn. One day I received over 50 and they keep on coming.
Probably half of these do the correct thing in that I have to respond before they will add me to their mailing lists. The problem is that the other half doesn't and I just keep getting their emails. Most of these are really a pain to get rid of. I've tried unsubscribing many times but they keep coming back. I'm using Thunderbird as my email client, which really doesn't have any effective spam filter, that I'm aware of. Do you have any suggestions as to what I can do?
The very short answer is to treat the messages as spam. I'll explain why, and I'll talk about Thunderbird's spam filter (which does exist), and an alternative solution within Thunderbird.
Confirmed opt-in
This is one of the reasons that most reputable email newsletters and other services have what is called a double or confirmed opt-in. What that means is that it's not enough to simply provide an email address to sign up. The person receiving email at that address must take a second step to confirm that they did indeed sign up and do want the email.
It's how the Ask Leo! newsletter works; you provide an email address, you get an automatic email, then you confirm your subscription by clicking the link provided in that automatic email. Only then do you start getting hew newsletter.
As you can see, mailings that do not use confirmed opt-in are subject to abuse; and that's why I feel it's appropriate to label such emails as spam. If you're getting things you didn't personally sign up for, that's almost the very definition of spam. That the originator didn't use confirmed opt-in, to be put it bluntly, is their problem. They're going to get marked as spam more often than more well-behaved newsletters will.
To be even more blunt, they should be using confirmed opt-in, and this is the price of not doing so. So I have no problem whatsoever marking them as spam.
Thunderbird
Thunderbird does indeed have a "learning" junk mail or spam filter. If you right-click on a message, you can mark it as junk, for example, and Thunderbird should learn over time. You might also need to enable junk-mail filtering in the settings for that specific email account. It may not be as good as other junk mail filters, but it's definitely there.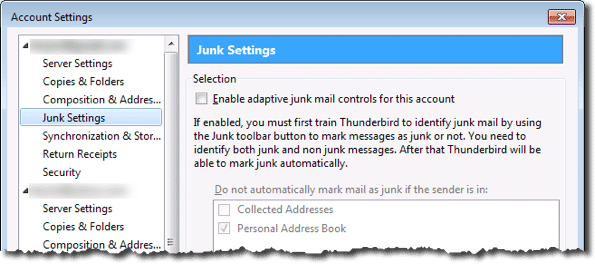 An alternative is to use Thunderbird's ability to create what are called message rules or filters to dispose of the unwanted messages. Since these are typically newsletters sent from a consistent source, you can define a message processing rule, or filter, that basically says, "if the message is from this sender (where the sender is one of those unwanted newsletter senders) then delete it", or move it to a folder, or mark it as junk… or whatever else you might want to do.
Yes, you may have to add or update a filter for each new subscription you end up getting but don't want. But then at least that subscription will be taken care of and will stop showing up in your inbox.
Unsubscribe is risky
Unfortunately, I also have to urge caution on using those unsubscribe links. Since we don't know what kind of things you're being signed up for, it's very possible that the unsubscribe links don't actually unsubscribe you. It's possible that like unsubscribe links in traditional spam, they could result your getting more, not less, unwanted email.
Use your best judgment since some are probably legitimate. But if there's any doubt, don't click on an unsubscribe link. Use your spam filter or message rules to deal with that subscription instead. Hopefully, the person trying to annoy you will eventually get tired and give up.