I was hoping to be able to recommend a particular utility in this or an upcoming newsletter. Unfortunately, my test failed (much to my frustration) and as a result, you won't hear about the utility.
When I explained that to a friend, they were somewhat surprised.
With few exceptions, I've elected to follow the approach taken by a long time Seattle restaurant critic: if you can't say something nice, say nothing at all.
I do encounter problems
The scenario that prompted the decision was my last-minute upgrade of a Windows XP system that I actually rely on for internet access to Windows 7. There are many tools out there that claim to help with the transition. With the impending demise of Windows XP, it seemed like something worth trying. If it worked and worked well, it would have been a valuable utility to recommend to people who have put off making the transition.
Needless to say, things didn't work out as planned. After struggling with the results for a while, I threw in the towel and simply started over with what remains my recommended method of choice: backing up (which I'd actually done first), installing Windows 7 from scratch, and reinstalling applications manually. I'm putting the final touches on that machine in another window as I type this.
This isn't the first time that I've had a bad experience with software. Heck, you don't "play around" in this industry without encountering more than the average share of failures. But they're nothing I spend a lot of energy talking about to readers.
Yes, I suppose telling you what to avoid might be valuable (and I do that in a broad sense as I'll explain in a moment), but honestly, I just don't like going negative.1
I don't review as much as I recommend
My approach isn't a true "review" anyway. I don't take a product, evaluate it from top to bottom, and then pontificate on the results. There are plenty of good sites that already do that.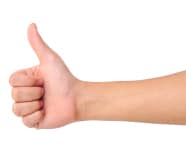 My approach is a more hands-on one.
I use something. If I like it and I think it'll be valuable, I share it.
Sometimes, I modify what I use based on feedback, and if the result of that change are good, I share that too.
What I don't do is trash something because it failed for me once. For example, the software that I was using for this upgrade scenario was from a well-known respected company. The problem that they're trying to solve is a complex one. There were aspects of the program that I didn't like and ultimately, the program didn't work for me. Could it have been due to my error? Perhaps. A true reviewer would invest the time to perhaps try it again in other scenarios. I don't plan to… I have other work to do.
Even if something failed for me, that's not necessarily a fair representation of the product overall. Akin to a restaurant review, perhaps that software just had a bad day.
Rather than tell you about my failure, I tell you nothing about that product at all. It's absolutely a missed opportunity for that product to get some good press, but that's all it is: a missed opportunity.
Typical negative experiences are entire classes of applications
When I do go negative (or at least close to negative), it's with entire classes of products.
For example, I don't believe in registry cleaners.
I'm not a fan of performance optimizers or "fix-all-your-problems" kind of programs.
And I remain of the opinion that the best way to upgrade from one Windows version to another is not with the help of any software, but rather the tried-and-true backup and install from scratch approach.
I don't call out specific examples of programs to avoid because I don't need to do that. I simply remain skeptical of any of the programs that attempt to address those issues. That's not to say that there couldn't be an absolutely wonderful example out there; it's just that all of my experience hasn't lead me to one.
There are exceptions
There are cases where I'll call out a specific program as something to be avoided. There aren't many, but it can happen.
Outlook Express comes to mind.
And even then, it's not because Outlook Express is some horrible, horrible program – it's not. It got a lot of people onto the internet and into email. It was fantastic in its day. But those days are over. It's no longer supported and it has been known to cause catastrophic data loss of email, if not handled just so.
And that becomes part of the criteria that I might use to go negative:
The software has a significant risk associated with using it.
The software is in widespread use.
There's little to no hope of the software actually being fixed.
Someday, I expect Windows XP might fall into that same category, because it already meets two of the three criteria.
Negativity is easy to find
If you want negative reviews … well, just Google your favorite product. This is the internet, after all, and there's plenty of negativity to be found out there.
Knowing that and knowing that negativity in general just isn't my style, I simply choose not to go there.