Important choices to be made.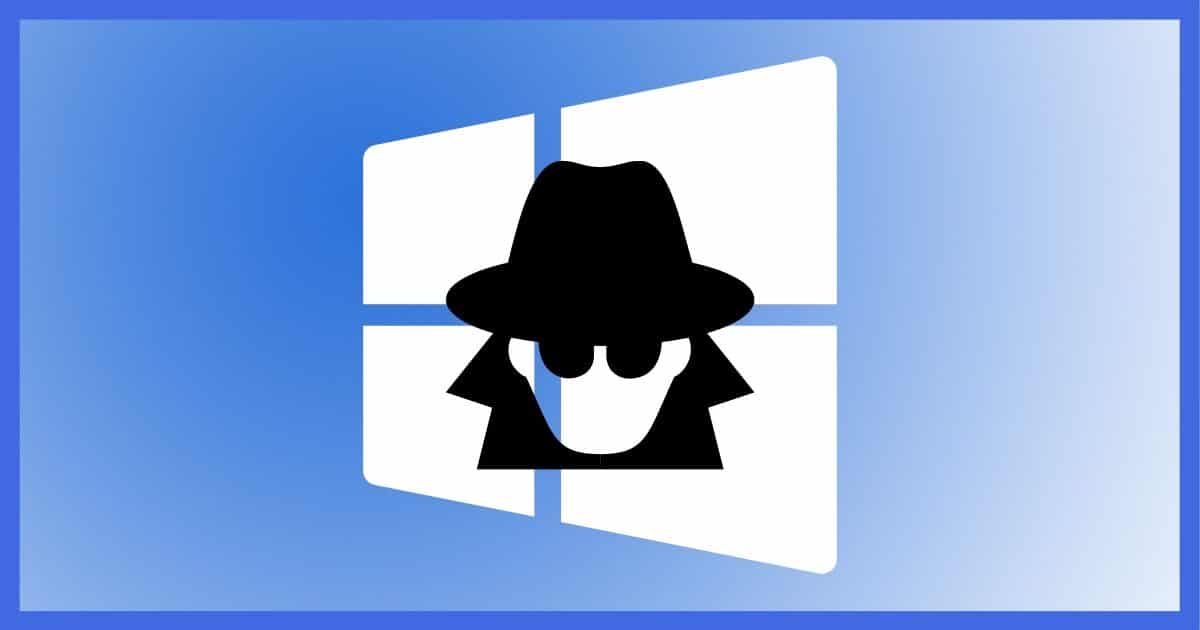 Windows 10 privacy seems to be somewhat of an oxymoron, at least based on reputation. I'll review the choices you can make at setup to retain some control.
Since its introduction, Windows 10 has come under heat for various privacy issues.
Depending on what you read and what's been uncovered, it does appear that not all privacy-related issues are necessarily under your control.
However, much of it is, and much of it begins when you install or update Windows 10.
Associating a Microsoft account with your machine during setup is recommended for features and flexibility, though you can add a local account later for day-to-day use if you prefer. Windows 10 Setup includes a number of choices you can make that all default to sharing as much as possible, so don't blindly hit "Accept". Instead, review each of the options and make an informed choice for each.
Using or not using a Microsoft account
We'll start in the setup process at the point where you're asked to add an account.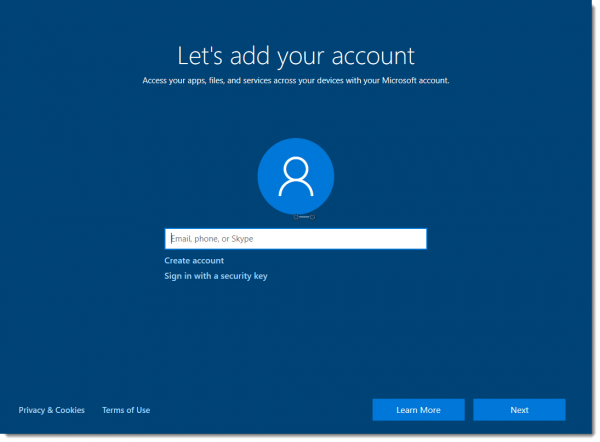 The email address you provide is that of your Microsoft account, if you have one. You're also given the opportunity to create one if you don't.
There are pros and cons to using a Microsoft account.
Pros:
This will become the sign-in account for your machine, which will be associated with your online account.
Certain features, like Cortana, OneDrive, and the Microsoft Store require the use of your Microsoft account.
You'll be able to change your login credentials — like your password — without needing access to your machine.
Cons:
You may be sharing even more information with Microsoft about how and where you use your computer.
It may be another online account to manage if you don't already have a Microsoft account.
Needless to say, many are concerned and choose to operate without a Microsoft account. I don't recommend this. I believe it is important to have a Microsoft account associated with the machine. If you want to use a local machine account for day-to-day use, I recommend setting that up after Windows 10 setup has completed.1
After entering your Microsoft account email address and successfully signing in to the account, Windows Setup will suggest you create a PIN to sign in.
I recommend using a PIN; it's typically easier to sign in with and just as secure.
Privacy options
You're then presented with a screen full of privacy options.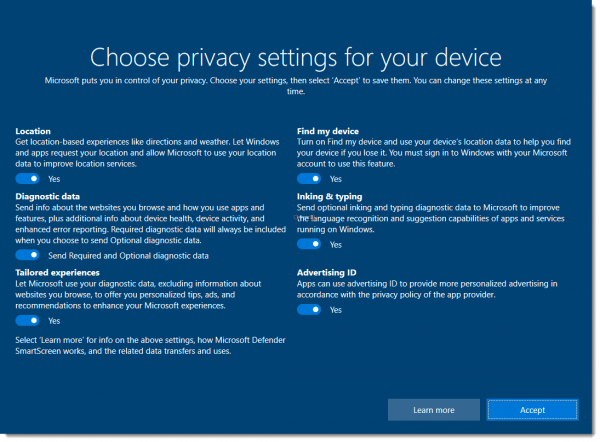 Naturally, the default is to share as much with Microsoft as possible.
My most important recommendation is not to blindly click "Accept", but rather examine each privacy setting to make an informed decision.
Here are the settings and my recommendations.
Location: Get location-based experiences like directions and weather. Let Windows and apps request your location and allow Microsoft to use your location data to improve location services.
Yes. This often enables additional features and functionality in apps and websites that request it. (You can later control whether this information is shared with specific websites as you visit them.) On the other hand, if your location is something that you are particularly concerned about, perhaps you'll feel more comfortable not accepting it and living with the resulting loss of features.
Diagnostic data: Send info about the websites you browse and how you use apps and features, plus additional info about device health, device activity, and enhanced error reporting. Required diagnostic data will always be included when you choose to send Optional diagnostic data.
Yes. Windows will collect information about the websites you browse and how you use apps and features. Microsoft claims that data is anonymized and collected in a non-personally-identifiable way. I believe this information is used for future product enhancements. Of course, if you don't trust Microsoft, this would be one to turn off. If you say no, you'll be presented with an item to "Send required diagnostic data," which I believe is required and used when programs fail or crash.
Tailored experiences: Let Microsoft use your diagnostic data, excluding information about websites you browse, to offer you personalized tips, ads, and recommendations to enhance your Microsoft experiences.
No. This allows Microsoft to use the data collected in the previous item to make suggestions and target advertisements. It won't affect how you use Windows. Also, I tend to be generally anti-tip myself, not finding them particularly useful.
Find my device: Turn on Find my Device and use your device's location data to help you find your device if you lose it. You must sign into Windows with your Microsoft account to use this feature.
Yes. If you have a portable device and if you have location turned on, I recommend turning this on as well.
Inking & typing: Send optional inking and typing diagnostic data to Microsoft to improve the language recognition and suggestion capabilities of apps and services running on Windows.
No. You may not want what you've typed or written to be sent to Microsoft. Presumably this also eats up additional bandwidth. Since this appears to really only be used for future product improvement, there's no real reason to turn it on.
Advertising ID:  Apps can use advertising ID to provide more personalized advertising in accordance with the privacy policy of the app provider.
No. Unless you like "more personalized advertising", and I think we're all pretty tired of it.
After you've made the appropriate selections, click Accept to move on.
Privacy matters
The privacy issues around Windows 10 are as important as they are murky.
On one hand, many of these are issues that we regularly accept on other platforms with other companies and other technologies without so much as a second thought. It's very possible — likely, even — that the information collected here really is used to improve our experience with Windows and make it a better operating system for everyone.
On the other hand, in Windows 10, Microsoft seems to be taking information-gathering to a level never before seen in their flagship product. They are also being perceived as less than transparent about what is collected, whether we opt out or not.
Regardless of the outcome, it's important to be aware of the choices made available, even if they're not the default, and make our own decisions.
Podcast audio

Download (right-click, Save-As) (Duration: 5:08 — 6.0MB)
Subscribe: RSS
Footnotes & References
1: Article planned.