A workaround.
Normally, you can request CHKDSK be run on the system drive at the next reboot. If that doesn't work, there is another way.

As Administrator, I type chkdsk C: /F, click Enter, get error message that the drive is being used (of course) and do I want it to run the next time it starts? I type Y, hit Enter, it tells me it'll begin at startup, I close the window, hit restart and the PC restarts, except it restarts the normal way. No chkdsk at all.
I don't have a fix for why this is happening, though I suspect it would involve diving into the registry.
Instead, I have a workaround: a way to run CHKDSK on your C: drive anyway. It uses a technique that is kind of useful to know about.
When CHKDSK won't run on boot
If CHKDSK won't run on boot, you can run it anyway by rebooting into advanced troubleshooting tools and running the Windows Command Prompt from there. You'll be able to run CHKDSK as well as other useful diagnostic or informative tools on your system drive.
Getting to a Command Prompt
Our destination is a Command Prompt window, but not via the normal means.
Start by closing all running programs. We'll be rebooting a time or two.
In Windows 11, go to the Settings App and click on System, then Recovery .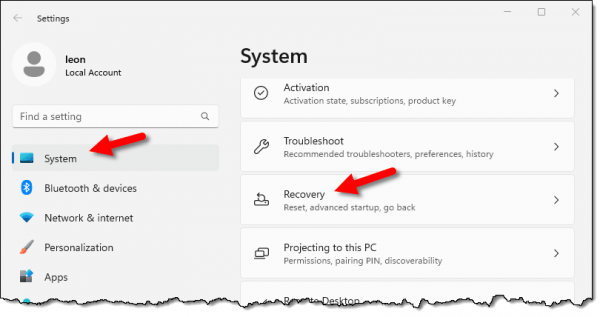 In Windows 10 Settings, click on Update & Security and then Recovery.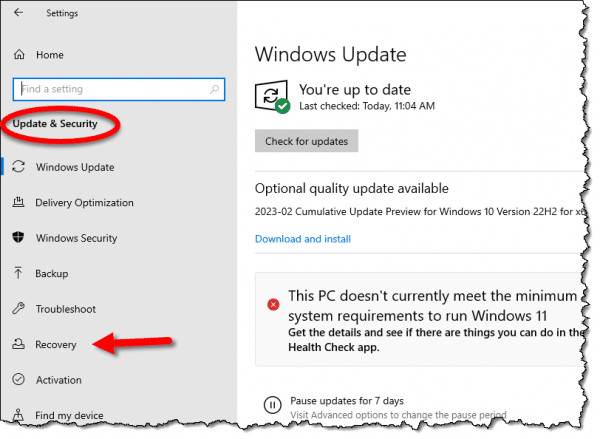 In both versions, under Advanced Startup, click on Restart now.

On the next screen, click on Troubleshoot.
Click on Advanced options.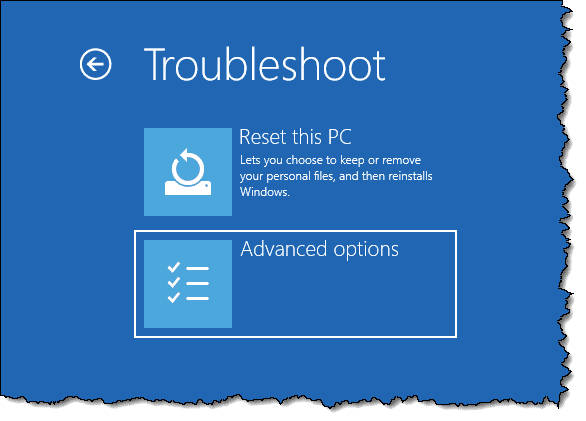 Finally, click on Command Prompt.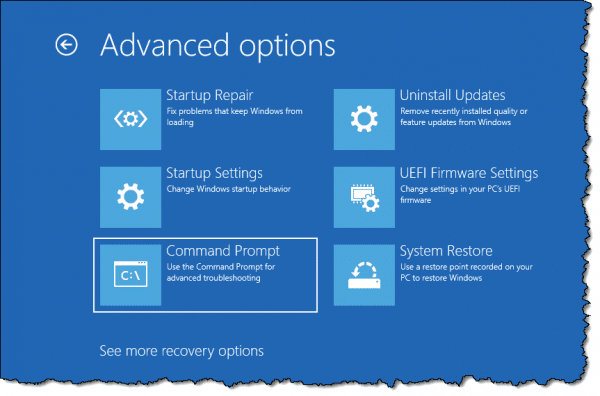 Run CHKDSK
In the resulting Command Prompt window, enter:
CHKDSK /F C:

The results will be displayed as they happen.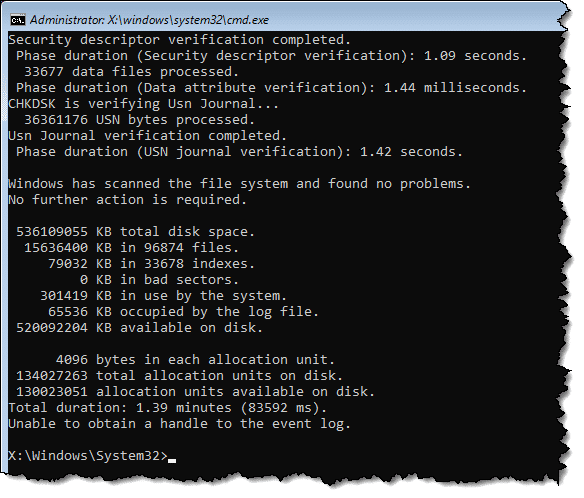 When complete, you can scroll back up within the Windows Command Prompt window to see the full results.
When you're finished, you can close the Command Prompt window, or enter "EXIT" followed by the Enter key, and then click on Continue – Exit and continue to Windows to reboot and return to Windows normally.
When C: isn't C:
In the example above, the disk that contains the system drive was conveniently assigned its normal drive letter, C:. Unfortunately, that might not always be the case.
If, for example, in Windows Command Prompt, CHDKSK completes lightning fast (as it did for me in one case), do a "DIR C:" to see what that drive contains.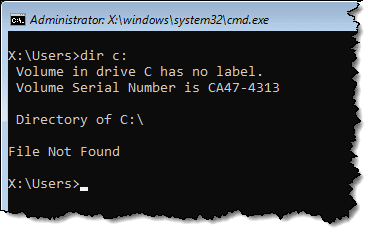 The drive that had been assigned the letter C: was a different, apparently empty drive. No wonder CHKDSK was so fast.
If this happens to you, enter the following command to list all known drives on the system:
wmic logicaldisk get name
This will list the drive letters known to Command Prompt.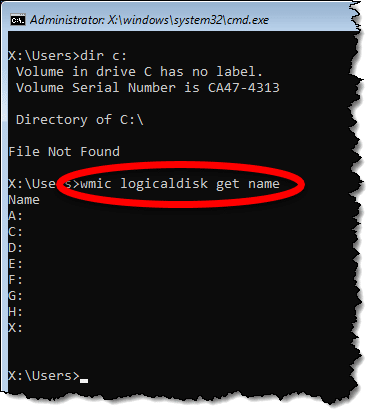 There may be an easier way, but I then just did a "DIR" command on each of those drive letters until the results matched the content of my system drive. In my case, that turned out to be E:.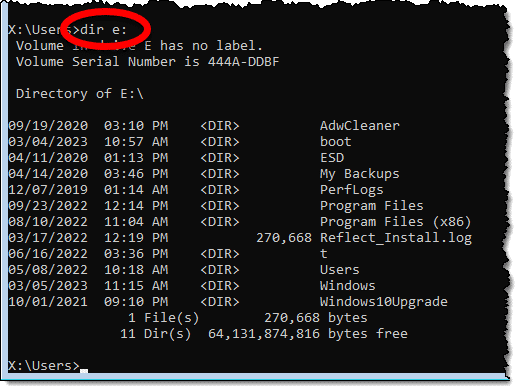 What would normally be my real system drive at C: drive had instead been assigned the letter "E:" in this troubleshooting session. To run CHKDSK on it, I'd type:
CHKDSK /F E:
The Advanced Command Prompt
This technique gets us to an advanced command prompt. Normally, we can't do a "CHKDSK C:" because C: is the system drive, and it's in use. By rebooting into this advanced troubleshooting mode, Windows runs from one of the reserved partitions on your hard disk instead, not the C: drive at all. If you look carefully, you'll see that the Command Prompt has opened on drive "X:", which is the temporary system drive for this session.
You can examine and operate on the C: drive in other ways as well. Without Windows running, you may be able to manipulate files that are otherwise locked, run utilities (like CHKDSK) that normally require advanced access to the drive, and more.
Naturally, you need to be careful. It's certainly possible to damage your system by deleting the wrong file or changing the wrong thing. But as long as you're careful, it's a quick and convenient way to get low-level access to system components you normally can't modify.
Do this
Run CHKDSK on C: in this way, and remember that you now have another tool in your diagnostic and repair toolkit.
Want more tools for your toolkit? Subscribe to Confident Computing! Less frustration and more confidence, solutions, answers, and tips in your inbox every week.
Podcast audio

Download (right-click, Save-As) (Duration: 9:22 — 12.9MB)
Subscribe: RSS