I found a bug in Windows, confirmed by duplicating it on another machine. My only option to report it seems to be to pay to call them and submit this as a support request or do it over the internet — for a charge. I feel it's unfair for me to pay to tell Microsoft about their product problems. Any solutions?
There is indeed a mechanism in Windows 10 where you can report problems. It's simple, it's pretty easy, and it's free.
I'll describe it — and then tell you why I wouldn't bother using it.
Windows 10 includes a "Feedback Hub" you can quickly locate with a Start Menu search to submit bug reports. Because so many reports aren't bugs at all, but misunderstandings or opinions, it'll be difficult for your specific report to get the attention it might deserve. The harsh reality is that not everything we consider a "bug" will be fixed.
A bug is a bug, except when it's not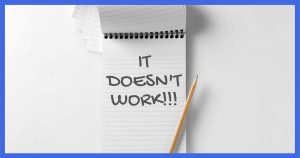 I'll annoy some with this, but it's important.
The majority of what the general public wants to report as bugs aren't bugs at all: it's the software acting exactly as designed.
The person experiencing a "bug" is typically not using the product properly or doesn't understand how the software is intended to behave. I sometimes jokingly refer to this as "operator malfunction" — the software is working correctly, but the user (the computer "operator") is not.
I've been there. I've had my own "malfunctions" — many, in fact.
I'm not saying you're in this situation. You may or may not be, I don't know.
But it is something all software vendors deal with constantly.
Speaking of which…
A bug is a bug, except when it's an opinion
It's extremely common for someone to disagree with how the software was designed to act — sometimes passionately — and call it a bug.
It's technically not a bug, because the software is behaving exactly as intended. On the other hand, it might still be considered a bug — not in the software's implementation, but in its design. The intended behavior is "broken".
Once again, it's something all software vendors deal with constantly. You can't please everyone.
Not all bug reports are created equal
I'm not saying people are incapable of making valid bug reports. Quite the contrary.
I point it out to show you what software vendors deal with on a regular basis, and what you're up against. Your bug report will be competing for someone's attention alongside reports from people who just don't know how to use the product, and people who are just ranting about how they don't like the product.
Not to mention people who are simply unable to express themselves coherently in a bug report.
A good bug report can be incredibly valuable, but it's up against some stiff competition.
So, assuming you've found a legitimate problem with Windows 10, how do you report the bug?
Windows 10 Feedback Hub
In Windows 10, click the Start menu and start typing "feedback".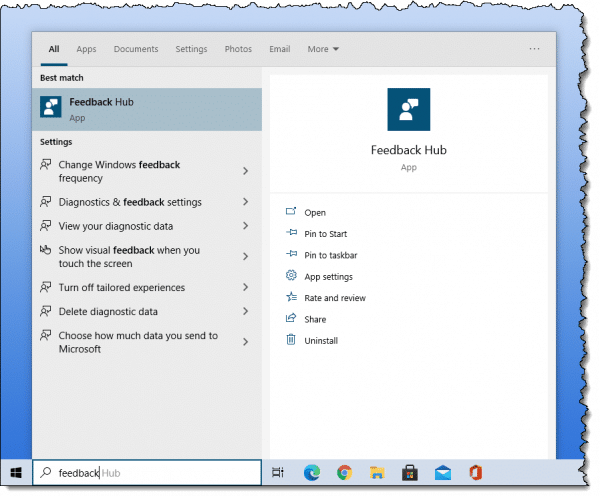 Click on "Feedback Hub" when it appears.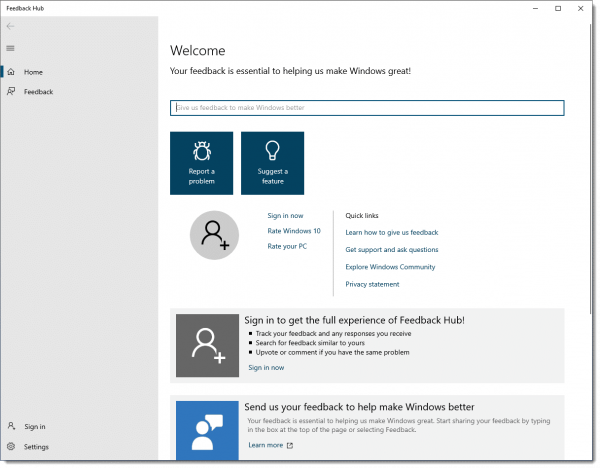 This app allows you to enter whatever feedback you want to. For example, click on "Report a problem", and you'll be presented with a form to complete.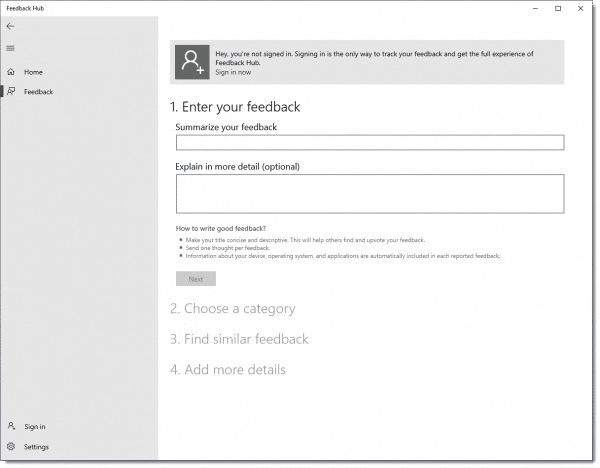 You're encouraged to sign in with your Microsoft account with the promise of being able to track the progress of your feedback. Depending on your topic, you may also be directed to similar issues already filed, or possibly even solutions to whatever issue you're facing.
I love the idea of Feedback Hub. I think it makes a tremendous amount of sense for Microsoft to collect data from Windows 10 users motivated to provide it.
The problem is what happens next. Ultimately, we have no idea.
Not all bugs are created equal
You may have a valid bug on your hands. It could be something worth looking into.
Or is it?
Your problem might be obvious and important to you, but it might be fairly obscure to others. If the average user is unlikely to ever experience it, it's not a security issue, no data loss occurs, and no programs crash, the impact of that bug could be pretty small.
Even if reported, it may never be fixed.
More severe problems — particularly security issues and bugs causing actual data loss — are typically prioritized on the "to do" list when working on software, while issues boiling down to cosmetic or behavior issues end up very low on the list.
When the internal forces, public, press, and current users are clamoring for the next release of the product, the items on the bottom of the list rarely make it in.
There are almost always more important fish to fry.
Often, when these kinds of issues do get fixed, it's because other work was being done "in the area" and the developer or others elected to resolve the issue as a matter of convenience.
Why I wouldn't bother
I started with the statement that what most people call bugs aren't bugs at all.
My experience (while at Microsoft and in the last 17+ years at Ask Leo!) leads me to believe it's generally true. People are very quick to blame the software when something goes wrong — only to find out later it was their own mistake or misunderstanding causing the issue.
Important: Once again, I'm not saying people aren't right sometimes. They are. I'm also not saying difficult-to-understand software isn't a "bug" in its own right. It is. What I am saying is that the vast majority of bug reports are simply user error.
So faced with a potential influx of "bug reports" from the general public — many if not most of which are not going to be bugs at all — and many of which are going to be fairly small, low-priority items in the grander scheme of things — what's a company to do?
Accept them, but prioritize them low. Work on them as there is time. If there is time.
Prioritize bug reports from trusted sources that are more likely to submit valid reports: Microsoft internal, beta programs, partner programs like Windows Insiders

1

.
Potentially prioritize and accept those general bugs only during fixed periods, so as to be able to focus on them and fix as many as possible.
Because not all will be fixed.
That's the harsh reality.
Podcast audio

Download (right-click, Save-As) (Duration: 11:31 — 12.4MB)
Subscribe: RSS
Footnotes & References
1: Though even there, you'll still hear complaints of bug reports going unaddressed.