They aren't cast in stone.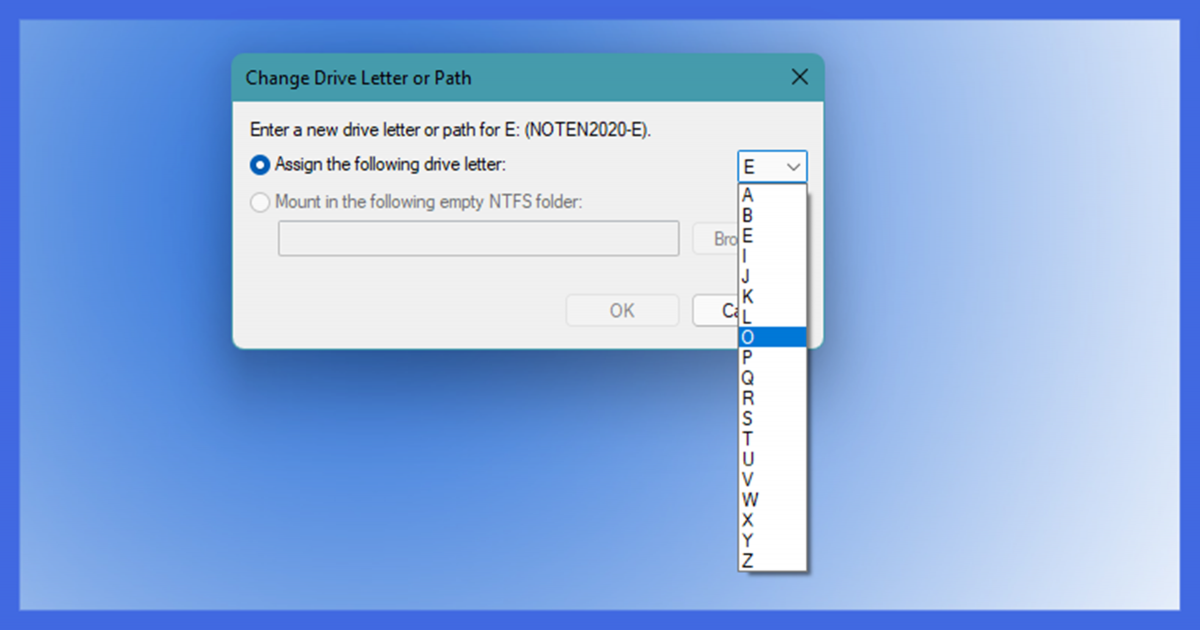 Drive letters like C:, D: and so on are assigned by Windows to reference your hard disks. They are not all cast in stone; most drive letters can be changed.
I have two hard disc drives and a CD-rom drive on my computer. The HDDs are C and E, and the cd rom drive is D. Is it possible to swap the HDD letters, i.e., C becomes E and E becomes C? Or are the letters fixed at the time of format?
Drive letters are not assigned at format time, and yes, they can be changed. In fact, it's quite easy to change them; I do it all the time — for every drive except "C:", that is. "C:" is special.
First, let's look at the how.
Reassign drive letters
Right-click on Start.
Click on Disk Manager.
Right-click on the drive you want to change.
Click on Change Drive Letter and Paths…
Click on Remove and Add to remove the existing drive letter assignment and add a new one.
Disk Manager
Right-click on the Start menu and click on Disk management.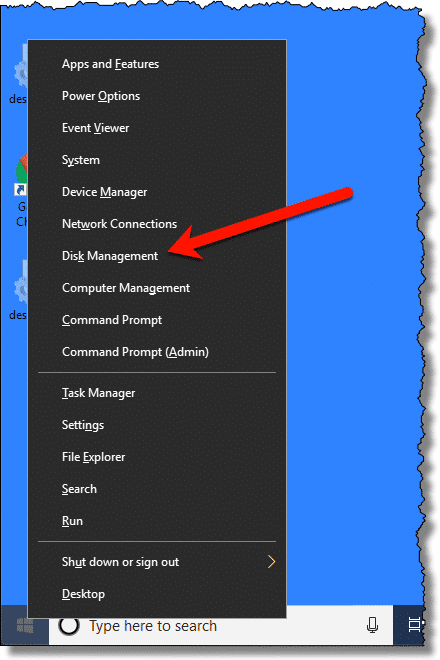 This will bring up the Disk Management tool.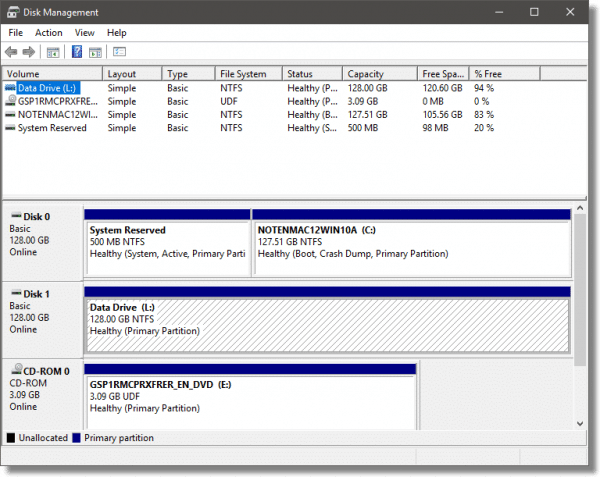 You'll see that I have several disks:
C: is my system drive
L: is a second internal data drive
E: is my DVD/CD drive
Having that second drive assigned "L:" seems somewhat odd,1 so let's change it.
Changing an assigned drive letter
Close any programs that might be accessing the drive you're about to change. Right-click on the drive in Disk Management. In my case, that's the L: drive. Click on Change Drive Letter and Paths… in the resulting context menu.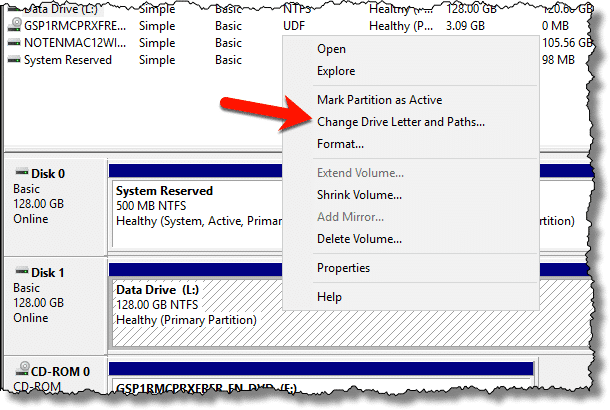 The resulting dialog will display all the drive letters currently assigned; in my case, L:.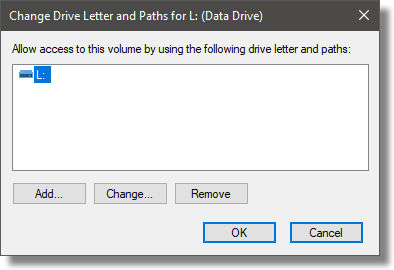 Click on the drive letter (L: in the example above), and then on Remove. You will get a warning.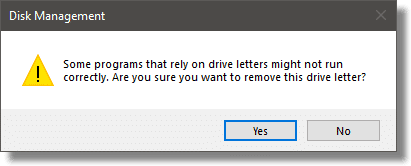 It's not enough that you've closed programs currently accessing the drive. Any program configured for any reason to access drives using the old letter will need to be adjusted to use the drive letter we're about to assign. You may get additional warnings if the drive is still in use. You can proceed and then reboot when we're done for the changes to take effect, so click Yes.
Right-click on the disk in Disk Manager again (it won't show a drive letter, since we just removed that), and click on Change Drive Letter and Paths… again. This time, click on the Add… button in the resulting dialog. You'll be presented with a dialog allowing you to select from available drive letters.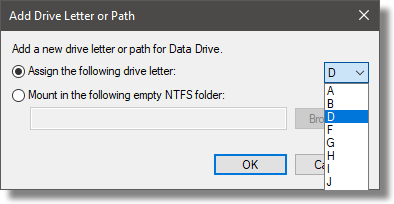 I've clicked on D — a more sensible assignment for an internal drive. Click on OK to make the assignment.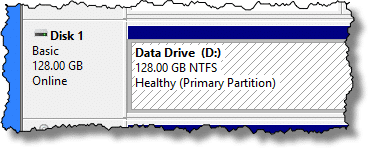 You can exit the Disk Management tool. Reboot if you were warned earlier about the drive being in use.
Multiple letters and paths
You might infer from the interface that you can assign multiple drive letters to the same drive. You cannot. If you try to Add without Removing first, the ability to assign a drive letter will be grayed out.
Paths, referenced throughout the dialog, are an alternate way to refer to drives without consuming another drive letter. It's an advanced topic, and I won't go into detail, but the short version is simply:
Create an empty folder on your C: drive. Perhaps call that folder "D-Drive".
Assign the path "C:\D-Drive" to the drive, using steps similar to what we've just done.
Now you can access the contents of the D: drive as if it were in the "D-Drive" folder on C:. You can even remove the drive letter assignment, if you like, and only access it via that path.
An important word about C:
Do not change the drive letter of your system drive. In most cases, that is C:.
When Windows was installed, it was installed onto the drive C:, and doing so will have created many, many references to C: that simply changing the drive letter will not update. It's possible your machine will not even boot if you change the drive letter of C:.
About A: and B:
Use them if you like. Other than feeling a little odd to have disks "before" the C: drive, there's no longer any reason not to use them.
A: and B: were originally reserved for two floppy drives that were used on the first PCs before hard drives were added. When hard drives came along, they were assigned the next available letter, C:. While floppy drives are no longer common, the default hard drive assignment at C: has persisted, and A: and B: are available for use however you like.
Footnotes & References
Podcast audio

Download (right-click, Save-As) (Duration: 5:20 — 7.4MB)
Subscribe: RSS
1: Not unsurprisingly, it's a side effect of me playing with this feature in preparation for updating this article.