When something is so broken even Windows doesn't know what to do.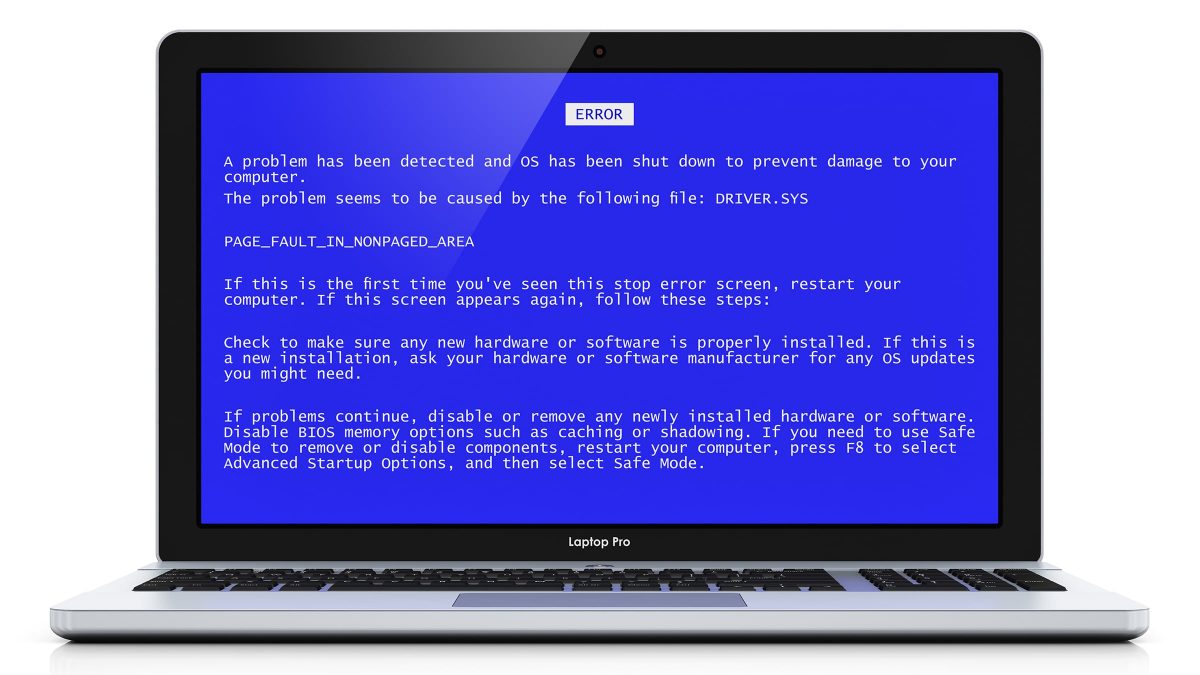 Blue screen errors are less common than they used to be, but they can still happen for a variety of reasons. I'll review what to do and when.
I was surfing the net with Google Chrome. No other applications were open (Norton was running in the background). All of a sudden I got a blue-screen with a frowny face and the message: "Your PC ran into a problem and needs to restart. We're just collecting some error info, and then we'll restart for you. If you'd like to know more, you can search online later for this error: MEMORY_MANAGEMENT."
The computer shut down and then restarted and I re-logged in and everything seemed to be fine. I'm not sure how to interpret the error message and am not sure where the "collected data" went. Would like your advice on what to do next. Do I pursue the MEMORY_MANAGEMENT topic or ignore the event or something else?
In short: back up regularly (which you're doing already, right?
) and carry on like nothing happened…
…until or unless it happens more often.
Then things get complicated.
Blue-screen errors
Blue screens happen when Windows encounters a problem it cannot safely recover from. Unfortunately, the information presented on a blue screen error message isn't typically helpful. If it happens once, it's usually something to be noted and nothing more. If it happens repeatedly, then trial-and-error is the most common way to diagnose the problem, starting with common hardware causes such as overheating, disks, and RAM, and moving on to software possibilities, typically including driver and system updates.
Blue-screen errors
A blue screen (BSOD or Blue Screen of Death) is Windows' last-ditch approach to error reporting.
A blue-screen error happens when something has gone so wrong that Windows doesn't know what to do. It can't make any assumptions about how to recover safely, so it doesn't even try. All it can do is stop. Completely. A blue-screen error is the last resort, and happens only when trying to carry on might cause more damage.
The blue screen presents some information. Unfortunately, that information, from the simple "MEMORY_MANAGEMENT" reference we've seen in recent versions of Windows, to the screen-full of indecipherable numbers common in earlier versions, isn't intended to be useful for average computer users.
Heck, it's not useful for most geeks.1
Your only recourse is to reboot and hope for the best. Sometimes this happens automatically, as the message says, but sometimes it won't, and you'll need to do it yourself — usually by holding the power button down for a few seconds.
One-off blue screens
Blue screens certainly don't happen as often as they used to, but they still happen occasionally.
Exactly why varies dramatically. Anything from a bad sector on a hard disk to a cosmic ray (honest!) can cause your computer to blue screen unexpectedly.
If a blue screen happens only once, there's usually nothing to worry about. It's annoying, and hopefully there won't be negative repercussions, like data loss. But the bottom line is that every so often, it is possible to get a blue screen without knowing why or without needing to take any action.
This should be very rare.
Repeated blue screens
If blue-screen errors happen more frequently, it's a sign of a problem. Unfortunately, exactly what problem is almost impossible to determine from the blue screen information. We have to look at other things and make educated guesses about what may or may not be happening.
Repeated blue screens happen for either of two reasons: hardware failure or software problems.
Hardware blue screens
New hardware. If you've added or replaced hardware on your computer recently, that's one of the first places to look. Sometimes the solution is as simple as replacing the hardware, or at least temporarily removing it to see if the problem goes away.
Overheating. When the blue-screen errors you see are frequent — perhaps happening when you do something specific, like playing a processor-intensive game — overheating is one of the first things to consider. Not only is overheating a relatively common cause of computer crashes, but often those crashes manifest as blue-screen errors.
Failing disks. Disks beginning to fail can manifest as blue screens. A good diagnostic step is to run CHKDSK /R on the hard disks on your system. This will scan the surface area of the disc for physical defects and attempt to repair them. Physical defects on the hard-disk surface can cause misreads of data, causing the instructions to the computer to become garbled.
Failing RAM. Since RAM contains the instructions the computer executes, faulty RAM can cause those instructions to become garbled and cause a blue screen. Running a memory test (often provided by your computer manufacturer) is a good idea.
Other hardware. Just about any other hardware connected to or used by your system has the potential to cause blue screens. If you can, removing devices one by one to see if the problem goes away is one way to diagnose.
Software blue screens
Driver updates. Since any hardware change usually involves a software change with updated drivers, drivers could be at fault. Make sure you are running the most current drivers for any hardware on your system, particularly any hardware added or changed recently.
Other software updates. Make sure your system is up to date. Occasionally, blue screens result from bugs or errors possibly fixed by subsequent updates.
Malware. This isn't the first thing I think of, but malware (specifically, malware bugs) has sometimes manifested as blue screens. Run up-to-date anti-malware scans.
About the information you have
You may notice that I have not referenced the error code or error message that you saw in your blue screen. The information "MEMORY_MANAGEMENT"  is not very helpful. All it really tells us is that there was a problem managing memory on your system. Unfortunately, that could still be the result of any of the causes I listed above:
Bad RAM (memory)
Faulty software
Faulty hardware
Bad sectors on a hard disk
And much, much more.
On very rare occasions, googling the information from a blue screen can get you information that relates to your problem. Unfortunately, once again, this varies dramatically depending on the specific problem that you're having.
In most cases, however, we're stuck with trial-and-error diagnosis.
Do this
Back up regularly, since failures resulting in blue screens can happen at any time, without warning, and can include data loss. A backup ensures that no matter what, you won't lose anything important.
If a blue screen happens to you once, note it and move on. If it happens repeatedly, begin a trial-and-error diagnosis of the possible causes, including hardware and software.
And of course, subscribe to Confident Computing – my weekly newsletter helping you use technology with less frustration and more confidence, including solutions, answers, and tips in your inbox very week.
Podcast audio

Download (right-click, Save-As) (Duration: 8:03 — 11.1MB)
Subscribe: RSS
Footnotes & References
1: That's one reason it's hidden in more recent versions of Windows. In reality, the detailed information provided by a blue screen is really only helpful to the engineers actually working on Windows or driver software.