When diagnosing system slowness, one of the things to review is how much RAM your computer has.
Not only does Windows love RAM, but so do Windows applications. And, of course, the more things you run at once, the more RAM you need.
RAM requirements only increase over time. It's common for a machine that once ran well to slow down due to increased RAM usage by the operating system and applications. Doing less is one approach. Where possible, adding more RAM is often the best solution. When buying a new machine, ensure there's room to add RAM later.
RAM
RAM (Random Access Memory) is the memory used to hold the programs running as you use your computer, including Windows itself.
When you turn off your computer, RAM is erased. When you turn it on again, the boot process is mostly about reloading Windows and all those running programs back into RAM.
To a certain point, the more RAM you have, the faster your system will run.
Windows and RAM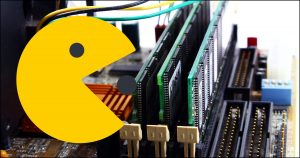 I've often said that Windows loves RAM. It operates better when you have more than you need.
The trick, of course, is that Windows will run — or try to run — even if you don't have all the RAM you need. Windows will try to "fake it" by using the swap (or paging) file to make it look like there is more RAM in the system then there really is.
Applications (including most of Windows itself) will use whatever RAM they need, and if the combination of all that demand is more than the actual RAM installed in your computer, Windows moves things in and out of RAM by writing to and reading from disk.
The problem? Disks, even SSDs, are slower than RAM.
The result? Your system slows down if there's not enough RAM for what you're trying to do. If you see lots of disk activity while you're not actually reading or writing files, this might be you.
Degradation over time
It's pretty easy to not realize you're using more RAM than you have, particularly if you've had your computer for some time.
The problem is this: RAM requirements only get worse over time. Your machine may have run Windows well five years ago, when it only needed X amount of RAM. Today, however, Windows might want half again as much RAM to do the same job, and your machine might not have it.
It's not just Windows. Applications increase their RAM usage and requirements over time as well. Couple that with Windows, and the combination could mean your machine just doesn't have enough RAM to do the same job it did a few years ago.1
We also ask more of our computers.  You're probably doing more with your computer today than you did five or ten years ago. That implies we're running more software now than we did originally. The result is that a computer that once had enough resources to meet our needs is now only marginally capable.
Two solutions
The first solution is to do less with your computer, if you can. Most often that means trying not to run as many applications all at the same time. Exit one before moving on to the next.
However, that is annoying, and doesn't solve the underlying problem: Windows and your applications want more RAM.
The second solution, then, is to give it to them: add more RAM, if you can. Particularly for older systems, I recommend installing the maximum amount of RAM your computer can accommodate. That will vary based on your computer make, model, and age.
Of course, someday you'll run into a situation where you need to run all those apps and your machine is already maxed out on RAM. The only solution then will be to buy a new machine.
RAM and new machines
When buying a new computer, I recommend you ensure the RAM can be expanded beyond what you need today.
My current desktop has 64GB of RAM, and I rarely come close to using it all. Over time, of course, that will change, which is why I made sure the motherboard can be upgraded to 128GB of RAM someday.
Similar RAM upgrades significantly lengthened the usable life of my previous two desktop machines. Each came with an amount of RAM appropriate to their purchase date, but with room for more. And each was eventually upgraded to their maximum capacity.
The bottom line: when it comes to RAM, more is better, and not having enough could be one of the reasons your machine is slowing down.
Podcast audio

Download (right-click, Save-As) (Duration: 7:51 — 8.2MB)
Subscribe: RSS
Footnotes & References
1: It's not some conspiracy. The machines you buy today have more RAM than your older machines, and software — both the operating system and applications — take advantage of that. Consumers also expect more of their software, which means it needs more room to work.