It looks like my ISP suddenly went out of business. As a result, my email address no longer works, and I can't get to all the email that was accessible using the ISP's web access. What can I do? 
Fortunately, your scenario isn't all that common, but unfortunately, what you're experiencing is. It happens any time someone changes their ISP or loses access to their free email account.
Thus, it's an excellent opportunity to review some very important points I've mentioned before.

Gone is gone
First, let me address your question directly: if your ISP has truly disappeared and left you no way to contact them at all, then to the best of my knowledge, there's no way to retrieve any information from them. Further, there's no way to use or redirect the email address you had with them.
It's all gone.
The best you can hope for is that some other ISP might swoop in to save the day, take over your old ISP's assets, and make them available again.
It's certainly not anything that I would count on.
All I can recommend is that you start over, from scratch, at a new ISP, and take the steps I'll outline below to protect yourself in the future.
Lost is lost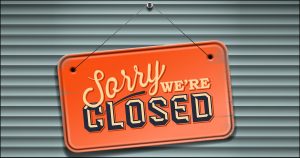 Thankfully, ISPs infrequently go out of business. More often, they're simply purchased by another ISP, and either things just continue to work, or you're given plenty of advanced notice if some change is about to impact you.
It's important to realize that this same scenario plays out when you leave your ISP for any reason, and when you leave (or lose access to) your free email provider.
Your email address with those services is no longer yours.
Any email you had stored on those services is no longer accessible to you.
Naturally, if you're moving, and switching ISPs as a result, you can plan ahead a little, taking steps to move to a new email address and provider. But if the switch is sudden, such as when you lose access to your account or switch ISPs with little notice, there's no planning at all.
There's just loss.
Protecting yourself
1. Select a good service or provider.
I admit, this can be difficult. When it comes to ISPs, many areas have little or no competition, and as a result, little or no choice. If you want internet, you have one and only one provider to deal with. Other areas have more options, including a choice between wireless, cable, or DSL connectivity.
Particularly with DSL, regulation in the US allows smaller ISPs (as well as the telephone company itself) to provide service over your telephone line. For many years, we had a great relationship with a local western-Washington ISP.1  The problem, of course, is that the smaller ISPs are perhaps the riskiest. The chances of your telephone company going away any time soon are pretty small. Unfortunately, there's a cost there as well … I stopped using my telephone company as my ISP because their customer service was absolutely abysmal, whereas the smaller ISP was wonderful.
If you have a choice, you need to factor in the offerings – most typically around broadband speed – offered by the various alternative providers, as well as their customer support, cost, reliability, and reputation. Ask around and see who people in the area use and how satisfied they are.
2. Back up your email
You knew I'd have to talk about backing up, right?
Webmail is very convenient, but it places all of your eggs in one basket. It's all stored on the provider's servers, and only on the provider's servers. If the provider goes away, or if you lose access to the account, you're in big trouble.
I use webmail almost exclusively these days, via Gmail. However, I take care to back up my email by also having a copy of Thunderbird installed and configured to download email while still leaving it on Google's servers. I run it once a week or so. Should anything ever happen to my Gmail account, I'll still have all my email up to the last time I ran Thunderbird.
That's my recommendation. Use an email program that you run on your own PC to periodically download your email, and then back that up when you back up your computer. It doesn't have to be Thunderbird; there are many alternative email programs that would do the job. You can continue to use webmail, but if the service suddenly disappears, at least you have your backups.
Important: note that this approach does not back up the address book kept in your online mail account. Unfortunately, I'm not aware of a good, general purpose automated backup solution for online address books or contacts lists. My solution is to export the contacts to a downloaded file once a month.
3. Consider getting your own domain name
If your ISP goes under, you've lost not only your mail, but your email address. For example, if your email address is something@randomisp.com, and this "random isp" goes under, then email sent to anything at "randomisp.com" is lost and gone forever. People trying to reach you through that address may get bounces, or nothing at all.
Once the ISP that owns the domain goes away, there's no automated way to get email sent to that address forwarded to another. If you leave an ISP on good terms, you can sometimes get them to forward your email or continue to provide you with email services. This is typically not free – it amounts to keeping your account open with an ISP you no longer use.
Registering and owning your own domain frees you from any ties to a specific ISP. For example, let's say I own the domain "askleo.com"2. Using only the domain registrar, I can make any email address on that domain. I might make one called "leo" at askleo.com, which I tell everyone to use. Then I have the domain registrar automatically forward email sent to that address to my "real" email account with my ISP, or even a free email service. People can continue to email me at that askleo.com address, regardless of whether my ISP goes under, or whether I lose the free email account it points to. If there's a problem, I simply change where the askleo.com email address is forwarded, and no one's the wiser.
3(b) Use a free email account
If you're not up to purchasing and setting up your own domain name, selecting a good free email service might be the right solution for you.
I've had mixed feelings for many years about whether or not free email services are "worth it". When you think about it, by using an email address provided by one of the services – say an @outlook.com, @gmail.com, or @yahoo.com email address – you're placing an awful lot of trust in that service to always be there when you need it. If not, then your email address is gone, as we've been discussing.
By choosing an appropriate provider (I'd choose Google's Gmail), securing your account properly, and backing it up regularly, it is possible to use a free email account with some level of confidence.
The upside is simple: you can change ISPs all you want, but your email and your email address remain the same.
Podcast audio

Download (right-click, Save-As) (Duration: 8:38 — 8.0MB)
Subscribe: RSS