Some days you just feel cursed.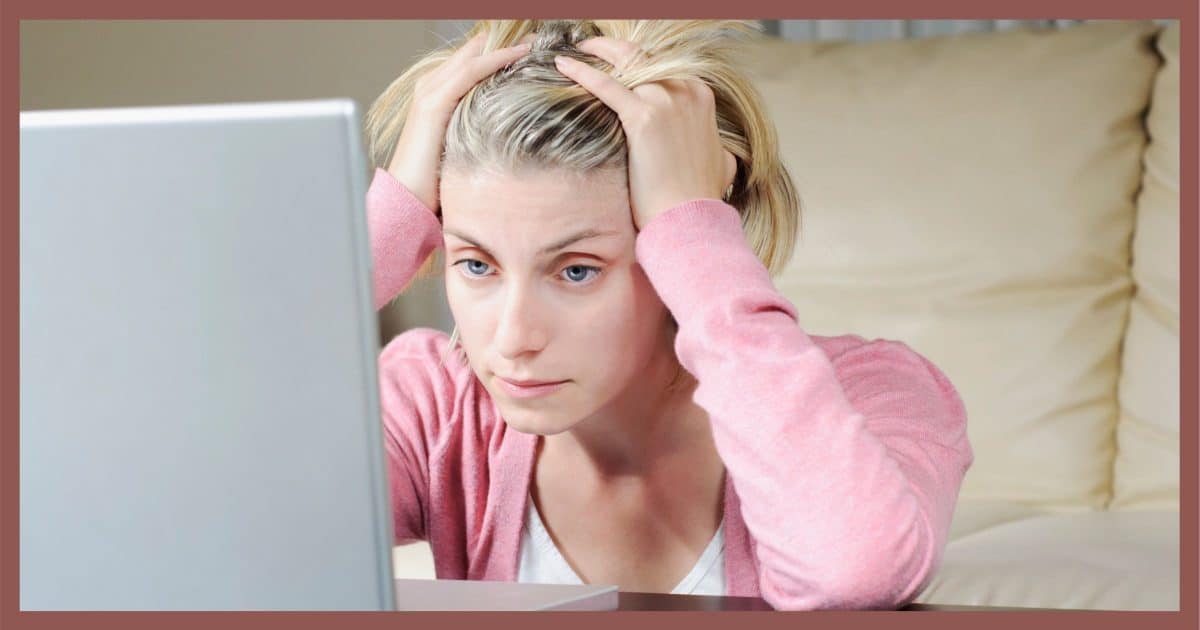 It's easy to feel cursed if computer after computer you deal with has problems. It's often not you at all.
Question:
Being absolutely serious here, do you know if certain people have something (possibly just static) in or around them that can cause computers to crash? I used to joke that I was so "electromagnetic" that I caused computers to crash. Not so funny actually, because I have had several new computers each crash in turn. This happened as early as two days new to six months new. I've had a motherboard die, a monitor die, a notebook that had a fatal crash and never turned on again and another notebook that had critical errors causing running problems 36 days into use. Most recently, my beloved HP Pavilion's hard drive went bad after only four months!
As I wait for a new hard drive to be shipped, I am very discouraged. I do not believe it's computer error causing these problems. I keep everything up to date. Have you ever heard of anyone else with such bad luck? All of this happened within the last 1-2 years. I can't afford to have another one die.
Wow. You certainly have had a string of bad luck, to be sure.
I know there are days I feel cursed — days when it feels like everything I touch turns to . . . well, let's just call it garbage. Thankfully, those tend to pass.
While I'm not aware of anything that would be specifically related to you, there are some things I would look into.
Computers Keep Crashing?
Check the condition of your electrical service and wiring. Consider getting a UPS.
Also electrical, make sure that your home wiring is properly grounded. Many older homes may not be.
Check your environment; is it particularly hot, dusty, dirty, or humid?
Do you experience static shocks often when touching equipment? This is another case for proper grounding.
Electricity ups and downs
My initial reaction when reading your tale of computers that keep crashing is to wonder about the condition of the electricity and the electrical wiring in your home.
We all tend to take electricity for granted, assuming that it's either on or off. It's often not that simple.
The two most common issues with electricity are:
Low or high voltage. Either can cause your computer's power supply to work overtime attempting to regulate the power it needs. Eventually the power supply itself may fail, but that can be a slow decline rather than a sudden failure. Along the way, other components within your computer can be damaged.
Power spikes or dips. Ever notice the lights dim when your air conditioner or refrigerator turns on? That's a power dip, and your computer might notice that. More dangerous is a power spike or surge, which can send spikes of suddenly high voltage through the wires. Depending on the quality of your power supply, your computer's circuitry, or the power supply itself, can be damaged.
In most cases, people recommend a surge protector, which protects against spikes. You may already have one, as many power strips that turn a single outlet into five or more double as surge protectors. (Many do not, so be sure to check.)
If your power regularly suffers from spikes and dips and other anomalies — often called "dirty power" — a surge protector isn't going to help. You'll want to install an uninterruptible power supply, or UPS. It produces clean power, regardless of what comes in — including no power coming in at all, for as long as the batteries last.
Getting grounded
Another common issue, particularly in older homes, is a lack of a good ground. That third prong in North American electrical plugs is intended to be connected to ground — quite literally, an electrical connection to the ground.
It wasn't always required, and many older homes don't have the wiring for it, so it's often connected to nothing — either at the plug, by an adapter, or by people literally chopping off that third prong. That can lead to or amplify the power problems we've discussed already.
If you live in a lightning-prone area, fuses on your phone line and power conditioners or UPSs become even more important. Nearby lightning strikes can cause power spikes and temporary outages.
Problems clustered around a single location sound like they might be a power-related issue, but I could easily be wrong. The only way to be sure, of course, is to have a qualified electrician check it out. Sadly, not inexpensive.
Other possibilities
The fact that you've had problems with your laptops could be taken as a counter example. By their very nature, laptops are always running on a type of UPS: their internal battery. However, depending on what else your laptop is physically connected to, issues with power — particularly grounding — can manifest through those other connections as well.
As I look at other things that could be common to all your computers — besides you — the environment comes to mind.
If you're in a particularly dusty, dirty, or smoky environment, your computer's components could suffer premature problems. If you suspect this is an issue, you might open one of the desktop machines and see how dirty it is inside. Excessive or quickly accumulating dirt (or in my case, pet hair
), could mean you simply need to clean your machines periodically or move them to a cleaner environment.
If your machines are in a consistently warm environment — say over 90 degrees Fahrenheit — they could be overheating. Air conditioning, or at least more air movement through the machine, could be called for.
If you live in a particularly dry climate, static can be a problem. If you "spark" when you touch metal objects in your home, that's a sign. If that happens with your computer, it's like a mini power-spike, depending on when, where, and how strong it is.
Again, this is where household ground is important: your computer should be well grounded, and you should discharge any built-up static by touching something grounded before touching your computer.
It could be you … sort of
It probably goes without saying, but I'll say it anyway — physical abuse could also cause all these problems. I've known people with a short fuse who regularly slap, hit, or otherwise physically abuse their computers when something's not working perfectly. Needless to say, those computers didn't last long.1
The bottom line, though, is that while I'm certain that there are "electric" personalities out there, I'm confident that the real issue is probably much more mundane.
Podcast audio

Download (right-click, Save-As) (Duration: 6:20 — 3.0MB)
Subscribe: RSS
Footnotes & References
1: And often die suddenly in spectacular fashion.