Question:
Hello, I have a HP notebook and lately I have faced some problems with it:
has been so sluggish
can't move or read some files (error: can't read this file or disk ) despite file size
disk usage is mostly %100
boot menu check disk fails
l can't reinstall Windows 10 (error: windows can't be installed in this drive it may fail soon )
every time the notebook starts up this error appears on the screen: The smart hard disk check has detected an imminent failure…
but
in disk management window all partitions are marked as healthy
drive error check finds no error
all drives can be defragmented successfully
more than 50% of disk is free
hard disk sound is normal
Based on what I said above, what can be the problem? a malware or hard disk is going to fail?
If you're not backed up … back up NOW!
It's almost certainly not malware; it's very likely your hard disk is close to failure. There's one thing I want you to try first, but then you should plan on replacing it.
I'll run through your list and tell you what's worth paying attention to, what's not, and why.
First things first
Here's what I want you to do:
Back up. Immediately. It's very likely your drive is about to fail. When that happens, you may not be able to recover any of the data that's on it. Backing up now will ensure you can, no matter what. I recommend a full system image backup.
Run CHKDSK /R in a Windows Command Prompt. You may have done something similar, but I'm guessing not, for reasons which I'll explain below. "CHKDSK /R" does a full surface scan of the disk and attempts to repair any failures. It may or may not complete successfully. Even if it does, and particularly if it repairs something, I'd be tempted to take the next step anyway.
Replace the disk. The signs are bad enough that yes, in your shoes, I'd probably skip the prior step and replace the drive. I'd use this as an opportunity to get a larger drive, or perhaps an SSD, but a new drive is called for. You can use the image backup I recommended to restore your data to the new disk.
Now, let's address the information you provided.
Points against the drive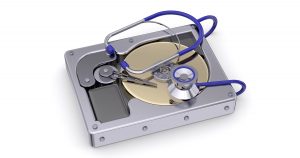 Your first set of points were all evidence that the drive has problems.
Sluggish
There are so many things that contribute to a computer's speed that sluggishness isn't something I generally associate with disk problems. Yes, disk problems can cause sluggishness, and indeed, I suspect they're part of what's causing it on your machine. As a symptom by itself, though, my mind does not first jump to hard disk problems as being the cause.
Can't read this file or disk
This is a huge indicator that there could be a disk problem happening. You mentioned file size not affecting anything, and that makes sense — it's generally irrelevant. While there are other things that can cause this type of error, like file system errors, I do start worrying about the hard drive when I see this.
Disk usage
When you said "disk usage is 100%", I'm going to assume you mean disk activity — the disk light is on without flickering as the system constantly attempts to access the disk. While other more mundane things can cause this as well — perhaps a program just has a lot to read or write to or from the disk — combined with the prior "can't read" symptom, this solidifies my concern about the disk.
Boot menu check disk
I'm honestly not sure what this is, as the boot menus I encounter generally don't have an option like this. I'm assuming it's not CHKDSK, which I'll cover below, but something unique to your computer's manufacturer or set up.
Windows can't be installed
My belief is that Windows setup is reacting to the "imminent failure" you mention next.
Smart hard disk check has detected an imminent failure
This is an important message, and perhaps the most important to pay attention to. I'll discuss SMART in more detail below, but this is best thought of as the disk itself telling you it's about to die. When the disk tells you this, you need to listen.
Points for the drive
"But", you said, and followed with a number of points indicating that perhaps things aren't as bad as we might think.
Healthy partitions
Ironically, partitions may be marked as "healthy" even when the disk is dying. Healthy, when applied to partitions and as shown in Disk Manager, has to do with the data on the drive and whether it's keeping track of things properly. It has nothing to do with the physical health of the drive or whether there are bad sectors on it.
Drive error check
I'm going to assume you mean CHKDSK for this, and further that you did not specify the "/R" switch to check for surface errors. It's quite possible for a CHKDSK (without the "/R") to succeed on a bad drive if no files occupy bad areas of the hard disk when it's run. Put another way, by default CHKDSK does not check the free space on the drive — it only checks that files are where they are supposed to be and are stored correctly.
Defragmenting
Defragmenting tells us very little as well. Sometimes a bad disk will cause errors during defragmenting, but once again, it's possible that a failing disk could pass a defrag run with flying colors because the files being moved around don't happen to hit the bad spots on the disk.
Disk free space
The amount of free space on the disk doesn't tell us much. Empty disks can fail, as can completely full disks. The information is interesting, but not particularly useful.
Sound
If your hard disk is making a new or unusual metal-on-metal grinding noise, that's a very bad thing. It's so bad, in fact, that the drive has probably already failed — the rest of the world just hasn't been informed yet. However, if a drive makes no unusual noise at all, this tells us nothing. Drives can and do fail without any audible sign.
SMART isn't always
The "smart" failure report is probably the most important thing you told me (as long as the drive is relatively recent). SMART is an acronym that stands for Self-Monitoring Analysis and Reporting Technology. SMART is technology built into modern hard drives that allows them to monitor themselves and report the potential for failure if it looks imminent.
Your drive's SMART report clearly indicated that the drive had collected enough data on its internal operation to meet the "I'm about to die" criteria.
Now, I say that SMART isn't always smart for two reasons:
SMART technology was notoriously inaccurate on older drives.
There's no guarantee that SMART will detect failure before it happens.
Put another way, if you have a reasonably current drive — say within the last ten years — the absence of a SMART warning doesn't mean your drive won't fail, but if you do get a SMART warning, it's time to pay attention.
Prepping for disaster
Disk drives fail.
Disk drives fail suddenly and without warning.
That you happen to have some indication in the form of an explicit "I'm about to fail" warning is a blessing, because it gives you the opportunity to react. But do realize that it's the exception rather than the rule. It's more common for a drive to fail without any advance notice at all.
The only way to recover from that is to be prepared, and the best preparation for inevitable hard disk failure is to have a good backup program in place. Backups can make what might otherwise be a disaster into nothing more than an inconvenience.
Podcast audio

Download (right-click, Save-As) (Duration: 8:16 — 3.9MB)
Subscribe: RSS