I was very intrigued when the Microsoft Surface Pro came out. The size and shape and the combination of it being both a PC and a tablet had me very interested in understanding whether or not this was something that was going to succeed.
Rather than being some kind of in-depth review (there are plenty of those elsewhere, I'm sure), these are simply my impressions after two months of having my Microsoft Surface Pro.
My emotions are mixed. I really want this device to succeed because it represents what to me is an incredibly interesting hybrid device – both tablet and PC. With that hybridization comes a tremendous amount of potential and power, and I'll explain why I say that momentarily.
Unfortunately by trying to be both it's possible that the Surface Pro fails to do either exceptionally well.
Good, perhaps, but not exceptional.
That may or may not be enough.
This is NOT the Surface RT
I need to start with an important clarification; a clarification that results from Microsoft's penchant for choosing exceptionally confusing names for its products.
The Surface RT does not run Windows. It runs Windows RT – the difference is extremely significant. The Surface RT uses a different processor  that is incompatible with the processor used in PCs, and needs an operating system that will work on that processor – thus Windows RT came to be.
It looks like Windows 8. It mostly acts like Windows 8. But it is not Windows 8, it's Windows RT. It does not run any of the Windows programs you may already have, because those programs are incompatible with the processor in the Surface RT. A Surface RT runs Windows RT and can run only software written for Windows RT.
This is why I don't really expect the Surface RT to succeed. It's yet-another-tablet competing within a seriously entrenched market full of iPads and Kindles and other Android tablets. I'm sure it's a nice machine, but in my opinion it's too little too late.
The Surface Pro, on the other hand, had me very, very hopeful.
The Surface Pro is a PC
The single most important point to realize about the Surface Pro is that unlike the RT it is a full-fledged PC running Windows 8.
In the size and shape of a tablet.
That means the majority of the software you already own and run in Windows 7 should theoretically just work in Windows 8 on the Surface Pro. And indeed, my own experience bears this out. Within an hour or two of my getting the machine I'd installed on it my standard set of utilities and tools and, with the exception of a few Windows 8 incompatibilities that were not an issue with the Surface Pro itself, they all worked flawlessly.
That was exactly what I expected and exactly what I'd hoped for.
So, why am I writing this article on my Macbook Pro?
The Surface Pro is a Tablet
One of the exciting things about the Surface Pro is that it's a tablet. You can use it portrait or landscape (it auto-rotates, like most tablets), and you can use it without a keyboard.
The keyboard is a very nice piece of engineering. If you've watched any TV in the United States you've probably seen and perhaps even grown tired of the collection of young energetic Surface users suddenly breaking into complicated dance maneuvers all while snapping and unsnapping and swapping the Surface's detachable keyboard. Yes, it does connect with a snap, and yes, it really is that easy (though I've not yet felt the compulsion to start dancing because of it).
However.
The keyboard is optional, in the sense that it costs an additional $120 or $130, depending on the model.
Let me be clear: when it comes to the Surface Pro and Windows 8 I do not consider the keyboard to be optional.
For me one of the goals of getting a Surface Pro instead of an RT was to be able to run existing Windows applications on it. If you're going to do anything even remotely PC-like (like, say, write an article) you want a keyboard.
Yes, there's an on-screen keyboard, but … it's an onscreen keyboard. Not only does it not have the tactile feedback of a normal keyboard (or the Surface's "Type" cover), it can take up half your screen. Half.
So I have that Type cover. Why am I writing this article on my Macbook Pro?
The Surface Screen
I love the Surface's screen. It's high 1920×1080 full HD resolution and it's sharp and clear. At 10.6 inches it's perfect for most tablet applications.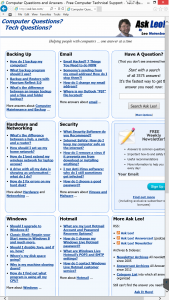 In my experience, not so much for typical PC work.
The problem is not the resolution, or necessarily the size, but rather the 16:9 aspect ratio combined with its size. 1920×1080 on a ten and a half inch screen packs the pixels in pretty tight. That's fantastic for viewing videos but not so much for reading and writing.
As I've written about before the first thing I did was increase the DPI (dots per inch) setting which had the effect of making everything bigger, but now it simply feels like the screen is too short, when held in landscape mode, or too narrow when held in portrait. I know this is very subjective personal opinion, but it just feels like you have a choice to make – too small to read or too cramped to have enough on-screen – when using the Surface Pro as a PC.
And as I said, things get worse if you try to use it without a keyboard – too small gets way too small when half the screen is taken up by the on-screen keyboard.
That's why I'm writing this on my Macbook Pro: larger screen and traditional keyboard. To be clear, I absolutely could have done this on the Surface Pro (heck, I probably could have done this on a Surface RT since I'm just in a web browser), but every time I've written on it, it's simply felt too cramped, both physically and visually.
The Surface Pro hardware
The Surface Pro comes with very few configurable options:
64 or 128GB of storage in the form of an SSD. I have 128GB, and absolutely recommend you get the larger option – you apparently can't upgrade a 64 to a 128, and you know that software and documents and whatever it is you'll use your Surface Pro for will eventually exceed whatever it is you have. Realize also that something like 30GB will be taken up by Windows and the other software installed on the machine before you do anything.
No keyboard, "Touch" keyboard (no keys that actually depress) or the "Type" keyboard (individual keys that act like a more traditional keyboard, shown in my earlier photo). As I mentioned above when it comes to Windows 8 and Windows applications and traditional PC usage, no keyboard is not an option. I opted for the "Type" keyboard ($10 more than "Touch"). This is personal preference I'm sure and how comfortable you'll feel typing with or without the feedback of a real keypress. In either case the keyboard feels cramped for my large-ish hands.
That's it.
You get 4GB of RAM, a 1.7Ghz Intel core i5 processor, 64 bit Windows 8 and what I'll call the normal assortment of tablet features (2 cameras, USB port, microSD slot, and so on).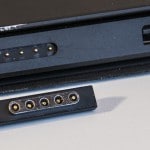 Much to my disappointment the power connector on the Surface is non-standard, thus you can only get the power adapter via Microsoft (though they did adopt Apple's magnetic attachment technique which is nice).
Oh, and there's a stylus that comes with the device which is actually pretty nifty, especially when attempting to fat-finger touch something on the screen. It attaches to the Surface magnetically at the power connector. I'd tell you more, but I've already lost mine as it has fallen off somewhere in the last two weeks. (A $30 replacement if I decide it's worth it.)
The Surface does feel a tad heavy (the Pro's a bit thicker and heavier than the RT), but it also feels solid, something that I actually like. The built in "kick stand" and detachable keyboard are innovative and actually quite useful. I appreciate that unlike many tablets there's a full-fledged USB port, and a Mini DisplayPort (something I've already used to connect a projector at a conference to Skype in a remote presentation).
Surface Pro and Windows 8
The Surface Pro runs Microsoft Windows 8. In fact, there's a very strong possibility that Windows 8 was designed specifically for the Surface, or at least with the Surface in mind.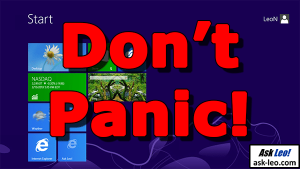 Unlike many people who, undeservedly in my opinion, hate Windows 8, I'm OK with it. I run it on my desktop every day, though I have installed Classic Shell to basically turn it into the most recent version of Windows 7.
When I got my Surface – a true touch screen tablet – I decided to go all the way and embrace the whole native, tiled start screen experience.
It took about a month, but I broke down and installed Classic Shell anyway.
The problem, for me at least, was that it was too difficult to locate things that I knew were on the machine. Yes, you can simply start typing if you're on the tiled start screen, but if you don't have the keyboard attached that very quickly becomes  a pain. I longed for my old start menu where I knew everything was located.
Once I installed Classic Shell everything I wanted was where I expected it, and was just as easily accessible via the touch screen.
The only other Windows 8 item that I encountered fairly quickly is one that others have noted as well. "Apps" are not "Applications". (Yet another unfortunate choice of terms.)  "Apps" are essentially programs designed to run in tiled mode, while "Applications" are your more traditional Windows programs. On top of that many "Apps" are simply tiled versions of desktop applications but with fewer features.
I found the tiled version of Internet Explorer and the "Windows 8" version of the Amazon Kindle Reader application to be too frustrating to use simply because features that I use were missing. Fortunately IE 10 is actually present in both tiled and desktop versions, so I just launch the desktop version from the desktop task bar. Getting a Kindle Reader I could use was a simple as ignoring the suggestion to download and install the Windows 8 version, but instead downloading the version for Windows 7 – the same, normal desktop application that works just fine in Windows 8.
My Bottom Line
I have to call this my bottom line because with so many different approaches to using computers the Surface Pro might well be someone's perfect fit.
Just not mine. And my gut feeling is not for most folks. Not yet anyway.
I'm disappointed.
I'm thrilled Microsoft took the risk, and I really hope that they continue to evolve the Surface Pro. I think it has a lot of promise, and Microsoft did many things right which make it a good foundation for things to come.
I'll keep mine and use it as my take-to-Starbucks machine.
Ultimately the Surface PC just isn't that great a tablet – an iPad or a Kindle Fire will get you a good alternative for less money – and it's only an "OK" PC, and somewhat pricey for what you ultimately get at that.
•
PS: While I edited the majority of this article on my Macbook Pro (while sitting outside on my patio) as mentioned throughout, I did my final edit and added the images using my desktop PC running Windows 8. I am an equal opportunity OS user these days. I'm afraid none of it was done on the actual Surface Pro.