How do I find the IP address of the person who created a Gmail account in my name? I tried the last ten IP address searches and it was all mine. How can I see the one where it was opened with?
This is a bit of a confusing question only because you seem to have access to the last ten IP addresses. That means you have access to the account created in your name.
If that's true, then I'm afraid I don't really know what caused this. If somebody created an account in your name, it would really depend on the steps that you took to go through and gain access to that account.
Normally, when somebody creates an account in your name, it's done with malicious intent and you're not given access to that account.
Even if you could determine the IP address from which it was opened, it would actually tell you almost nothing. You might learn:
What country the person was in
What city
The neighborhood – if you're very lucky
But that's it. That's not going to be useful to determine who actually opened that account.
Only law enforcement has the ability to get the information that you want. In fact, my guess is that they're also the only ones that would be able to get the information beyond the ten IP addresses that Google is showing you right now.
How important is it to you?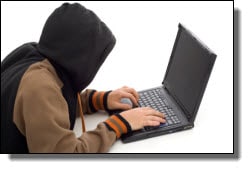 Your next steps depend on how important this is to you. Is this person emailing and threatening people you know? Is this person trying to do business as you? Or is it someone who has a similar name and just created an account that they plan on using for ordinary email?
If this is actually something illegal that you are defending yourself from, then absolutely, involve the authorities. Go to the police, the FBI, whatever agency is appropriate for your location that deals with these kinds of issues. If they have time and it's enough of a priority, they're the only ones that can actually nail this down.
Otherwise, my honest recommendation is to simply move on. It's going to be almost impossible to get the information and certainly impossible to get it on your own.