Windows Explorer is a ubiquitous, yet under-appreciated component of Windows.
For many people, Windows Explorer is their primary interface to Windows itself. It's where they locate and open documents, music, and other files. It's where they perform copy and sometimes even backup operations.
And it's one of the primary tools often used when maintaining their system.
Unfortunately, Windows Explorer comes with default settings that are intended to make the system less confusing and more friendly, but often make it less than informative and sometimes even downright dangerous.
Let's look at changing a few settings and setting a few defaults. I'll throw in a speed tip as well.

Finding the Menu Bar
One thing that's confused folks since Windows 7 appeared is that by default Windows Explorer hides the menu bar: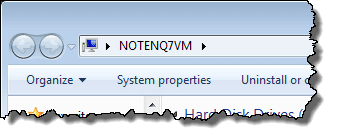 Fortunately, simply pressing the ALT key makes it re-appear: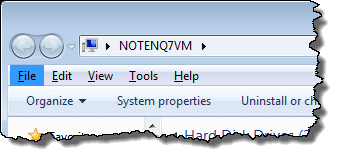 As we'll see below, there are options to make the menu bar stay visible. Personally, I'm quite happy with having it not take up any space when it's not needed.
Finding the options to change
Unlike the menu bar, the options that we care about have always been somewhat difficult to find. Start by clicking on the Tools menu bar item and then Folder Options…: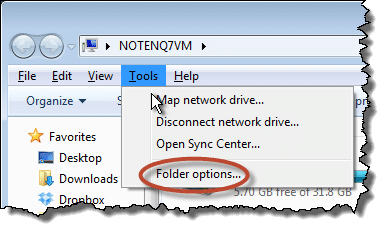 In the resulting dialog box, click the View tab to expose the Advanced settings that we'll be playing with: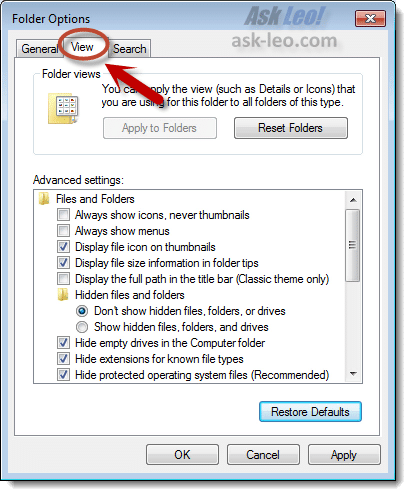 This is where we'll make our changes.
Options to change
What you see in the image above are Windows Explorer's default settings. While many are a matter of taste (and I encourage you to explore a little), there's are several settings that I recommend you change.
Always show menus – As I said above, this is the item to check if you always want Windows Explorer to display its menus. With this set, you don't need to hit the ALT key just to see the menus (although you'll still be using it if you use keyboard shortcuts to access the menu items). Check this.
Show hidden files, folders and drives – Some files and folders can be marked as hidden. I recommend that you select this so as to always show them and thus see everything that is on your computer. I often see people confused when they realize there's more on their system than they realize and changing this setting is one way to clarify that. Select "Show hidden files, folders and drives."
Hide empty drives in the Computer folder – Along those same lines, I think it's important to understand what drives exist on your system regardless of whether they have anything in them. In particular, this often explains where some drive letters went and why accessing certain drives – the empty ones – can cause unexpected errors. Uncheck this.
Hide extensions for known file types – That this is an option at all is a serious mistake (in my opinion). As I explain in One change you should make to Windows Explorer right now to stay safer, hiding extensions for any reason actually makes certain types of deception possible. This is often used by spammers and hackers to fool unsuspecting users into running malware. Uncheck this.
Hide protected operating system files (Recommended) – I don't recommend this. As you might have gathered by now, I think it's important to be aware of everything that's on your system, particularly when diagnosing problems or maintaining your machine. That includes being able to see "protected operating system files." Uncheck this. You will get a big scary warning; ignore it. However, this is the setting that will cause icons for desktop.ini to appear on your desktop – those are "protected operating system files." If that's a big problem for you, then leave this checked.
Scroll around the rest of the options you find and if you like, change or play with whatever you think might make Windows Explorer more useful to you. There's little harm that can be done.
When you're done, click  Apply to make the changes. If you're satisfied, click OK to close the dialog.
One Other Popular Change
As you've seen, I'm all about having lots of information at hand. To that end, one of the other changes I make to Windows Explorer is to display details by default, rather than icons or other representations.
When you're looking at a folder that displays something other than the detailed listing of its contents, click the View menu, and then click Details: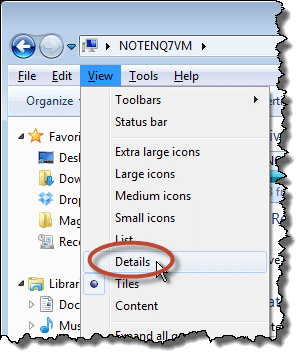 That will change the current view.
Now immediately go back to the View tab in the Tools → Folder Options dialog that we used above and click Apply to Folders: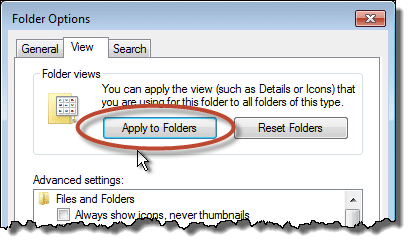 This will make that View Details setting the default for all folders of the same type.

There are few "types," but if you do encounter another scenario where you find something other than details as the default, just repeat this procedure.
Bonus Windows Explorer speed tip
This is less of a configuration setting but more of something to be aware of.
If you've connected to another machine or other shared resource across your local area network and that resource goes away or becomes inaccessible for some reason, that can slow down Windows Explorer. When it starts up, it attempts to get information about the remote resource, and it keeps trying for a while if it doesn't get an immediate response.
When Windows Explorer finally does come up, right click on the remote resource and select Disconnect: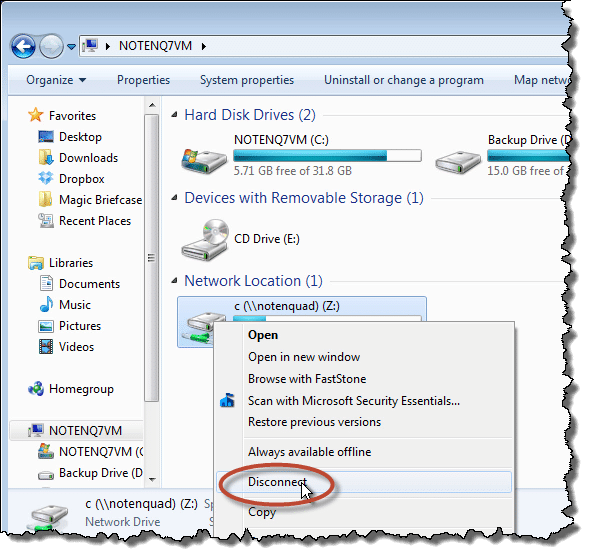 Unlike the image above, Windows Explored will indicate to which drive it had difficulty connecting. By telling Windows Explorer to disconnect, it will stop trying to reconnect automatically in the future.