In your articles, you often mention that an IP address cannot find out my actual location. OK. Then how does Google know my location … my actual location?
That's an interesting conundrum. I'm actually somewhat surprised at how accurate Google can be at times, but you also have to realize that you give Google a lot more information than just your IP address.
Let's talk about some of those.
How did Google get this information?
Ever seen StreetView on Google Maps? When they set out to create this view of their maps, they drove around all around these neighborhoods and took pictures of what the streets look like so you could see.
While they were doing that, they often actually had a Wi-Fi antenna hooked up so they could see and record at the different Wi-Fi hotspots available as they were driving around.
For example, when they drove by my house, they noticed that there are four Wi-Fi hotspots in this house. As I broadcast my SSID, they would know the SSID of those hotspots. Even without the SSID I believe they can capture some information that allows them to uniquely identify the hotspot.
Couple that with the mapping information that they are creating and they now know that, "If you're connected through this Wi-Fi hotspot, I know where that Wi-Fi hotspot lives. That must be where you are."
Where am I today, Google?
Now, it get's a little bit more interesting. When people physically move, even if they've moved across country, their location is sometimes still shown as their old location because Google is still using the old location of that Wi-Fi hotspot. Google may think that router is in Washington when in fact it's in Florida until they run another pass.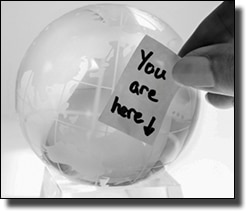 And that's one piece of data, albeit a really good piece of data that Google has in front of it.
Even if you're not using a hotspot, it's possible that Google sees "machine A" coming through that hotspot and that hotspot then appears as "IP address X." Well, if you're wired to the same router that the hotspot is connected to then you also show up at that IP address.
Google makes a relatively educated guess that "Gosh, if this machine is wireless, and we know that wireless is at this location, and that location is at this IP address, that could mean that any machine coming in from that IP address is probably at or around that location."
What your phone says about you – literally
Another way this can happen is if you happen to have a mobile phone.
I do, and my mobile phone is actually configured to use my wireless hotspot when it's connected here at home. Rather than using up my data plan, it's actually connected to the internet through my internet connection at home.
Well, what do most mobile phones have? They have GPS. So all of a sudden, Google has this information from my phone that says this is where the phone is, this is the hotspot where it's connected, this is the IP address, etc. Google then has all of the pieces of the puzzle that says he's probably at that IP address, and that IP address probably terminates at this GPS location, so that's probably where he is.
What we tell Google
It's very interesting the number of pieces of data that we leak out when we use various services. Google has been shown to be a master of pulling together all sorts of disparate pieces of data to come up with a really good picture of exactly where you are. While I've discussed some fairly obvious "leaks" in the form of WiFi and cell phone data above, there are probably many more signals and data sources that Google pays attention to.
And I know that in my case, I'm OK with that. I actually find it very useful in many cases to let Google know exactly where I'm at because what it gives me in return for that information is more accurate information that I request of it. When I'm using Google Maps, it's relevant to where I'm at. When I'm doing searches, I'm getting searches that are relevant to my location.
Some people don't feel that way. I believe that most of this stuff you probably can sort of turn off – but not all of it.
This is all part of what I think is a very interesting and important discussion about just how much of all of this data that large entities like Google, the government and others collect as simply as a byproduct of doing what we ask of them.
How much can they or should they be allowed to correlate? All of that data? We didn't even realize they would come up with this when we gave them all this information and they just put two and two together.
So, there are many different ways that Google can find out where you're at and most of them are the result of you and I telling Google – piece by piece perhaps – exactly that.