There's a right way and a wrong way.
There are several ways to adjust the size of text and items on your screen.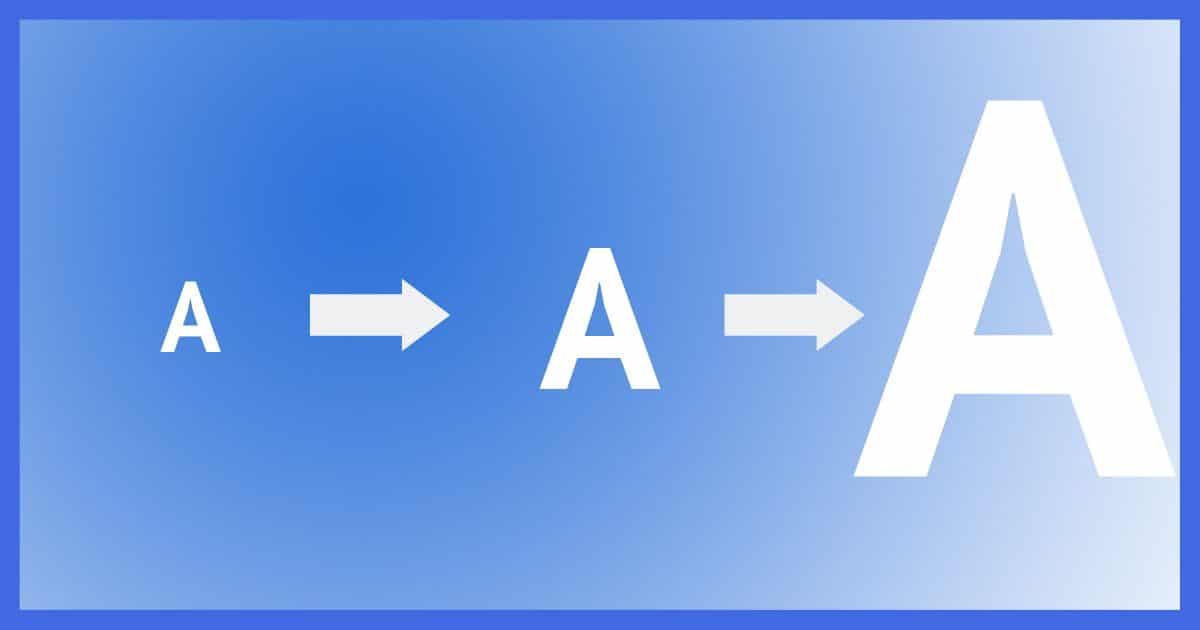 Question: I am "old" <grin> … so I need to use a magnifying glass to read a lot of words on the screen. I suppose that they are in a six or eight-point font. Can I make the screen text larger? Say to a 10- or 12-point font?
I know how you feel. My eyes aren't all they used to be either.
The good news is, it's easy to make the fonts bigger, though the setting is often well hidden.
The bad news is, it's also easy to do the wrong thing and end up with something that seems better but isn't.
Increasing text size
Windows 10 & 11 allows you to change the scaling of everything displayed on screen.
CTRL+ and CTRL- work in many apps, like email and web browsers, to make text larger and smaller.
Changing screen resolution is not a useful way to make text bigger.
The wrong thing
Changing the screen resolution isn't helpful in this regard.
In the past, this was an approach that worked fairly well on CRT-style monitors. With the rise of LCD screens, running at anything other than the screen's native resolution can have unintended consequences.
For example, let's say your display is capable of handling a resolution of 1920×1200. That's its native resolution, meaning there are physically 1920 dots or pixels across and 1200 dots up and down on the screen. It's the resolution at which it works best.
To make things appear larger, you then change the resolution that Windows uses to 1280×1024. Either of two things will happen:
The 1280×1024 image will be stretched by the monitor to fill the 1920×1200 pixels that make up the display. You'll note that's not an even multiple, so the display now has to "stretch" each pixel that Windows gives it across 1.5 pixels horizontally and 1.17 pixels vertically. Because there's no such thing as a part of a pixel, the monitor just does its best, often resulting in images that are indeed larger but also significantly fuzzier.
The 1280×1024 image won't be larger at all; instead, it will be centered by the monitor using 1280×1024 physical pixels on the screen and surrounded by a black border of unused pixels.
Neither effect is great and can make the situation worse.
Fortunately, there is a different approach.
The right thing: scaling
In Windows 10 and 11, right-click on your desktop and click Display Settings. In the resulting page of the settings app, you'll find settings for the screen resolution — which we're not going to change — and something called scaling.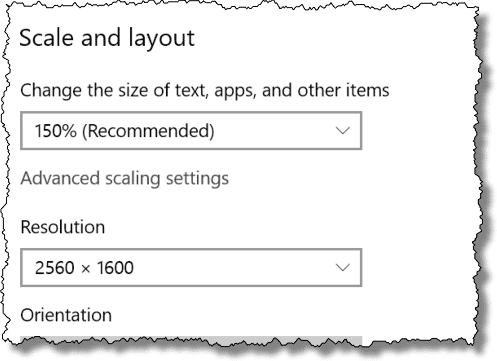 (In Windows 7, right-click on your desktop and click Screen Resolution. Click Make text and other items larger or smaller for a roughly equivalent DPI setting.)
This setting changes the size of everything, including text. For comparison, here are 150% (the default/recommended setting for my display) and 250% side by side.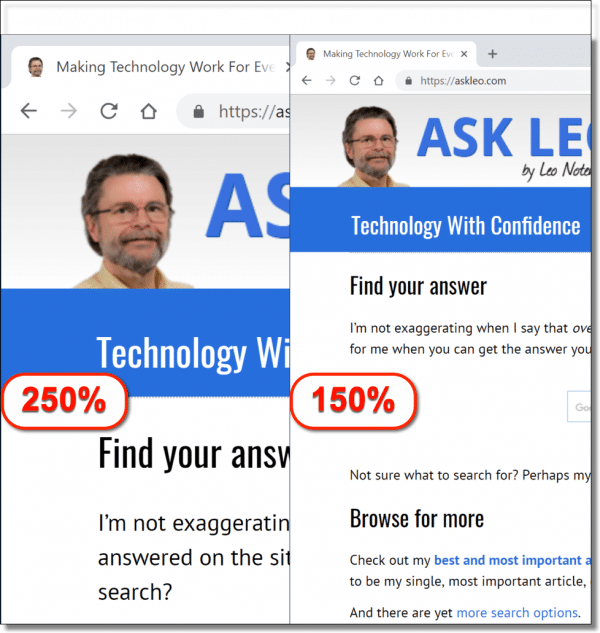 When you make this setting change, you may need to log out and then log back in to Windows before it is fully applied.
Advanced settings
If the scaling options aren't enough or the results look wrong, click on Advanced scaling settings (directly underneath the scaling drop-down). There are two settings to experiment with.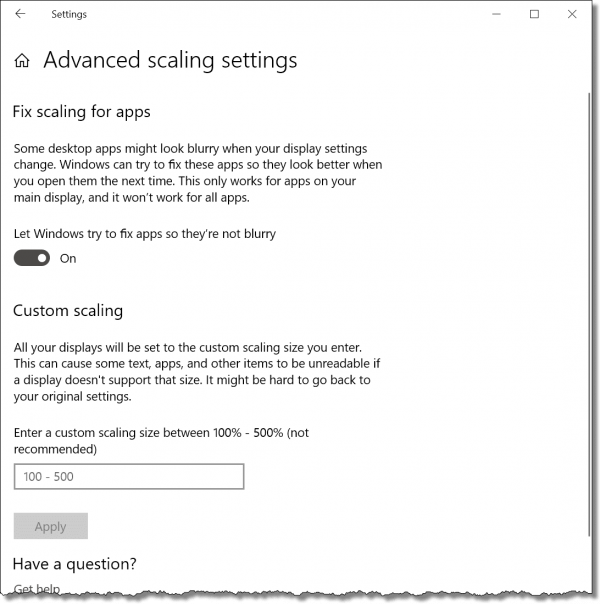 "Let Windows try to fix apps so they're not blurry" does exactly that. If you're experiencing blurry text, I know of no downside to turning this on.
"Custom scaling" lets you enter a scaling factor that may not have otherwise been available in the recommended dropdown.
Caveats
This concept of scaling what's displayed on the screen has been a component of Windows for a long time. Applications aren't supposed to ignore the setting, and most do not. Most play by the rules.
Most.
Unfortunately, you may encounter an application where the scaling setting is used inconsistently or has no effect. Blame the application; it's not playing by the rules.
And finally, if you make things too big, you may get a warning from Windows that the setting may make some things inaccessible. For example, if things are scaled so large that a dialog box is too big to fit on the screen, its OK and Cancel buttons may not be visible. That's something you'll simply need to compensate for. Either go back and reduce the scaling, or determine if there's another way to accomplish what you want without having things appear off-screen.
CTRL+ and CTRL-
Many, many people have commented that they use the CTRL key and + or – to make text larger or smaller, respectively (or use CTRL plus the mouse wheel).
This is a very effective approach when it works.
CTRL+ and CTRL- are not a part of Windows. They are a convention that some applications — most notably web browsers — choose to implement.
But they don't affect the size of text in other applications or in Windows itself. The techniques outlined above are about making everything — regardless of what program you are running — larger (or smaller).
That being said, CTRL+ and CTRL- (and CTRL with the mouse wheel) are very convenient as long as all you care about is the webpage or email you're viewing.
Podcast audio

Download (right-click, Save-As) (Duration: 8:16 — 11.4MB)
Subscribe: RSS