Question: With the passing of a hurricane where I live (my home was spared any damage), what do you suggest is a good plan to protect your data and your hardware from these storms?
That's actually a scenario many people overlook until it's too late. I'm not talking about hurricanes specifically (though there is one bearing down on the east coast of the United States as I update this article), but any disaster that could take out all of your computer equipment at home or in your small business.
There are a few things we can do to protect hardware, but in all honesty, that's not the most important thing.
Let's face it: hardware can be replaced.
Protecting hardware
I'm not sure there's anything you can do to ensure your hardware is protected from an extreme disaster.
Be it a hurricane, as you've described, an earthquake (the risk where I live), or something as simple yet disastrous as a house fire, unless you keep your hardware in a waterproof bomb shelter, something could potentially destroy it all.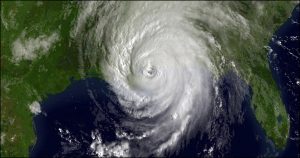 That being said, surge protectors are inexpensive and easy, and should probably be used by just about everyone. Lightning arrestors and related equipment should definitely be used by those in lightning-prone areas. Uninterruptible power supplies (UPS) are worth considering for those whose homes are prone to power issues or who need to keep their machines running after the power goes out.
But as I said, it's difficult to protect all of your hardware from all possible disaster scenarios.
And to put it bluntly, that's okay. Hardware can be replaced.
What's not okay is losing your data. That can't.
Protecting your data
I talk a lot about backups, mostly because I hear so often about people losing extremely important things due to common mistakes and failures.
Very common mistakes and failures.
I hope you already have some kind of backup regimen in place. My preference, of course, is an automatic full and incremental backup of your entire computer.
The problem with those backups, however, is that they tend to be large, typically requiring an external hard drive for storage. The result is they remain on site. That means if something happens to the site — meaning your home or business — both your computer and your backups are at risk.
That's where off-site backups — backups stored at some different location, well away from any disasters affecting you — play an important role.
Off-site backup
An off-site backup is typically a backup of only your data (not the system, installed programs, configurations, or personalizations). A backup of your entire computer is usually much too large to transfer over a typical internet connection in any reasonable amount of time. As a result, off-site backups tend to focus only on your data.
The criteria for an off-site backup is very simple: include all data that could not otherwise be reconstructed should your computer and local backups be destroyed.
That includes your important files, financial records, photographs, videos, and so on: anything that would be permanently lost if all if equipment and backups at home were lost.
Off-site backup alternatives
There are two basic alternatives: online services and physical removal.
Online services (like Dropbox, OneDrive, Google Drive and other cloud storage providers) provide off-site backup almost as a side effect of their intended use: data sharing and access providers. Anything you put there (into, say, Dropbox) so you can share it with someone else, or even just to synchronize it across multiple machines of your own, is automatically backed up off-site by virtue of remaining on Dropbox's servers.
Some years ago, I moved all my photographs — over a terabyte of data — into Dropbox for exactly this reason. All my computers and backups could be destroyed, but my irreplaceable photographs would be preserved.
In my opinion, an important characteristic of backups — both local and off-site — is that they be automatic. Simply placing your important data into folders managed by a cloud storage service provides a form of backup that requires almost no additional work.
Similarly, there are cloud-based backup programs that focus exclusively on backing up without the additional sharing/storage/online access aspects of more general purpose cloud storage services.
If online services are impractical or you need to protect a lot of data — perhaps even those full image backups — physical removal is perhaps a more practical alternative.
When my wife had a retail business some years ago, this is exactly what we did. We had two external drives: one connected to a computer at home, and one at her store. Each night both computers would back up to its connected external drive. Once a week or so, we'd simply swap the drives. That way, each location — home and shop — acted as the "off-site backup" location for the other.
Other approaches include writing important data to an external drive or sufficiently large flash drive, and then taking or sending that to a physically distant friend or family member periodically, or storing it in a safety deposit box at the bank. These are all viable solutions, as long as they happen religiously on a regular schedule.
Data is precious
At the risk of repeating myself too much, it's important to realize that computers can be replaced, but your data cannot.
If something happens to wipe out all of your computer equipment at home — including all of the backups you've so carefully created — you've truly lost everything if your data is not stored somewhere else.
Depending on your needs and situation, there are several solutions for implementing an off-site backup, and I strongly recommend you do so.
Podcast audio

Download (right-click, Save-As) (Duration: 6:19 — 5.9MB)
Subscribe: RSS