I have fiber to the premises, with an ONT box. My PC is wired to a Fritz!Box 7530 modem (no external antennae). When set up 8 months ago, the WiFi signal in the house was strong, but recently I found that the signal is weak. Where should I look for causes, please?
I'll admit I had to look up "ONT". It's an acronym for "Optical Network Terminal", which boils down to the fibreoptic equivalent of a modem: it converts fiber-based signals into the electronic signals recognized by your Fritz!Box, which is technically a router, not a modem itself.
Those details out of the way, a few ideas come to mind for why your wireless signal might have degraded over time, as well as a few steps to take to diagnose, or perhaps compensate for, the situation.
It's probably new interference
Assuming that nothing about your computer network has changed in the intervening time, the first thing that comes to mind is radio interference from other devices in your home.
The most common culprits are new or replacement appliances like wireless telephones or microwave ovens, which are known to interfere at certain frequencies also used by Wi-Fi. If you can recall a recent addition or change over those eight months, that might be the issue.
If you live in an apartment building or other shared housing, such interference could come from a nearby neighbor having added or replaced a device.
Unfortunately, other than turning off suspected devices and noting a corresponding increase in your Wi-Fi signal strength, this is incredibly difficult to diagnose. Even if you do ID the culprit, you're left with the problem of what to do about it.
About that antenna
It concerns me a little that you mention the router has no external antenna. Most Wi-Fi capable routers and access points have external antenna of some sort to provide optimal Wi-Fi coverage.
If your router has the capacity for an external antenna, it's the first thing I would do. Generally I believe you'll be pleasantly surprised with the increase in signal strength and coverage.
If your router does not have a way to directly add an external antenna (and sadly, your specific model seems not to have one), then other solutions are called for.
Wi-Fi frequency selection
Before we throw money at the the problem, I'd have you look at which frequency your Wi-Fi connections use. This is a setting made by the device connecting to your network — your laptop, your mobile, or something else.
There are two choices: 2.4Ghz and 5Ghz. 2.4Ghz is slightly more sensitive to interference1, while 5Ghz teds to have slightly shorter range.
Check to see which frequency your device is using (it typically appears as a separate Wi-Fi connection), and switch to the other one if you can. It's possible you'll see a difference in signal strength.
Unfortunately, not all devices handle both frequency ranges, so this may not always be an option.
Adding an access point
If the signal strength issue is adversely impacting your network usage, and the steps above haven't helped determine the cause or suggest a solution, the next step I'd take would be to add an access point to your network.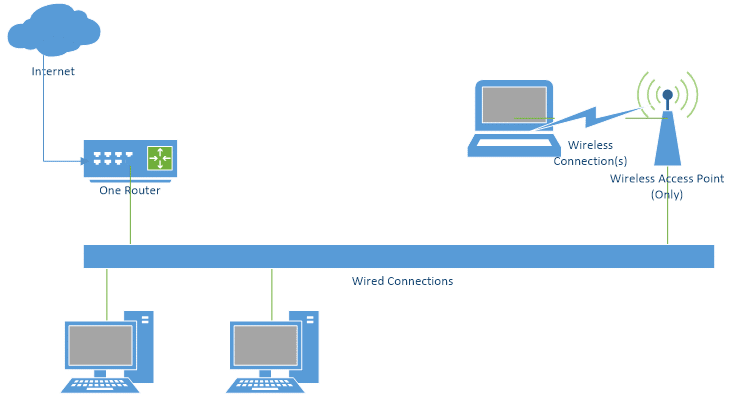 A wireless access point (or WAP) is nothing more than a Wi-Fi antenna connected to your router with an ethernet cable. You can place the access point anywhere in your home that makes sense to bring the signal closer to where you need it to be. Depending on the size of your home, or how you want to be able to access your wireless network, you can add more than one, or consider a mesh network approach, as I have.
I have more on the topic in Extending Your Network with a Wireless Access Point.
Podcast audio

Download (right-click, Save-As) (Duration: 4:21 — 4.1MB)
Subscribe: RSS
Footnotes & References
1: As I understand it, the 2.4Ghz range is also used by many wireless landline telephones, and happens to be a very common frequency emitted by microwave ovens.